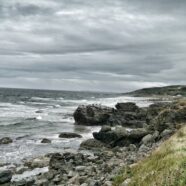 We're beginning to understand more about the Scots now weve been here a few days.
Firstly, they don't dress for the weather, they dress for the Month. So, pouring down, howling gale, a smidge above 14C and August and that will be flip flops, shorts and a t shirt then, whilst we admire their hardy nature from within 3 layers gloves and a hot chocolate. Or perhaps we're just southern softies.
Secondly they don't like you saying hello to them when you cycle past. Well, most of them don't anyway.
I always say hello to pedestrians and cyclists as we pass them and normally this gets a reciprocal reply. Here, more often than not it gets a stony silence, occasionally a grunt and sometimes the reciprocal reply. Perhaps they can't understand my English, or perhaps they can and that's the explanation for the stony silence. Anyway, we're not taking any chances on that front and now say we are from Netherlands when asked.
Glasgow's not our favourite city. It's has some very magnificent buildings and a nice pedestrianised shopping street but feels a bit dour. The buildings could do with a clean as the stone is grey to black on many and you can imagine how much that would make it a more welcoming place.
Having said that, we've rarely seen such a huge array of different restaurants and bars many of which looked fab and we did have the best Indian we've had anywhere for a long long time and an excellent vege burger too. We even squeezed in an afternoon tea and Gin bus tour of the highlights in an old Route master. Really good fun, but you were left thinking there weren't many highlights, which may explain the lack of a tour guide commentary.
Leaving Glasgow behind on another grey blowy morning we picked up various railway paths in a big loop to Irvine on the coast. A lovely cycle and as we left Glasgow further behind the countryside became more Scottish, if you see what I mean.
By the time we reached Irvine the sun was out and though still cool it was at least dry.
We had another great rendezvous with Matildas crew Diane and the Highland terrier himself – Colin for the cycle from Irvine to Ardrossan on a pretty chilly December August morning and stopped on the seafront to watch the icebergs float by and enjoy one of their signature prosecco picnics in wrapped up in our winter gear, they thought we'd rather let the side down with our plastic beakers (they'd brought champagne glasses!) until they realised our beakers held far more than theirs! After our refreshing stop and before frost bite could set in we continued along the seafront avoiding the odd polar bear to the ferry terminal only to be told the ferry was cancelled due to Ice bergs Covid.
Calmac suggested we get the Brodick ferry, cycle round Aran, get another ferry and then cycle down to Campbeltown, a 90km trip instead. As it was already 13:30 this would have us rolling into Campbeltown around midnight and was a non starter.
They said there was a coach for the other passengers and I asked them to phone the coach company and ask them if they could get Tilly on board with the front wheel off. We've done this before with coaches and the company were more than happy to help, possibly as the coach had 10 passengers on a 54 seater so there was plenty of room.
So, Tilly loaded, we set off only to get stuck on the main road after a series of accidents closed the road around Loch Lomond.
Our bus driver though was very chatty and gave us a personal tour commentary as we sat up front with him and after we eventually got moving again enjoyed a pleasant though 5 hour long drive to Campbeltown.
We got off the coach at the ferry terminal and it was like Ice Station Zebra. The sky was so grey it looked like you were in a B&W TV show, the wind was ferocious and there was drizzle in the air and of course it was bitter cold too. So much so that even I started to think I had to put trousers on instead of my shorts.
The two other cyclists on the coach got wrapped up with multiple layers for their onward journey and no one would have guessed this was the height of summer.
We felt quite miserable by the time we go to to our Airbnb, particularly as the wind was blowing against us for the next days cycle and its one of the only times mid trip that we've actually though 'Why are we doing this'
Fortunately our hosts had left the heating on, plenty of wood for the woodburner and some fudge for us, so we quickly lit the fire and spent the rest of the evening curled up in front of it.
Somewhat more optimistic the next morning we set off toward Tarbert along the west coast. This cycle is relatively flat but we naturally had to cycle into the wind a fair bit but as the day progressed we gained shelter from a neighbouring island and actually had a great day cycling a beautifully remote coast.