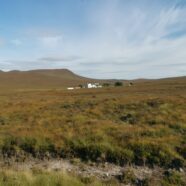 Getting home from JOG with a tandem isn't easy. Most cycle tourers head to the nearest station and hop on a train which is obviously what we're doing. The difference between most cycle tourers and us is they have single bikes and we have Tilly the Tandem. So whilst their nearest station is 25km away, ours is 450km away in Oban or even Edinburgh.
So having finished the tour we have to start a new one to get to the station, not that we mind, we're heading off to some of the most remote areas in Scotland followed by searching for the Loch Ness Monster as we do yet another coast to coast trip back to Oban.
We left JOG and picked up thr Great North Trail on small lanes and started heading south west through rolling countryside. Quite a change from all the large hills we've had to do recently and dispite it being cloudy and decidedly wintery thoroughly enjoyed the day.
We even managed to sit by a loch for lunch wrapped up like Eskimos whilst people sat in the car park in their cars with the engine and heaters on.
Our Airbnb was a little gem at the Auld Post Office where the owners kindly ran us into a nearby village for dinner. Linda had the worst main course she'd ever had in her life at a restaurant, which she actually couldn't eat..In hindsight, the restaurant had fab reviews but we were a tad concerned when we arrived and found no vege options and had to ask for a vege menu. We think they didn't publish the vege menu for fear of upsetting the other guests who all sounded like they'd arrived in the Tardis from 1812 with their extremely snooty English accents and their constant talk of how many things they'd killed today – honestly!
Oddly my meal and our starters and puddings were excellent.
Back at the Auld Post Office the owners invited us to the garage for a nightcap. Err… Obviously we accepted and were transported to a art deco speak easy bar with over 150 gins on the shelves, including my favourite tipple Jenever.
Well, that made up for Linda's main course at the restaurant and we had a fab night sampling the gins and chatting away in this amazing garage conversion.
The next day we headed into the wilds bound for Britain's most remote hotel. And it was remote, we didn't pass a shop, pub or BnB all day and spent the morning off road on tracks of gravel then sand passing a station in the middle of nowhere (presumably easy access for those posh toffs at the restaurant to get out amongst nature and kill it).
We sheltered for lunch against the rain in another station in the middle of 4 houses where their were no trains at all that day. This used to be the main line from London to Scapa Flow during the wars, but now was a sleepy almost forgotten stop in thr middle of nowhere.
The cycling was quite hard, with plenty of rain and naturally a rather unhelpful wind but we rolled up in torrential rain at our hotel and you couldn't see another sign of civilisation anywhere around it.
The hotel is off grid, so lights don't get really bright for ages and the the shower pressure makes Taffy look like a spa. But the owners were really nice and after we'd dried off and showered they made us a cuppa with a slice of lemon drizzle cake and lit the fire which we then sat in front of until supper was served!
The whole hotel eats together and we dined with 6 other cyclists who were doing the whole Great North Trail.
You may remember Pete (Sgt, Bicycle Reconnaissance Division) from our last blog who set off on the trail before we left JOG. He'd reported back that he'd had to push his bike for 5km on one section of the trail and we should avoid it. He sent us a picture of his front wheel under water and said he frequently sank down to his shins in the peat bogs. Definitely not our cup of tea.
We departed the next day saying goodbye to the adventurous 6 cyclists and wishing them luck – I really don't think they were expecting condions like Pete described, and bearing in mind we'd had tonnes of rain the previous day we didn't envy their route.
We stuck to the tiny road and thoroughly enjoyed the cycle through the Heather and gorgeous vast landscapes.
We arrived in that great metropolis of Crask for lunch – a cheese toasty and I have to say the Scots do the best Cheese toasties anywhere. Not warm bread like the English, but proper toasted sandwiches, crispy and wow, though perhaps a hungry cyclist may be getting carried away there….
The pub was a constant stopping place for cyclists, tourers and day trippers arrived and went all the time we were there.
British cyclists fall into a few categories, there's the day trippers and racing brigade with no luggage, then there's the tourers. These can be bike packers (luggage strapped to the frame of the bike rather than in panniers) or the pannier people.
But tourers breakdown into different types as well. The long term tourers – months or even longer and the short term tourers. The easy clue is the outfit. No helmet, flip flops, shorts, washing hanging on the handlebars, that'll be a long distance tourer. Helmets, lycra, clip in shoes – all the gear, the short term tourers.
Why they breakdown like this I don't know, but the kit of choice for your long term tourer is comfort, reusability (can I wear this to cycle, sleep and to go for dinner and not look a numpty) and lack of style. (which may be why it appeals to me so much!)
Short term tourers usually have all the gear, helmets, lycra, padded shorts clip in shoes etc. Us long termers can't be doing with all that coordination and style, we basically aim for looking like a tramp on the move and consider that a job well done.
We left the pub and rolled down into Lairg for a BnB with a magnificent view of the mountains to fall asleep to almost instantaneously.
Feeling still pretty pooped we then headed to the Royal Burgh of Tain on the East Coast, completing yet another coast to coast on this trip and really struggled with the cycling on a relatively flat day with a some wind assistance for once.
We were absolutely cream crackered which we shouldn't have been. Looking back at our food intake over the last few days – homemade curries which were largely vegetables with some rice And Our Lairg meal of jacket potatoes just hadn't given us enough energy for the day and we'd just run on fumes.
To rectify this oversight we pigged out for our day off which we spent in glorious sunshine at Portmahomack which could easily be transported to Cornwall and not look out of place.
It's a beautiful village near the end of a headland and has a lovely bay and beach., a couple of places to eat and a village shop and also the most wonderful shoals of tiny fish that you can reach down and pick up with your bare hands in the Harbour. We've never seen shoals like these. You couldn't see through them and there really must be hundreds of thousands of these tiny fish swimming together. Amazing.
So having completed another coast to coast we topped up with an ice cream in the sun before we set off on, you guessed it, a yet another coast to coast.