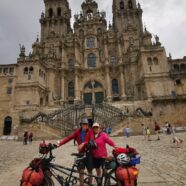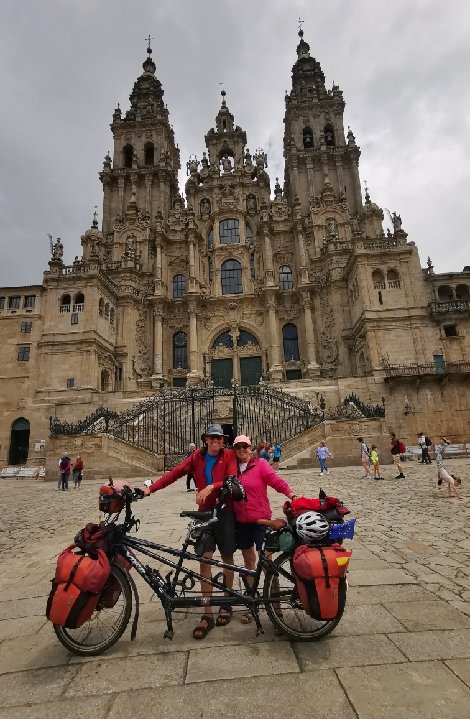 The first thing you notice about Santiago de Compostella is the number of people with rucksacks, the next thing you notice is the amount of people who have a limp and the last and most important thing you notice is the smell.
Apparently the huge incence holder in the cathedral was swung because the medieval pilgrims stank. I'll let them off… but modern day ones seem to have taken the traditions too far and you really don't want to get too near or most certainly not into a lift with some of these folks, especially if you were thinking about going out to eat later. They really do hum to high heaven.
I'd hate to think what those dormitories smell like at night with the added benefit of shoes removed and after a good curry!
Anyway, our arrival into Santiago was all uphill with the huge Cathedral dominating our approach until the new town hides it as you get nearer.
We rolled into the main square to a sight of dozens of backpackers and cyclists all celebrating their arrivals too. There's quite a festive atmosphere with people taking their arrival photos and the real hard cases holding their bikes above their heads. When you see them do that my advice is don't get close…
It's an amazing town though and appears almoat untouched since Medieval times with tiny streets and no cars. We loved it, and in a nod to the tourists there are even a few restaurants that open before 8pm.
Our hotel was just outside the old town and we had a great room overlooking the Camino allowing us to watch the pilgrims pass by below on their last few steps to their finish . Fortunately we were high enough to avoid the smell too…
As I've mentioned before, the Spanish don't seem to feel the heat, and with our hotel room facing the sun and having enormous full length windows was pretty hot by the evening, but it did have Aircon…. which wasn't on. I asked the hotel if they could turn it on and the answer was.. no… as it was cold and the system was hotel wide and could either heat or cool and they needed it to heat the rooms.. It was 17C outside at night! Fortunately our windows all opened wide and we slept on the bed covers.
However we did think it strange that the next few nights the air con had been turned on but the outside temperature had droped to 13C..!
We've found in general leaving big cities on a Sunday is always a good plan as its usually quieter but leaving Santiago bright and early on a Sunday morning, and now heading on a route opposite to all those arriving, we had to manoeuvre around all the hundreds arriving in time for the Sunday cleansing insence swaying at the Cathedral..
Our route now joined the Camino Frances bound for France for a short way out if the city before turning off onto the Camino Primitive and heading more northwards.
The Frances is the most popular route and is around 800km long. The primitive is considered more difficult as it's less developed and more mountainous and there were very very few people on it. Now before you start thinking we've lost our senses being Hillphobics and heading onto the most mountainous route, we actually are only following it to Lugo to see the best preserved full Roman Walls on the western Roman Empire. We will then head back down toward the Frances for the two mountain passes.
The route itself was hilly, very hilly, infact it was just hills, up down up down all day, but rather surprisingly we quite enjoyed it and didn't find it too difficult and only had to push on the gravel bits where we felt it was too bumpy to ride. Ha! That shocked us! We actually climbed 696m in 53km and when we arrived at our hotel Linda didn't look impressed with my suggestion to just go up the hill 4 more metres to clock up a 700m climb, so we adjourned to the bar in the sun for a debrief on what was and wasn't acceptable behaviour at the end of a long hilly cycle.
Lugo is a real gem. The walls are fully intact and apparently largely original except where 5 new gates have been added and various armies – obviously including British – have shelled it from time it time.
You can walk all the way round and it really is quite something for fans of Roman stuff like us.
The town itself was lovely too, with the obligatory square lined with cafes without a car insight to sit and drink whilst people watching in the heat of the afternoon.
We had a great day off here and set off the next day to Sarria at the foot of the pass. This was our flatest cycle for ages and we followed rivers and streams and eventually a flood plain for a beautiful days cycling arriving in Sarria in time for an early supper ready for our assualt on the biggest hill we've ever climbed. No, not hill… this is a mountain….