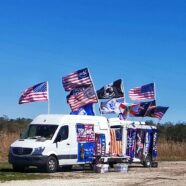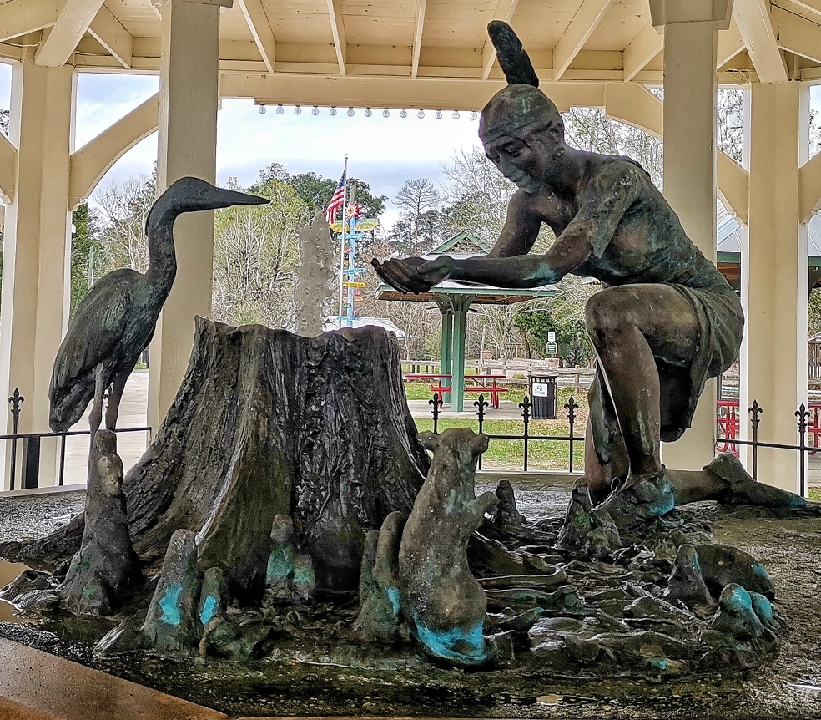 Well that's not what we expected! After two very relaxing days and 46 cups of tea at the English Tea Room we left our fab BnB and Covington behind and followed the rail to trail path down to the shore of Lake Pontchartrain with the weather turning colder and wetter on route. So wet that a siren went off moments before the heavens opened and sounded again when the rain had stopped, presumably for the mighty thunderstorm that accompanied the rain, but fortunately we had managed to find a great park shelter to hide under and have our lunch.
We'd been on the Tammy Trace cycle trail, an old railway, which is excellent where they were even in the process of building a Dutch style tunnel under a main road. and had stopped at Abita Springs where the spring water is now treated with fluoride so you can't actually sample it, more EU bureaucracy gone mad, oh hang on…EU? Anyway we visited the museum in lovely sunshine and as we left, a man came up to us to chat and to say he'd seen us on TikTok earlier in the week in New Orleans. He was then off to update TikTok with our current location! How on earth did we get on Tiktok? We have no idea…
The weather here is supposed to be warm, not too humid and generally very pleasant at this time of year so we had planned to camp for 3 nights on our way round the lake, but very cool overnight temps and elderly bladders made us wimp out and opt for the luxury and warmth of en suites.
We arrived in Mandeville, on the lake shore opposite New Orleans after the rain had gone but the air was decidedly chilly. We sat on a bench on the Lake shore wrapped up in gloves coats hats and generally looking miserable whilst behind us a row of parked cars sat with their heating and engines on looking at us as if we were mad. They did have a point.
The town has a waterfront lined with multi million dollar houses. Its so posh there's no coffee shops on it! You wouldn't want ordinary people spoiling the view now would you?
We spent the night at an Airbnb where again the house build quality was shoddy and moved on to Slidell on the last section of the rails to trails Tammy Trace in sunshine but wrapped up for the winter. It's very odd for us the weather. If you sit in a sheltered spot in the sun you could sunbathe, when the sun goes in you need a coat and when the wind blows you need your thermals!
The locals have been complaining its cold to us in our shorts and t shirts, so goodness knows what it's like in the summer. But the cooler weather had one last death throw before warm weather arrived with a – 5C due for the night – beating Lousisiannas all time low of – 1C. Linda reminded me on numerous occasions I said she wouldn't need her thermals…
That night in our 5th wheeler caravan Airbnb the with the temperature well below freezing naturally we couldn't find the main heating controls in the van and we daren't ask the owner after Linda came in and hung her coat on the coat hook and pulled it off the wall – another example of great American workmanship? Why couldn't we ask? Well, the National Rifle Association poster in the van was a tad off putting and the "We don't dial 911, you've been warned!" poster with a gun pointing at you quite scary.
So we left the lounge fireplace on which kept the chill off and naturally found the heating controls in the morning when we closed the bedroom door from the outside and there they were hidden behind a door you'd only close when you went to bed, and then you'd be the wrong side of the door to see them!
We enjoyed the 5th wheeler but again, the workmanship and build quality was very poor. There were no light switches, each light had to be turned on by pressing the centre of the light, heaven help you if you are short, or a child. The heating and fridge made an awful lot of noise and everything was so flimsy.
We moved on for our last Lousisianna cycle into Mississippi leaving civilisation behind for the day and heading cross country. There were no shops, hardly any houses and even some dirt roads. The trailers you saw were run down and almost uninhabitable, but we still got barked at and chased by dogs from them. This is the hillbilly lands! Trump posters, confederate flags and churches abound. I'm sure there's no connection in all that.
We actually felt a bit uneasy about stopping for lunch, which is really unusual for us, so waited until we started heading back into more populated areas. We plonked ourselves down at the side of a road next to a veterans club on a railway sleeper in the sunshine and after a while one of the staff popped out to check we were OK and offer us food and invite us into the warmth inside. It was very kind – like everyone we've met here – but we were actually quite warm outside and enjoying our French baguette rolls!
We reached the Gulf Coast and the eye of Hurricane Katrina where the houses all looked amazing, many on stilts and exactly what you'd picture for a seaside house in the south of the US. But all this area was completely destroyed by Katrina and everything here is new and once you know that you start to see the empty plots where houses have been cleared and no one has come back, the drives that lead nowhere and the steps up to nothing. Our Airbnb here in Bay St Louis was also destroyed and the owner, Vera, showed us pictures of her devastated house. She told us how she lost almost everything but her grandmother's glass topped table survived unscathed. How 2 of the chairs for the table were OK and a 3rd was found a few miles down the beach. (It took 2 years for her to be abke to return to her house). How the neighbour lost all his prized books, some dating back to 17th century apart form one that lay open in his fire place – "Gone with the wind" There were so many of these surreal tales. She'd certainly done a great job of rebuilding and we had 2 nights here to allow us to explore the town.
Departing Bay St Louis we stopped in at the 'proper' bread shop to pick up lunch. We hadn't even got off Tilly before the owner was outside the shop saying she'd seen us cycling on the seafront and had wanted to stop and give us a muffin but there was a car behind her! We came away with some sliced sourdough, a scone and the aforementioned muffin and she only let us pay for the scone. People have been so kind and lovely here.
The weather had changed for the better, whilst the wind was cool, the sun was hot and the air warm and for once the wind behind us as we glided down the seafront past absolutely stunning mansion after mansion all defiantly waiting for the next Katrina. It is a beautiful ride. We stopped for a coffee on one of our shortest and easiest cycles ever at Pass Christian to be greeted by a lady coming out of the shop saying she'd seen us in the Newspaper that morning and that we'd been staying at Vera's! How is this happening? We seem to inadvertently become minor celebrities. Linda's anxiously waiting for her phone call from the Beeb for a Strictly slot…
After coffee the Millionaire mansions continued and we had a hard job keeping our eyes on the road as our heads were permanently angled to the side.
We arrived at our hotel with neck ache and checked in, showered and went for a drink and food. We've really struggled here for vege options. To put it simply most restaurants do not have any vege option. None. Zilch. Apart from a salad. We've asked if some can do us a meal and have been offered mash and green beans, yummy. Some can't even do an omelette as they don't have eggs. It makes 1970 British restaurants seem forward thinking. Anyway, our Italian tonight had a few options but when we saw the size of the portions we decided to opt for two starters. The waitress told us most people get 3 meals from one main course. We really don't understand this, people were ordering starters mains and deserts and picking at it and boxing it up 'to go'.
Our starters were great and just the right size too. How do you make a jalapeño & cheese Ravioli worse for you? Batter it and deep fry it! It was fab!! I'm glad I can't order that often!