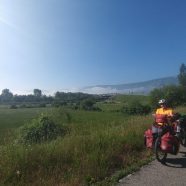 It may have taken us weeks to get up the mountains but it only takes an hour to come down!
Our morning climb up to the last pass was fortunately in the cool and by the time we reached the top we'd been passed by numerous members of the lycra or leather brigades (racing cyclists or motorbikers) all giving us the thumbs up. The road down was fantastic, numerous tight bends, sheer drops, broken crash barriers and a decline that made our brakes earn their keep, I loved it and Linda hated it! She doesn't like sheer drops, so we spent half the descent on the wrong side of the road too ( which I'm not sure helped Linda's nerves) and we maxed out at just over 50kph, which takes a lot of braking power to stop or an escape ramp. It was a heavenly 15km but its over so quickly!
We followed more monuments to Wellingtons army along some lovely cycle tracks and reached the seaside resort of San Sebastian in mid afternoon. We'd cycled from the bottom of Spain to the top, from the straits of Gibraltar to the Bay of Biscay, nearly 2000km or over half a million pedal revolutions! So we splashed out on a glass of cava in a posh cafe overlooking the Bay, though clearly the staff didn't want two smelly cyclists in their establishment judging by their attitude to us. Sod em! We deserved this!
San Sebastian is the St Tropez of the North coast, it's gorgeous, full of lovely buildings, palm trees and a sweeping curved bay with golden sands. It's also prohibitively expensive to stay in, so after a wander round and an ice cream we cycled out to a cheap hotel 15km away for our last night in Spain.
This area is really, as we call it, lumpy. Lots of fairly steep but not too high hills, it's hard work and as we rolled into France I was somewhat annoyed to see that it didn't stop right on the border. (Linda refers to this type of thinking by me as 'Jonnys World')
We cycled over the border at the second attempt, our first effort on the EuroVelo 1 cycle bridge was thwarted by the steel gates that were firmly shut and then had to get a lift (elevator) down to the cycle route from the main road. Naturally Tilly doesn't fit in lifts so we sent the luggage down in the lift then carried Tilly down the stairs. The route begins in France on a wonderful boardwalk along the river, passing numerous benches and water fountains and is quite lovely.
Sadly by the time you reach the corniche it's turned from dedicated peaceful cycle path to two lanes of mad French drivers desperately trying to force you off the road for daring to cycle on the signposted cycle route. One driver even pulled alongside us lectured us then tried to ram us for being on the road,! Fortunately he missed, not for us you understand, but for him – we are a meaty 225kgs of tandem, he was in a clapped out tin pot car, I think if he'd managed to hit us he'd have done more damage to him than us! Anyway, we quickly decided to head inland and the back roads and replan our entire route home too! We had planned to cycle through France back up to Benelux on a mixture of cycle paths and roads but our day one experience of French drivers made us change our mind and head for St Malo on the EuroVelo 1 which is (from Biarritz). All, hopefully, on cycle path. Time will tell…