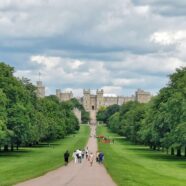 We left Bristol on the old Bath Railway, a gentle incline for 7km followed by a lovely roll down toward Bath and the Kennet and Avon Canal which would be our companion until we reached Reading.
We'd booked two nights in the servant quarters in a Georgian mansion and had to get Tilly down a flight of stairs into the basement courtyard to store her in the cellar under the road. Bath is quite hilly and we surprisingly then went down another flight of stairs to our rooms for 2 nights.
We love Bath, it's a majestic city with a great pedestrianised centre and loads of bars and restaurants with tables outside. We even skipped the England game to sit in one of the bars for a couple of pre dinner cocktails as it was so quiet.
The canal out of Bath is busy with narrowboats ranging from the lived in flower strewn immaculate boats you see on the TV to the everything under the sun piled on the roof modern day society drop outs.
Loads of people live on the canals and in places it's idyllic, though a bit remote and with no mains services.
The water folk often sit round bonfires with a tinny on the go looking relaxed and a bit tipsy but all happily wave and say hello as we navigate the numerous potholes, puddles and Jurassic era plants with leaves the size of our wheels that encroach on the path as the humidity levels rose.
We pressed on into Borneo Tropical Forest (Kennet & Avon Branch) and the path began to disappear, the panniers pushed the leaves aside creating a wake as we passed by and eventually the leaves made it impossible in places to cycle, so we walked on hoping the veloceraptors that were probably eyeing us up from under the trees didn't fancy a lightweight vegetarian for a morning snack.
The path alternated between nice sections and these jungle like ones and we made very slow progress averaging around 10kph when cycling and with stops to find our way, eat etc we only managed to actually cover 8km an hour.
So to speed up we hopped onto roads when they ran adjacent to the canal and rolled up at our Airbnb for the night in the middle of nowhere. The house was huge and overlooking the valley and canal and we had a balcony and sofa. Real luxury for a night. The house must have been worth a packet but oddly all the cars in the drive were small hatchbacks mostly over 10 years old. That gave us something to gossip about all night….
Our next day was a social day – we were meeting our friend Mick for a night on the town in Newbury.
We rolled up at our Premier Inn, a bit of a come down from Downton Abbey, and checked in. Normally Premier Inn are quick at the check in but it took about 15 minutes for them to get our key card for us. There was the usual we can't store your bike routine followed by us quoting their policy at them and them saying 'ah but the policy is for you to store it in your room' and us correcting them and adding 'or someone secure for you'.
Anyway, keycard collected, Tilly enjoying a chat with the staff about their inadequate training in the staff room and we opened the door of our room to find it was occupied.
Back downstairs I go. You are Jon Reed? Yes, hold on then and they disappear into the back office and then phone me. I'm right here you know, out side the office I say and they answer Oh, OK.
Weird. They then say they have 2 Jon Reeds at the hotel that night and have checked the wrong one into our room. Great I say, just give us his room then. Not that simple. Another 20 minutes passes and eventually they come back and half apologise for the wait and confusion and almost made me feel bad I have a doppelganger and we get a new room with no occupants…. Or towels…. Oh dear.
We then adjourn to the restaurant who naturally can't find our booking, presumably as that bastard Jon Reed beat us to it, but no they're looking at the wrong day..
We get our table and order our drinks. You guessed it, the one I ordered had run out with Mick getting the last one… It was that kind of day!
We continued our fight through the jungles alongside the canal to Reading and then Windsor. You could navigate a boat from Bristol to the Thames via this canal and its a lovely place to walk (and cycle in places) but we did occasionally divert to parallel roads to escape the nettles.
We had our final day off in Windsor and stayed at an Airbnb run by the son of a Knight of the Realm who lived in Windsor Castle itself!
He told us to visit the castle as it would be empty and probably the only time in our lifetimes it would be that way so we bought tickets on the door and went to see if Queeny was in.
She was, but sadly she declined my request for an audience to complain about her prat of a PM and the cycle barriers. No idea why…
Windsor and Eton are adjacent to each other and on opposite sides of the Thames a bit like Buda and Pest but a lot more wealthy. The wealth oozed from the mansions to the copper plated Rolls Royce in the centre of the town.
After cycling through some extremely poor run down areas on this trip and the Scotland leg of what has now become a Lands End to John O Groats trip, it feels obscene that so few can have so much whilst so many have so little. Come the revolution….
Our last day of cycling proper followed the Grand Union Slough Branch to the Grand Union Canal and then on to the Thames.
We had another dire weather warning and set off in dry conditions but ready for monsoon intervals….
In yet another remarkable stroke of good fortune we managed to time the monsoons to coincide with suitable shelter and when we reached the Thames we sat on a bench for lunch in glorious sunshine only to move on a few hundred meters after lunch and hide under a shelter as a howling gale and sideways rain appeared from almost nowhere and wreaked havoc on the skullers in the Thames, most of which made for the banks to take shelter. It looked really bleak out there with the Thames having sea horses on and the skullers hiding as best they could.
And so that was it… Almost.
Linda has had a frozen shoulder for this trip which has been quite uncomfortable and we'd decided to take the train back to Ipswich from London instead of cycling.
To book a bike on the Greater Anglia service you have to contact customer services. They will then tell you you can't take Tandems. You then ask to speak to a manager and they take your email and hey presto a booking arrives.
I decided to cut out the middle man and just email the guy who booked us on before. I asked him what was available for 10th and he booked us on he 10.30am.
Hold your horses sunshine, we don't do 10.30's. Way to early for us. So I emailed him back to ask him to switch us to the 12.30.
Cue the reply from his colleague saying tandems weren't allowed on the trains. I pointed out that we had travelled many times on this service and they said you can't. It was something to do with 'championing the cause of the cyclist' that they bang on about on their website I'd imagine.
I asked them to send me the T&C's that say this and they sent me the National Rail ones which do say unless otherwise stated Tandems can't be brought on a service. So I googled it and sent back a copy of Greater Anglias FAQ's saying Tandems can be brought on the service and hey presto I got a booking.
It's frankly appalling that the staff who's job is to book bikes on the train aren't trained properly enough to know the companies own regulations especially when they record all your conversations for Quality control and training purposes.
Anyway, we had an easy trip back, lifted Tilly up and down the Railway bridge at Ipswich, with me carrying all the panniers and Linda getting Aires and graces from our Windsor stay and standing around regally and supervising (her frozen shoulder doesn't seem to affect the clip round the ears I get when I'm too cheeky!) , then pootled back to Taffy via a coffee on the Quay at Ipswich Dock and started planning leg 3, Edinburgh to JOG….