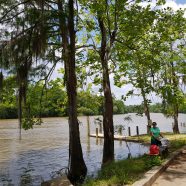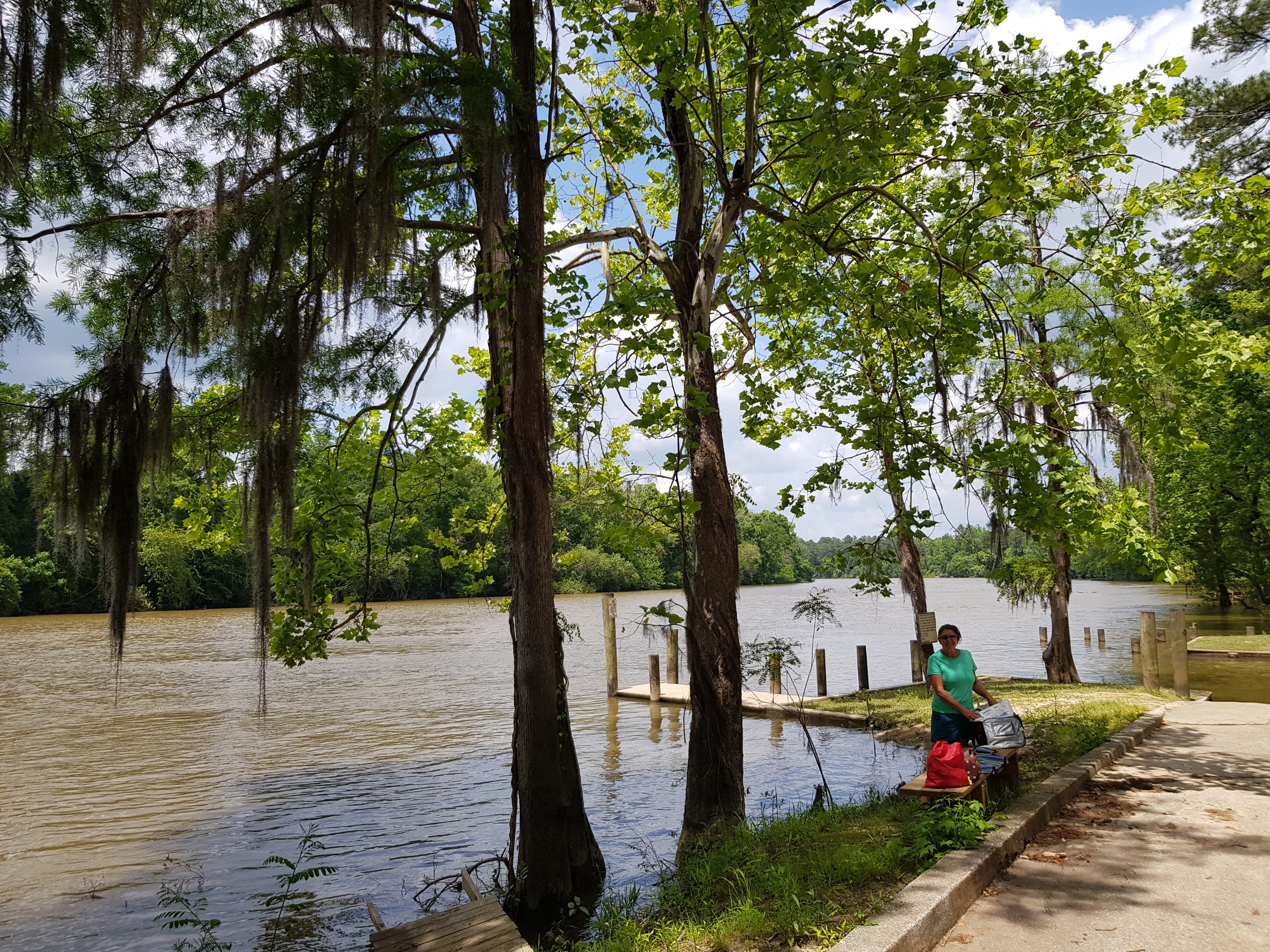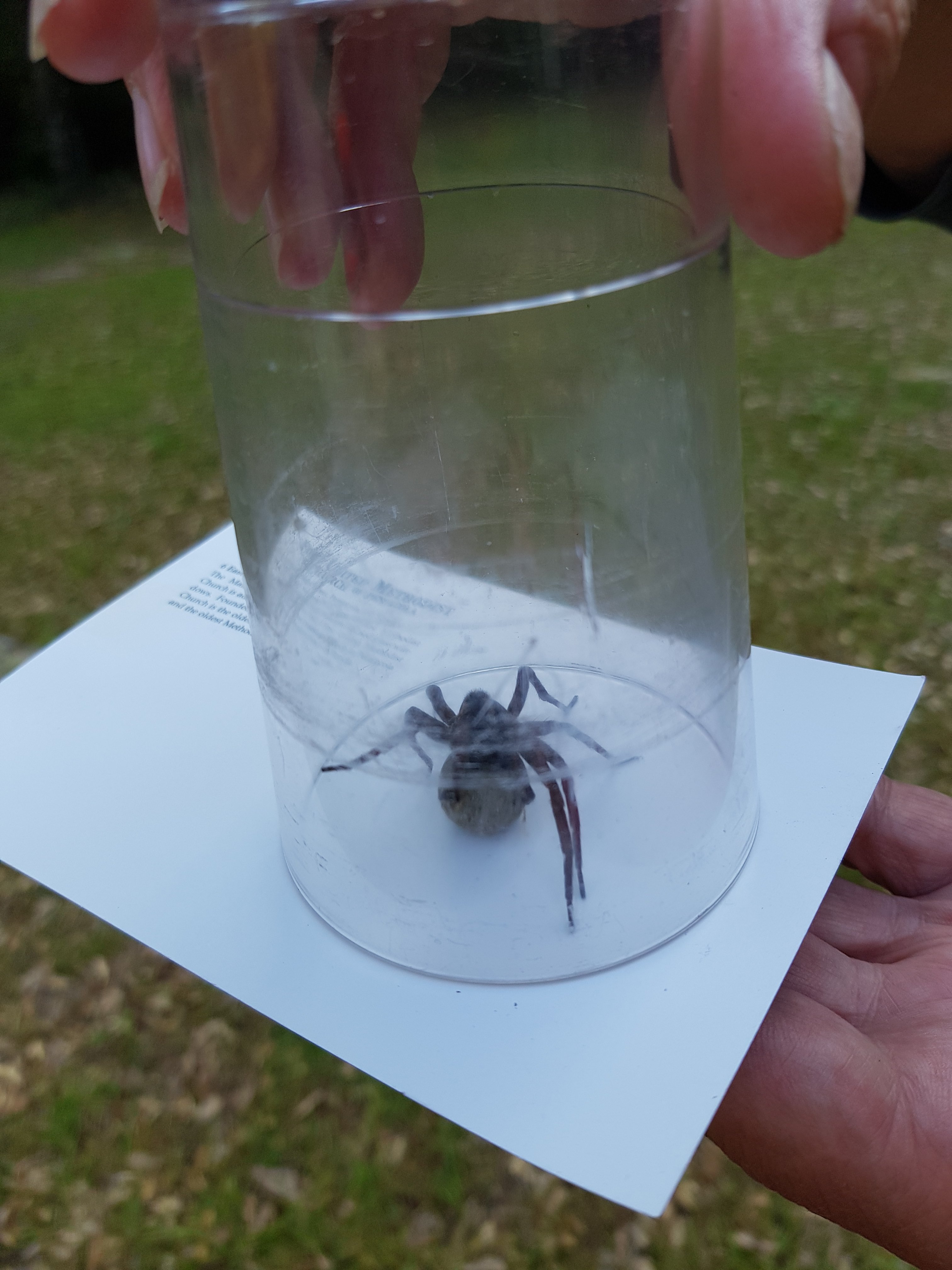 Refreshed, the next day we left our campsite with our own personally signed copy of the Gospel of John from our neighbours and a mini prayer meeting and began our northward journey. Our day took us on a toll road where the staff said "No Charge" and through the countryside to Fairhope, a hippy arty town on Mobile Bay. Again we went for two nights rest and had a lovely day wandering around the town pier and promenade and ending up in the local brewery with a tray of sample beers. Fortunately the ride home was very short and on the footpath – at least that's how I remember it….
Weekends are always more expensive in hotels and often the campsites are completely full, so we took advantage of a car hire opportunity to nip back to cousin Rob's for the weekend. Another very relaxing time with beach walks, golf carts and pool time. They live in such a nice area – one of the nicest areas we've visited all along our route.
Our first day into the hills was unpleasant! Too many hills and far too hot, though we did have a slight breeze helping us from time to time. The heat and humidity is for me stifling, its usually 27 by 9am and once the thermometer goes above 34C I start to wilt badly. It's really pleasant cycling until about 9:30 and we've taken to getting up at 5:30 so we're can take advantage of the cool of the day, but that leaves you longing for bed around 6pm!
There's no campgrounds or hotels for 160km on this section so we had decided we needed to try and do it in two days. We failed! We coveted 41km before lunch but the heat and hills combined just drains you and by 60km we were exhausted. It was 39C in the sun and 34 out of it and humid too, we just wilted away in the afternoon heat and stopped at a church and pitched the tent. We had planned to phone the vicar first, but no phone signal and no contact numbers rather defeated that plan.
Fortunately we had enough water for two showers (6 litres) which make you feel so different. After cycling all day in the heat you are covered in dirt, road grime, sun screen, sweat and flies. To wash it all off is heaven! Rather appropriate as we were at church!
The next morning we set off at the crack of dawn and it could have been a repeat of the previous day. Trucks, hills, heat humidity and trees. We stopped at the only two shops ( and a spring to refill the water bottles) we saw all day for some cold drinks and fruit and vegetables. We got cold drinks only – no fruit and veggies here, plenty of meat though! As usual we spoke to loads of people on route who warned us of Purdue Hill which we would reach toward the end of our day. One driver telling us his truck struggled to get up it – and it probably had a 6 litre engine in too!
As the heat took its usual afternoon revenge on us we sat down in the shade of a church for 3 hours to wait for the afternoon heat to wane. By 5pm it's cooler and more pleasant, or at least less unpleasant. We had planned on camping at the church but decided we couldn't face a clammy night in the tent and decided to head for the nearest town instead some 25km away. We set off and quite quickly reached the town just before dark realising we'd gone up the dreaded Purdue Hill and hardly noticed it. It had been a very long gentle slope – ideal for cyclists whereas many of the other hills had been the get off and push I'm 9% type.
We stopped at one of the nicest cheap motels we'd seen and after chatting to various people who all informed us our planned route was hot, hilly and had very very few places to buy food we could eat for the next few hundred miles, promptly checked in for two nights to rethink our tour. Should we bail out now or continue???