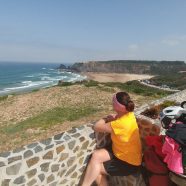 Monte Gordon to Vila Nova de Millfontes – (5 days 110km, 783m climb)
It's a bit worrying when you ask in the tourist information about the EuroVelo 1 Atlantic Coast Cycle route that runs right outside the tourist information office and they've never heard of it, but hardly surprising as we've seen two signposts for it in 100km.
Apparently we're the first people ever to cycle it, which can't be right, but might explain it's state, which is poor to non existent. Some of the route had been a challenge for a 4×4 let alone us on Tilly. It's taken nearly an hour to get a few hundred meters on some stretches due to the rutted gravel tracks that donkeys would be more appropriate for with their 23% inclines. Even Taffy would be complaining going up inclines like that, and for us it's an ordeal of push for 10 meters and rest for 5 minutes.
We're not sure if we're now too old or this is too hard or its just the cycle conditions, but our usual day trip is 60km or more, here we struggle to do 35 and then fall into bed exhausted when we've done it Our legs ache all the time ( literally, you wake up in the middle of the night and they still ache) and if it wasn't for the wonderful scenery we'd have given up by now. We have never been so exhausted in all our lives. Perhaps we'll get fitter and it will become easier, but we've done over 800km so far so I reckon we're fit by now and as it seems to be getting harder – possibly it's just the difficulty of the route that's too much.
We'll get to Lisbon in a few days time and then sell Tilly (!) and rest up for a week, but we're not sure if we'll continue north. With sand and gravel on the quiet routes and some of the worst drivers in Europe on the roads we may hop back to Spain to continue homeward.
Portugese drivers are the opposite of the Spanish who give you tonnes of room and are very patient. Here it seems to be a matter of pride to see just how much paint you can take off your car side as you pass a cyclist and in towns see if you can overtake them and then brake violently to turn right so we have to stop too. Mind you , that's risky business for the drivers, some of whom are driving cars so rusty and fallen to bits a good thud from a quarter of a tonne tandem could overturn them and right them off. That'd be taking road rage to a new level! They are terrible and we've taken to using a tent pole with flags on on the back of Tilly to try and make them give us some room.
The people though are lovely – what does getting in a car do to them? And they're kind and helpful and the countryside and coast are breathtaking (especially the hills!). But it's perhaps a place for us to return to with Taffy, not Tilly, all the locals think we're mad and we rarely see cyclists let alone tourers, which is a huge shame as this is absolutely stunningly beautiful scenery.
So, after a day off we'll push on tomorrow taking little bites out of the 140km left to do until Lisbon.