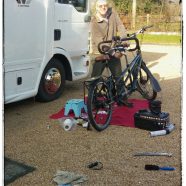 After a few delays due to our ailments we've begun to pack for our next trip. Mind you it won't take long, we've only got the 4 panniers to pack for the next few months, two of which contain all our camping and cooking gear and the other two our clothes. And you can't get many clothes in two panniers, though Linda somehow managed to get all her cycling gear, plus two going out dresses and three pairs of heels! I'd imagine we're the only cycle tourers to have more high heels than pants!
Anyway, we set off on Tuesday 21st March and will take 4 days to cycle down to Luton. It's not that far, but we want to break our selves in gently rather than break ourselves badly!
From there we fly with Monarch (£30 for Tilly!) To Gibraltar then it's the simple job of cycling back again. We could have got a villa for a month and flown back, but oh no, Jon says we cycle, so cycle it is. It's about 4000km, which isn't the worrying part, it's the Pyrenees that bothers us. Jon's not looking forward to the uphill bits and Linda's not looking forward to the downhill bits!
The route will hug the coast of Spain and Portugal before heading inland at the top of Portugal and crossing the French border as near to the Atlantic as we can get so we can try to not have to cycle too many mountains. From there were head to Bordeaux, Paris, Brussels and then Amsterdam. Or maybe we get to our first Hill and come home! Who knows and time will tell…
[tag packing]