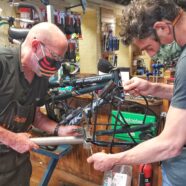 Tilly has been making a decidedly unhealthy sounding clunks when we hit pot holes and bump up on kerbs.
I'd tried tightening the headset but it made no difference and we stopped in Bodmin at a bike shop for advice.
The guy there took the front fork out and said our bearings had gone meaning that the fork was loose so banged when we hit things.
It wasn't dangerous but needed a new headset fitting when we got the chance, but he said we'd be lucky to find one as there are no bicycle parts anywhere. Don't mention Brexit…
So, when we arrived in Exeter we cycled to the Bike Hut and asked if they could help. The good people there took Tilly in immediately, removed the old headset with a mallet which wasn't fun to watch and then put a brand new shiny one in and within 30 minutes Tilly was back on the road good as new. A more helpful shop you couldn't meet. Fabulous.
We'd booked two nights in Exeter to recover from the last of the Devonian Hills and had a lovely wander around the city and the port on our day off. When I say wander I mean walk from bench to bench looking for coffee and cake….
It's a really nice city with some great restaurants and bars (and bike shops) and the port area has been transformed into a very continental waterfront where we managed to force down a Devon cream tea. (I can't tell you the difference between a Cornish and Devon one, but didn't think I'd mention that to the staff.)
From Exeter the hills flattened out and we cruised along to Taunton through some gorgeous countryside on tiny lanes and obviously via the odd coffee shop for a cuppa en route too.
The weather forecast for our journey from Taunton to Weston Super Mare was pretty crap. So much so that even I started to take notice and normally nothing less than a hurricane warning gets my attention. The BBC issued a weather warning and our weather apps said we would get 10mm of rain an hour.
We decided that the best policy was to wake up early and set off before the rain was due in at 9ish. So off we pedalled at 7.30 (it shocked us too) and went hell for leather as fast as we could. We employed the Atlantic Convoy tactic managing to out fox the clouds turning at right angles quite often due to a very weird cycle route but finally it hemmed us in and eventually rained on us for about 30 minutes of rain. Nothing torrential, just rain. So much for a weather warning!
We arrived on the outskirts of Burnham on Sea and met a fellow tourer – we've not seen that many – and he was heading in the wrong direction so I flagged him down to correct him!
He said he'd had 3 hours of horrendous rain that morning and looked pretty impressed we'd got away with a shower. So maybe the weather warning was warranted…
Burnham had our first refusal at a cycle barrier. It was a weird triangular affair which we had to open the gate, back into then swing the gate past the front wheel and come out forward. I'm going to suggest these to the Dept of Transport for traffic calming for cars and see how that goes..
Anyway, we got firmly stuck and only managed to get out when a body builder clamly lifted Tillys front wheel complete with one pannier into the air to stand Tilly virtually on her back wheel. We then moved the gate and he put her gently down and we worshipped the ground he walked on! In hindsight I should have asked him to just rip the gate out of the ground…
A very kind and super strong guy. He, and to be fair most people we encounter at cycle barriers just think they're stupid – even the pedestrians and dogs, who certainly have the right attitude and pee on them to show their utter contempt.
Anyway, rain avoided, barrier navigated we rolled up at Weston Super Mares Premier Inn to find the computers down and a queue of irate people unable to get into their rooms as the cleaning staff hadn't finished. Poor guy on the desk did very well though, especially as our room was ready and he popped Tilly in the office for the night and we showered and went out to explore past the aforementioned irate queue!
The seafront and promenade are nicely done but, like many sea side towns the town behind it all (apart from the centre) looked a bit run down and poor. It didn't help it was very grey and overcast probably, but it hadn't improved much the next morning either. Not our favourite sea side town.
The ride into Bristol was again outrunning the rain which we successfully did and was once again a weird route zig zagging all over the place. We eventually ended up on the Strawberry line old railway which was great and weaved our way into the city arriving at the river at Clifton Suspension Bridge which from the river is extremely impressive when you aonide it age.
Bristol was a revelation to us. I can only remember visiting it briefly in 1978 as Ipswich played Rovers on their way to winning the FA Cup. I'm sure it's changed a lot since then but one Bristolian we spoke to was still miffed about Robin Turner's goal and a disallowed goal for Rovers that he swears was onside 42 years later. That's passion for you!
Anyway, the city waterfront is fabulous. The SS Great Britain is housed there in the Docks which still have old goods wagons and cranes along the Quay giving you the feeling of going back in time, until you hit the bars that is. But the whole area is really nicely done – a right lesson to Norwich who messed up their waterfront by facing all the cafes away from the water. Normal for Norfolk perhaps.
The cycle routes through the centre were excellent too making the whole place pedestrian and cycle orientated rather than dominated by cars. Excellent.