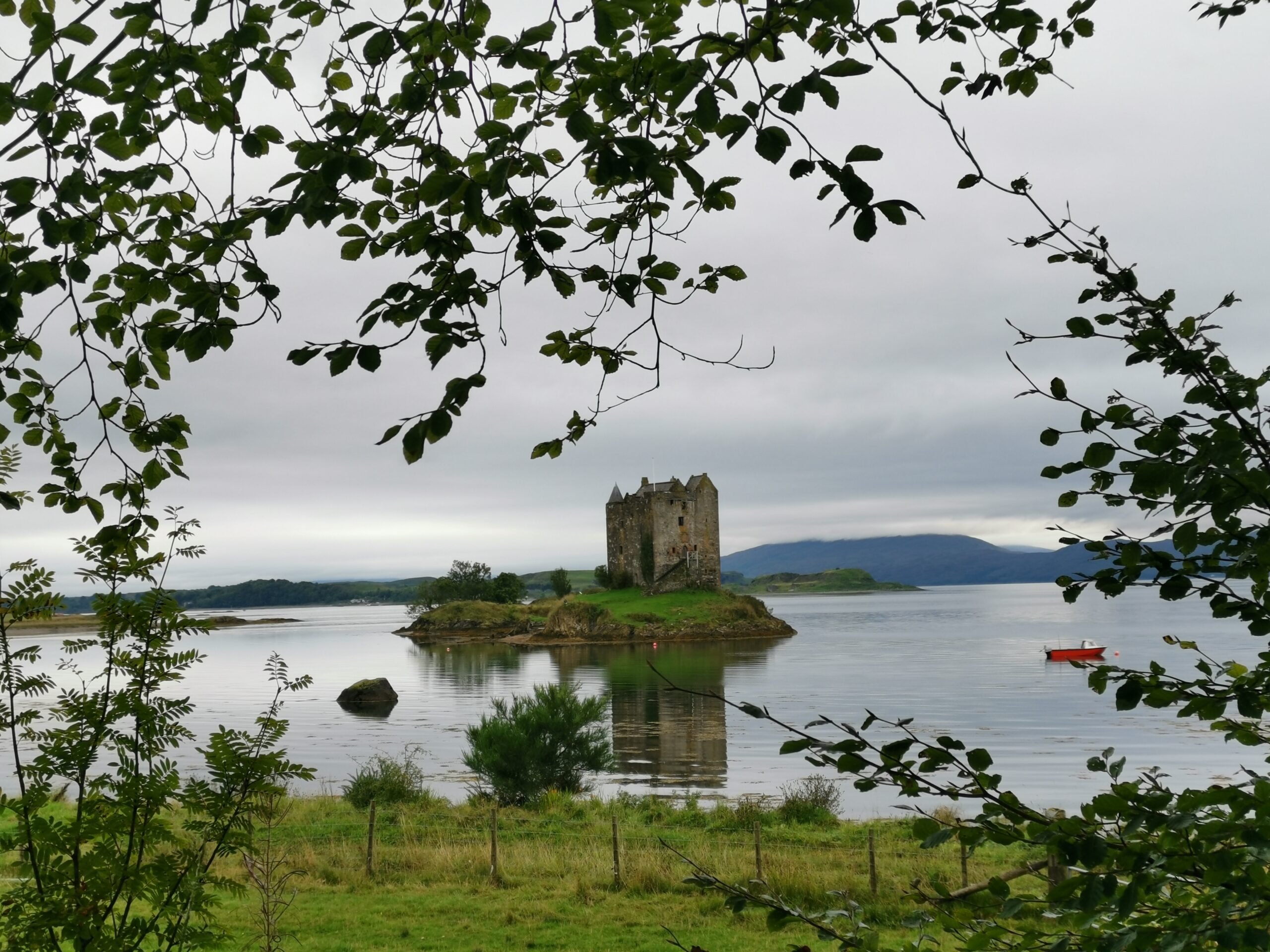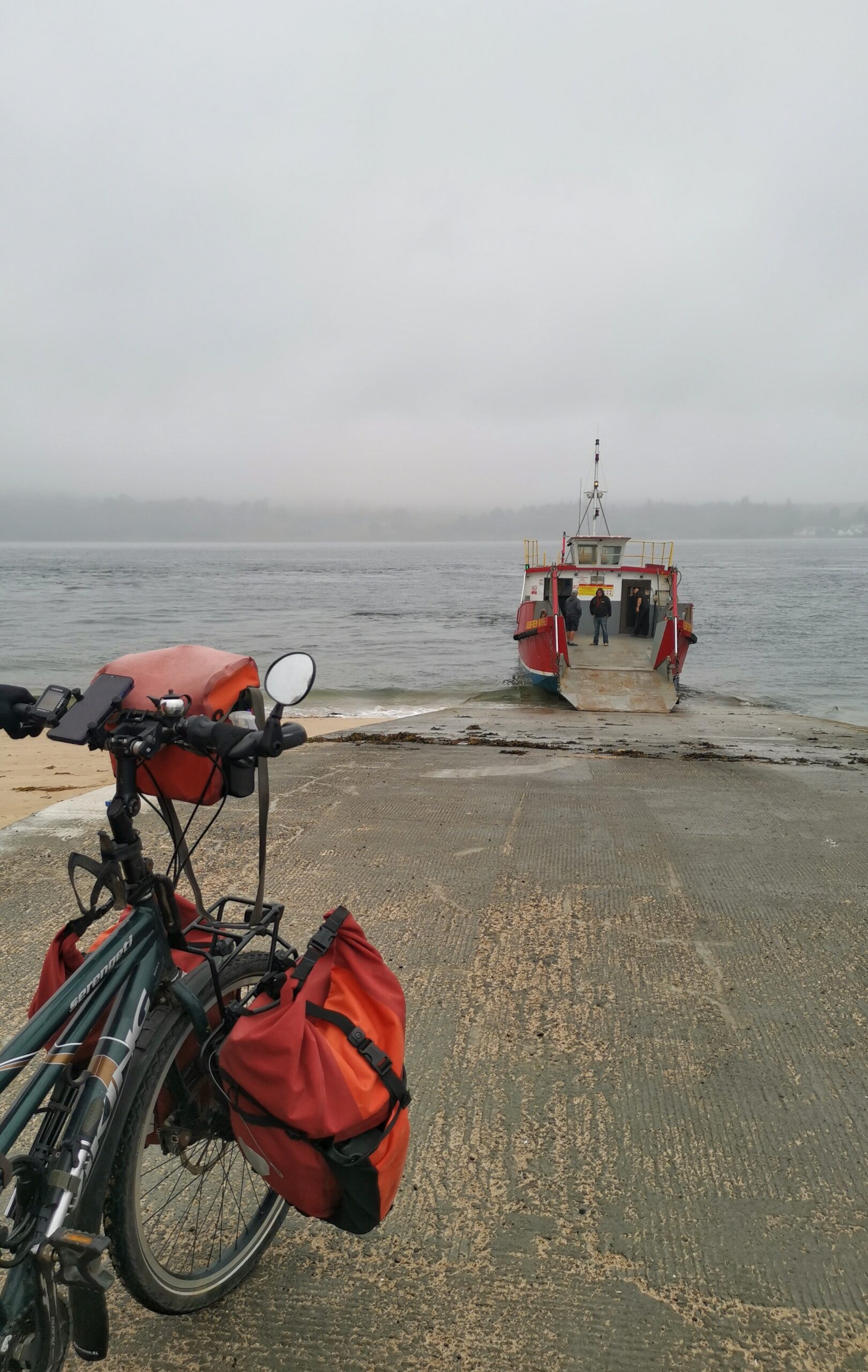 We left Portmohomack and began our cross country trip to Oban via Loch Ness with a tail wind on a msity morning bound for Inverness. Our ferry at Cromarty was a 2 car affair and you could only just see the oil rigs and wind turbine ships moored in the bay shrouded in mist.
A quick stop for a coffee and delicious Whisky fruit cake set us up for a very easy cycle to Inverness where we arrived, still in mist, to be told by a cyclist that we were in a not very nice area and should be careful. He then added that actually Inverness was not nice either.
Cycling out the next day we thought it didn't look too bad and had a small nice centre but it soon disappeared as we joined up with Loch Ness.
The cycle was on a single track road and mainly right by the Loch but despite our best endeavours we didn't spot Nessie anywhere.
We began our ascent of the highest hill of the tour at 400m with poor Linda suffering her most painful day of the tour from her frozen shoulder. Even so, we managed to cycle nearly all the way to the top but had to get off and walk the last 200m.
The ride down into Fort Augustus was steep and very enjoyable even it we did have the break on for most of it but by the time we got half way it was clear the heavens were about to open so we stopped and got our waterproofs on before getting drenched.
As we rolled into Fort Augustus the famous Cross Country 6 who we had met at Britain's Most Remote Hotel were doing a veritable impression of drown rats waiting for one of their number to get his bike repaired.
Coincidentally they were staying at the same hotel as us again and told us that on the day we last left them they ended up pushing fully loaded bikes for 2 hours through the sodden peat bogs… Glad we'd decided on the easier route!
The next morning we found our first SCG (Stupid Cycle Gate) for a long long while. The gate, on the old railway, opened freely enough and was very wide but had a 30cm bar at the bottom menacing you had to step over it to get past, which naturally meant panniers off and lift Tilly. I've no idea how a wheelchair, mobility scooter, pushchairs or the elderly were supposed to get past it.
Whilst we were doing our baggage handling a racer with a number on his chest came past and thanked us greatly for being his doorman. He was the front runner and it wasn't long before we'd found ourselves in the middle of coast to coast iron man ride. 7 mile run, followed by an 84 mile cycle, then another run, this time 14 miles, then a 1 mile Kayak where presumably the ones who died en route got a viking funeral send off.
These guys and gals would pass us all day and we were very relived to find many of them pushing up the same hills we did. Some even ask if we were participating in the race!
The route was mainly good but a forest track section had recently been resurfaced and was like cycling (or pushing as we did) through a quarry. I'm not sure how anyone stayed on their bikes on that!
Our overnight in Fort William in our very cute garden room had a wonderful view of, as the locals call it – The Ben – Ben Nevis. Although for us this was mainly a view of cloud on The Ben.
We had a rest day here and took in the delights of Fort William (there aren't many) and found restaurant after restaurant closed due to staff shortages.
We eventually settled for a Chinese takeaway and an ice cream. Whilst we sat quietly eating our ice cream on a bench facing Neptune's locks that from part of the link between the coasts, a chef and his friend were talking about the Jacobite Steam train meals.
He was lamenting the fact that they would serve the soup and then go through a tunnel as the windows all had to be open for ventilation due to Covid, everyone would end up with soot covered croutons!
He wasn't at all impressed and when we said to him we were glad we had heard him talking about it as we had thought about going on the train he changed his tune completely and said how wonderful it was!
Leaving Fort William we boarded the ferry to cross the water which involved the crew man handling Tilly on to the roof of the boat and me nearly dropping a pannier overboard but the ride on the quieter side of the Loch was well worth it.
We eventually had to cross back on a car ferry and then follow cycle path adjacent to the A828 to Ballachulish. Wow, that wasn't pleasant! Coming from hours of peaceful tranquility in the more remote areas we've visited we totally understood why some people prefer that life to the more inhabited areas with their noise and rush of traffic.
We wandered down to the pub for supper – closed due to staff shortages, then onto the hotel on the lake – closed due to staff shortages so eventually had sausage and chips from the chippy!
Our final proper ride was into Oban along a very pleasant cycle path. It even had its own mini pass over a hill with hair pin bends, Great fun.
Whilst we enjoyed this, it felt too noisy with nearby traffic after all those silent cycles. We're missing those hills now!!
Having reached Oban it began to rain – we think it rains a lot there but we pre booked the Piazza on the Quay for a final meal and the sun came out to say goodbye.
The next day we took the Highland Explorer to Glasgow which went very smoothly. We were loaded first and the new carriage was well designed, spacious and easy to store your bike in. It even had charging points for electric bikes!
Getting from Glasgow to Edinburgh we followed the Forth and Clyde Canal back to the Falkirk Wheel and then joined the Union Canal all the way to Edinburgh on our longest and one of the easiest cycles of the whole tour. 82km flew by and we both felt at the end of it we could have gone on for our first 100 of the year. We were still cycling at over 21km at the end of the day and had we not had to constantly stop for dogs we would have had a fab average speed that day. Oh well.
So, back in Edinburgh we boarded our train south and said farewell to an absolutely fabulous tour. We've loved nearly every minute of it – even the hills and torrential rain!
We've managed 3770km and climbed a total of 27km on the combined 3 sections of our summer LEJOG adventure..