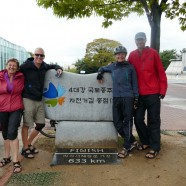 Hyeonpung to Busan 3 nights 179km 590m climb (1095km total)​
We arrived in Busan in a gale (for once behind us) following Hugo and Bego, a lovely Spanish couple who are half way into a round the world cycle. At the final checkpoint on the Nakdongang a Singaporean couple and a Korean man arrived at the same time and it was a great celebration for us all having completed the trip – though it's more like a simple day outing for Hugo and Bego who have already cycled 33,000 km in 23 months.
It was still wet so we'd decided not to camp (again!) And headed for a luxurious boutique hotel where after some negotiation we got a deluxe room for less than the advertised standard room rate and deluxe it was too! The hotels here are amazing value and at less than £35 a night including breakfast make TravelLodge look like a huge rip off. Most of the hotels are themed and really glitzy – Vegas style glitz too and we've thoroughly enjoyed staying in most of them.
Busan also is a refuel stop and our hotel was almost next door to an Indian Retsaurant where we had our first proper meal for 4 weeks. I'm afraid the food has been very difficult and even our instant Noodle we bought earlier in the trip and were told was veggie turned out to have meat in it, another case of porks not meat, onlybeef is.
We'd set off from Hyeonpung, another medium sized Korean town, full of Tower blocks and loads of tiny restaurants. Our hotel for once was not glitzy but clean and quiet with working air con which is all you really need and though the town was nothing special we found a barber for a hair cut and a pizza for tea, which was for once loaded with vegetables – delicious.
After a day of weaving our way around hills on another hot humid day we rolled into Namji and saw a couple of touring cyclists at a corner shop and did a quick u turn to say hello. Hugo and Bego are a Spanish couple who set off from St Sebastian 23 months ago on a round the world cycle and were on their way through Korea bound for the more challenging Japanese Alps. I think after cycling through the Himalayas the dedicated cycle paths and a 600m 'mountian' were not really much of a challenge to them. Their trip sounded fabulous and even Linda has started considering a round the world trip – if I can plot a route avoiding all the mountains!
We've had really good weather since we arrived by and large but our final two days of cycling into Busan saw us cycling in torrential rain where we got soaked to the skin despite our wet weather gear. We must have looked like drowned rats when we rolled into a hotel at Mulgeum as the manager brought us towels to dry ourselves and bin liners to put our rain stuff in. She didn't care about the mess we made and happily showed us round the rooms and we opted for a deluxe rooms with huge jacuzzi to soak away the evening in. our Spanish friends had a different experience that night and got turned away from a hotel for being too wet!
We'd had our first fall of the trip earlier in the day after crossing a bridge and doing a steep 120 degree turn. The cyclist behind had started yelling loudly and I thought he was warning us of some unseen danger and I stopped on a steep bend that fell away to the side. I tried to put my foot down but the ground was too far below me and we both took a half tumble catching the bike before it fell over completely. I was fine but poor Linda, who had further to fall, wrenched her back and for the rest of the day every time we went over a bump there were painful whinces from behind me. So a jacuzzi was definitely in order! This did the trick for Linda and as she got out she said "I feel much better" but promptly twisted her back again and couldn't move for the rest of the night!
Fortunately rest and painkillers did the trick and by morning Linda was feeling much betfer and we headed on in drizzle and a gale which for once was behind us.
We caught up with Hugo and Bego just outside Busan and we all cycled to the end of the route arriving at the same time as a Singaporean couple and a Korean guy where we all had a mini celebration for our achievement (which was pretty insignificant compared to Hugo and Bego's epic journey!)
The route has been absolutely fantastic and we'd highly recommend it to anyone who enjoys cycling. It's an easy cycle with some challenging hills for the hillphobic but we've been told that it's not challenging enough for some of the more hardened touring cyclists. But if you like beautiful scenery, wonderfully friendly people, having your tyres pressure checked every time you meet someone and enjoy a dazzling array of cheap but high quality wacky love motels then this is a brilliant cycle. We really can't recommend it enough.
So we've finished the South Korean cross country route and two of the 4 rivers. The next challenge was to get to our next route. We'd been told by tourist information in Seoul that we could take Tilly on the train here to our next town. Well you can, if you take the wheels off and box it up which isn't going to happen so we had to rethink our next step. Ferry to Jeju? Not today you don't they told us, it's raining. Err, Aren't their ferries waterproof? Anyway, after getting the metro to various places to enquire about shipping Tilly without any luck we crossed the road from our 'Boutique Hotel' (which was fabulous) and found the bus station who said if you can get her in the hold then you can ship her. Ironically we can see one bus stand from our bedroom and it's the one we go from. So time for a bus trip.