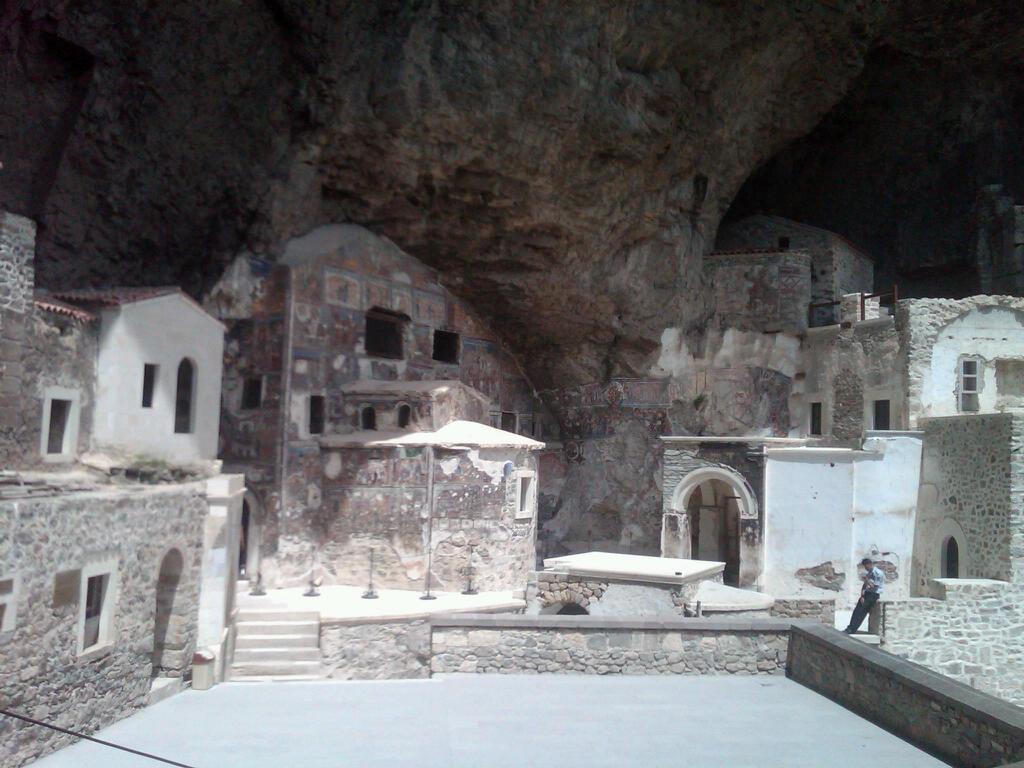 The drive along the coast to Trabzan is lovely. The road passes through numerous towns, some of which looked much nicer than Unye with promenades along the sea shore and cafés in parks with plenty of trees and grass. It is certainly much nicer than our guide book lead us to believe. It was in fact nice to be driving as today it is so humid and hot its almost unbearable. Putting the electric cable away this morning I had sweat running down My face in just a couple of minutes and was glad to retreat to the air conditioned luxury of Taffy. Its not the heat that gets you its the humidity.
We parked up in Trabzan with ease despite Rough guide saying its impossible to park there. I don't know what they were driving but it must be very very big if they couldn't park it!
We walked into town which was a jumble of houses and shops on the hillside with a very pleasant Centre with a few old buildings thrown in and a Burger King which did Veggie burgers! yum! We found a ticket office for the ferry to ask about our crossing into Russia for when we return this way in July and there then followed a discussion with various people about whether we would get on or not because of our height. In the end, as the ferry was in port, we all walked down to the dock to have a look!
When I say ferry you will need some help picturing it. Think of P&O's Pride of Dover and Pride of Calais only smaller, a lot smaller. Well this is more like Pride of Rackheath…. Only 50 years ago and after it had served in the Falklands war and then not seen a paint brush since the fire shortly after it had been refloated after it had hit a mine a few years back and you'll get the picture! It wouldn't surprise me if my Mum and Dad went on it in their Bedford Dormobile 30 years ago and even then it would have been old. It is a roro ferry though and we have to go on the top deck. There are only 2 decks and the ramp to the top deck takes up half the ship and it looks like they will have to clear chairs and tables away to make room for us. We will fit on with a few mm to spare I think but we will roughly double the gross weight of the ferry whilst at the same time blocking any view from the bridge. We are roughly 1metre taller than the funnels and will double the number of toilets on board! On the bright side we can sleep in Taffy – presumably because once on the top deck we won't be able to get out of Taffy without falling overboard! Suddenly Crossing into Russia through Abkhazia looks a safer route than sailing! Still all that's for July and we now know the price and can look to see if the ferries from Georgia to Russia are running again as an alternative.
After the port tour we headed to the Sumela Monastery up in the cool of the hills. We parked at the Monastery car park which was so sloped it felt like Taffy would capsize, so we took the opportunity of practising our abandon ship routines in preparation for our eventual ferry crossing!