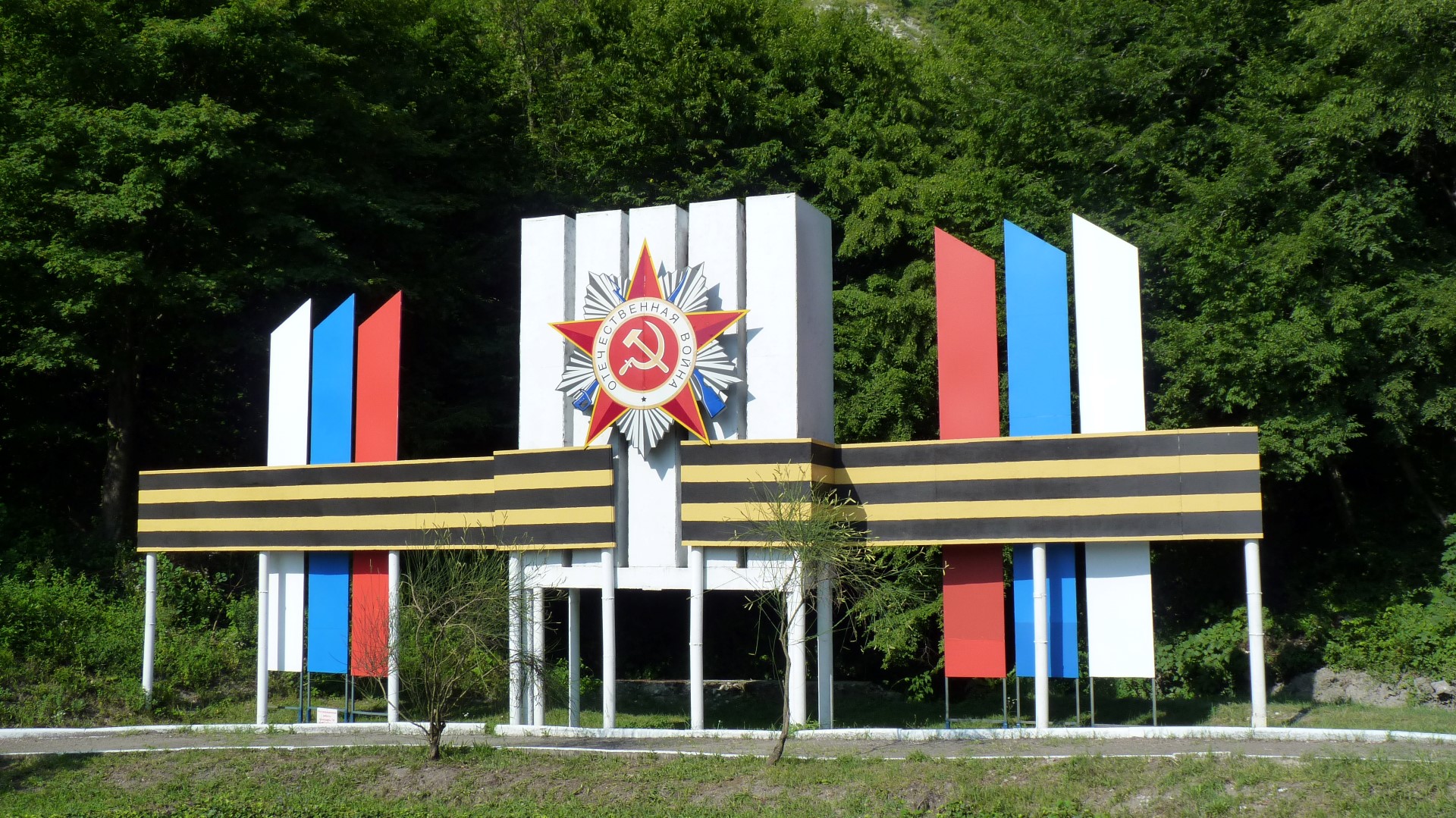 Sochi was not at all what we expected. The difference between Turkey and Sochi is quite astonishing. It took us a while to find our way out of Sochi and we passed glitzy hotels restaurants and bars in abundance. The roads were lined with trees some palms and loads of fairy lights. It was almost like a fairy land though probably more like Vegas.
We had tried to find the camping but it is very mountainous here and the road winds up and down with numerous hair pin bends and even at midnight is heaving with traffic, so in the end I took a lead out my dads 1970's book of his Dormobile experiences in Europe and stopped and asked a taxi driver. They had no idea about camping, but he led the way to a 'stayanka' – guarded parking – where we spent our first night.
The coast road is probably the most winding up and down road we have ever driven on, its also the only road here as on one side the Black Sea sparkles and the other the mountains loom large covered in trees. So, when they have an accident or resurface you spend hours and hours covering a couple of kilometres – which is what we have done today. What makes it worse is the Russian car drivers who just go down the oncoming lane (or over the pavement) and push in. We witnessed numerous near misses and a few stand offs where an oncoming lorry just blared its horn and made them reverse up the road. So for 11 hours driving we covered 147 kilometres!
We have passed loads of camp sites where the tents are so crowded you couldn't walk between them. The beach is shoulder to shoulder and any flat sand area (lots of the beach is shingle) is used as camping too. It reminds me of Glastonbury, especially when you realise there are no loos! The developments of hotels and the towns have been very modern and quite nicely done. It is though 100 miles of a holiday camp, not really our cup of tea but far superior to anything we had expected. Its amazing how quickly things have developed since the fall of the Soviet Union.
We had been told horror stories of the amount of bribes we would have to pay the Police here and as they have checkpoints every 100km or so and a patrol car every 5 we had thought it may cost us around $1000! The Turkish/Russian couple we met said they had to pay around $200 per trip to Russia – about 600km round trip, but we have passed lots of speed traps and police at the side of the road none of whom have shown any interest in us. We've even stopped and asked for directions and they've been polite and helpful. Early days though.
The roads here are a mixture of western standard dual carriageway and 3 lane bone shakers. The older roads are like being in a bomber in heavy flak as Taffy bangs and crashes over the tarmac and then suddenly lurches sideways as we slip into a groove left by lorries, it can be very noisy and the road is very hard to read as it actually looks to be a smooth surface but in fact is a top layer laid on broken up road underneath. This is gradually being replaced but in a country this size there is an awful lot of bone shaker left!
450km later We arrived in Rostov! We had left the Black Sea and the foothills of the Caucuses behind and passed through hundreds of kilometres of farmland that resembles Suffolk on a MUCH bigger scale. All the agriculture is mechanised and the fields huge and interspersed with lots of trees but very few towns. Much of this is Cossack country and we stopped at a Cossack museum and memorial on the crest of a hill dominating the surrounding landscape. We naturally arrived in Rostov as usual at rush hour. We got stopped by the Police who checked our papers and then told us where to park but we couldn't find it! We narrowly avoided being rammed by a Lada which overtook us, we think he was trying to get us to hit him or was totally off his trolley on vodka but taffy is very responsive and we must have looked as though we were going to turn over from the front as we swerved!
After a stressful exit of Rostov we found another stayanka on the motorway and plotted up for the night exhausted.
The next morning the stayanka owner acted as our taxi and took us into Rostov on Don. He stopped on route at some of the main sites here for us to have a look around and left us at the cathedral which was a lovely onion dome affair. Inside it was full of gold, gold candle holders, gold icon frames, and 3 majestic gold Altars. It was quite a change from the depressing monastery interiors of Georgia. That really is the one site to see here and probably isn't actually worth a trip to Rostov to see but as we were here we enjoyed it. We spent the rest of the day walking sitting and watching the world go by. It was lovely! Rostov is a quite European city in the architecture and certainly not what we expected. It seems prosperous and has some lovely parks and a few gorgeous buildings. The river front on the enormous Don is pedestrianised with cruise boats and cafés bars and restaurants and hundreds of people promenading up and down it.
So our first few days in Russia have been quite a shock. No corrupt police (so far), overall quite good roads, lots of signs of westernisation and prosperity and even the houses look Pretty decent. Huge malls and Hypermarkets (fresh milk and cheddar!) seem to by common to any larger town and the Lada is outnumbered by 'Normal' cars.