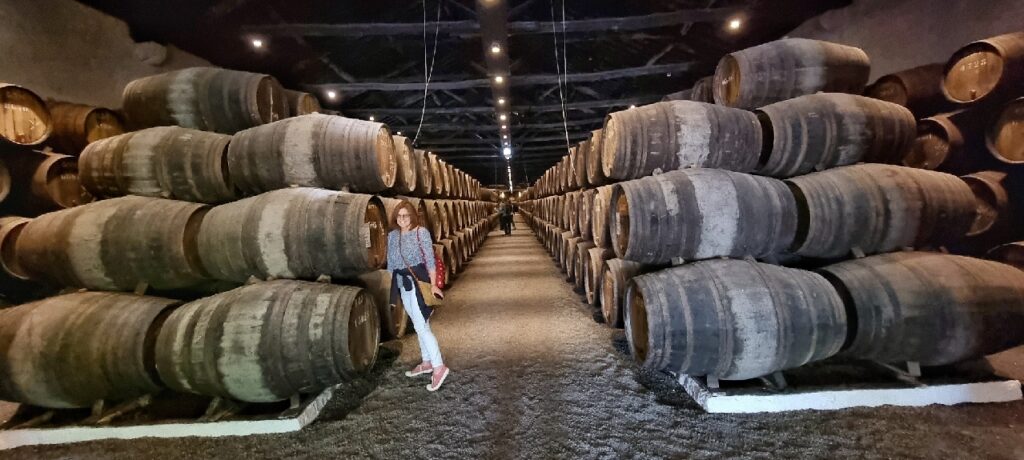 Porto has always been a city Linda has wanted to visit so we planned 4 nights there to have a good wander around. And wander we did, to the tune of 32km. We were a tad pooped before we started to cycle, especially as it's all up and down here, which is never a good plan!
But it is a fabulous city, with old trams, a cable car, a funicular railway and of course the Port Cellars….I wonder why Linda wanted to come here…! Anyway, we had a fab tour and of course tasting in the Taylor's cellars and did the excellent self guided tour with Linda almost drooling as we walked past rows of barrels of port.
We didn't get a tram as they were very crowded and went the route we will eventually cycle but did sit at the Tram cafe and watch them trundle past at their turn around point which was lovely.
We thoroughly enjoyed walking around, even with all the ups and downs and went into numerous churches, many of which beside their ornate decoration, seemed to reveal in the gory side of the crucifixion. If this were a computer game some retired major from Eastbourne would be writing to the Telegraph.. apart from all the blood Christ, Mary and the disciples were all, of course, Persil white.
Our favourite church Igreja de Santa Clara, was covered from top to bottom in gold leaf, quite a sight whilst many of the churches and buildings had the blue exterior tiles on the facades common to Porto which are lovely. The railway station is particaully impressive.
The Majestic Tea Rooms was another tourist Mecca and we had our coffee their with the posh waiters and bohemian interior full of mirrors. It's hardly changed since it was built and Linda said the toilets hadn't been cleaned since then either! Yuk!
Food, with me being a really fussy one and us both being veggies is always a bit of a hassle, but a fabulous Italian Indian was about 400m from our Airbnb. According to the waiter they rarely sold anything Italian except to children which is reassuring as their Indian was excellent.
Our Airbnb on the other hand was a bit of an experience. We've stayed in loads of Airbnbs and they tend to break down into two types. Ones that the owners are very proud of and its almost a hobby, with everything done to amazingly high standards, then the commercial ones, just done for the money. There's nothing wrong with that, but they sometimes are frugal with repairs, decoration etc and ours fell into the latter category.
The bathroom tap and sink weren't so loose, they were completely missing the securing nut underneath the sink and any evidence of the bit that attached to it leaving a challenge to actually get the water into the spinning sink everytime you turned it on Theres no way either had ever been secure from the day they were fitted. The owners said they'd fix it 'when we left'…. A likely story. When we arrived, the shower door was completely off its runner, which we mended by rehanging it. Lastly the property was an outhouse in a garden – and was actually very nice – but you had to go through the corridor of the terraced house to get to the street. The terrace was full of other Airbnbs and the connecting door from our garden was shut and the handle was missing…. So I had to attach a knife to the remains of the handle to be able to turn it so we could actually get out after the gardeners had inadvertly closed it.. "Fixed when you leave" again was the response from our hosts.., not believing that judging by the state of the handle and all the other little unfinished repairs..
But it was clean, quiet and very handy for the city so we were pretty happy but probably wouldn't have been if we booked this as a Porto weekend away trip.
So with Tilly double checked and our feet a bit aching from the walking we set off on the Portuguese Camino from Porto northwards to Santiago de Compostela along with countless Pilgrims.