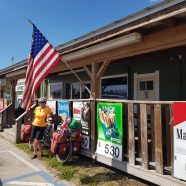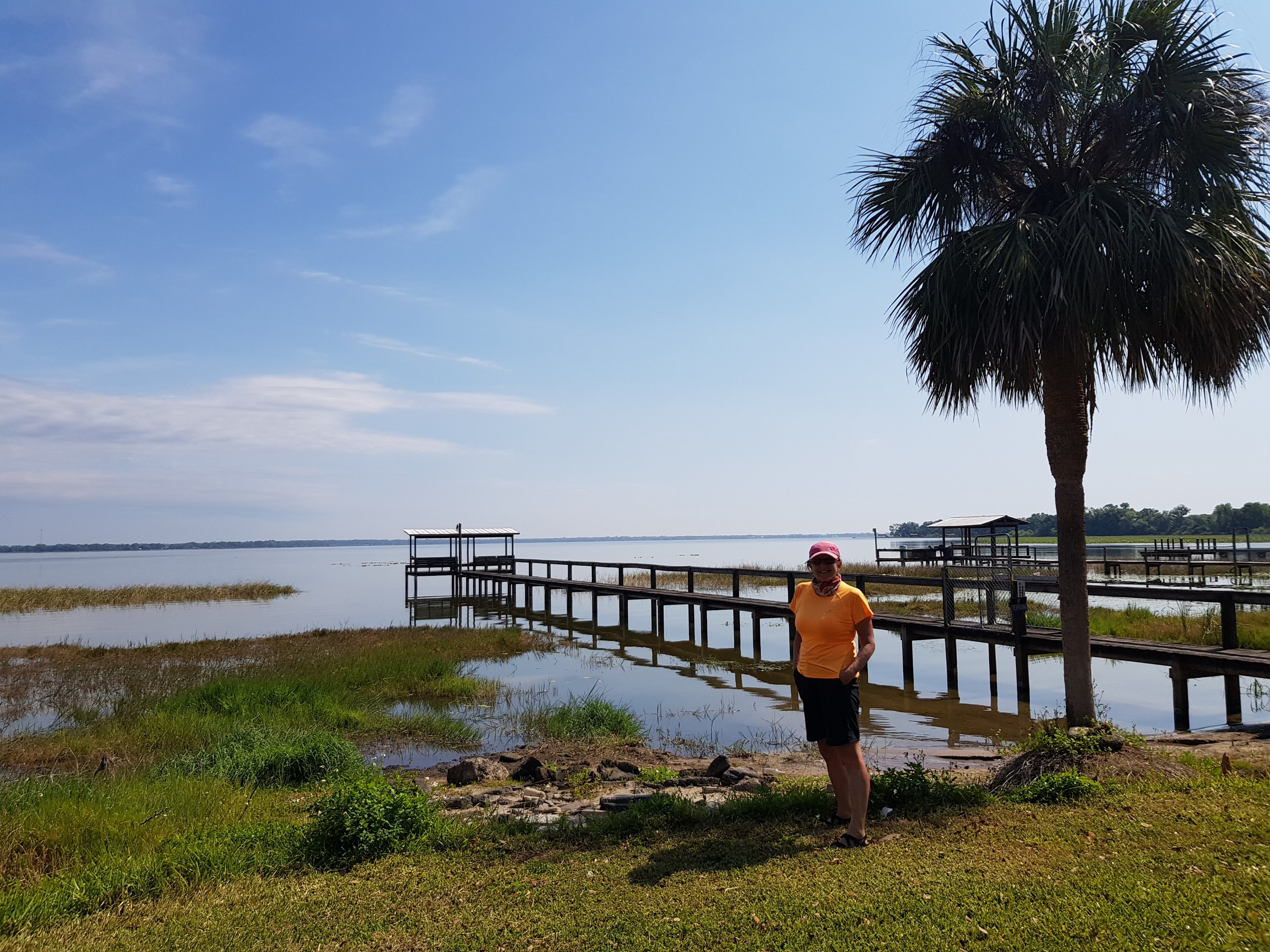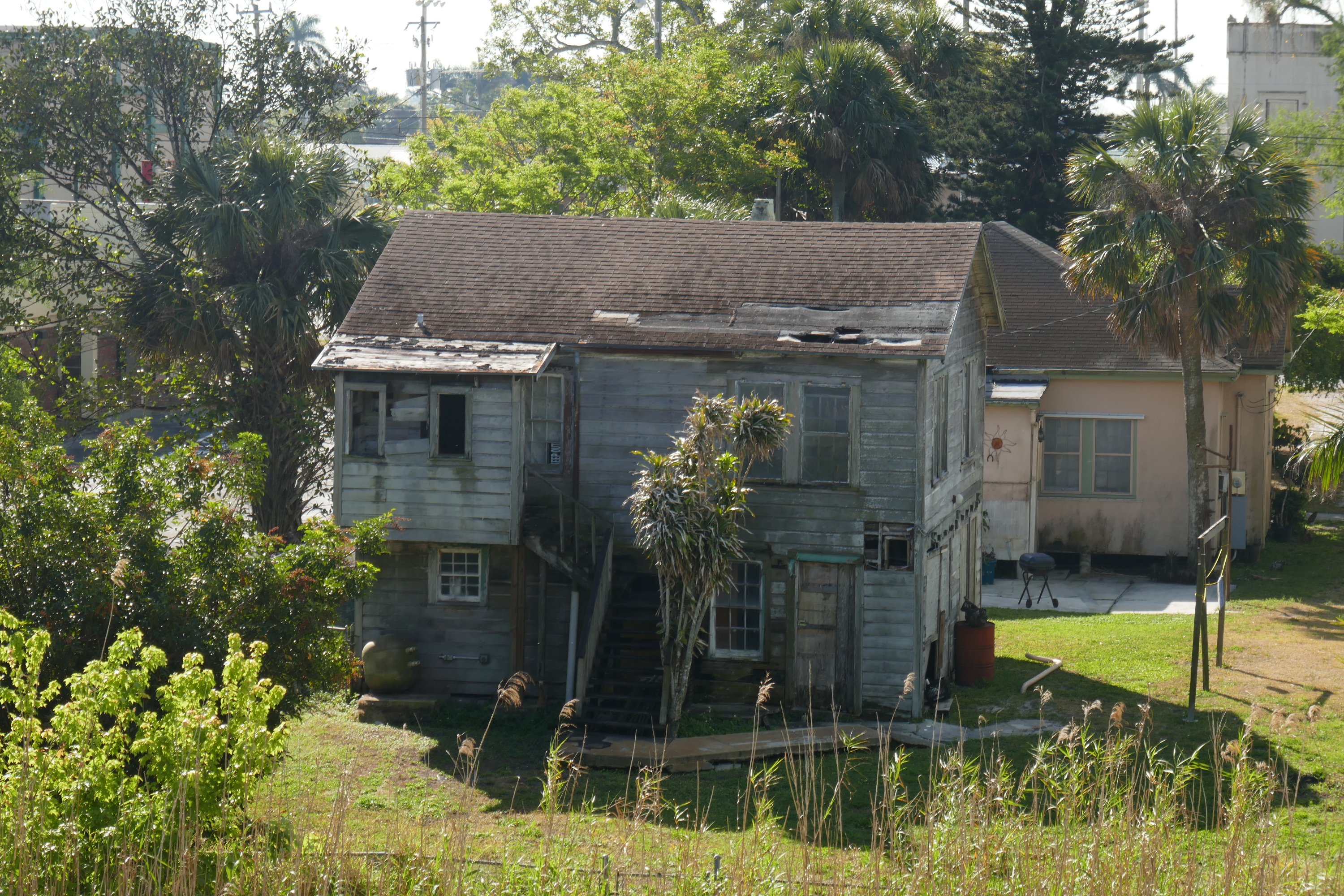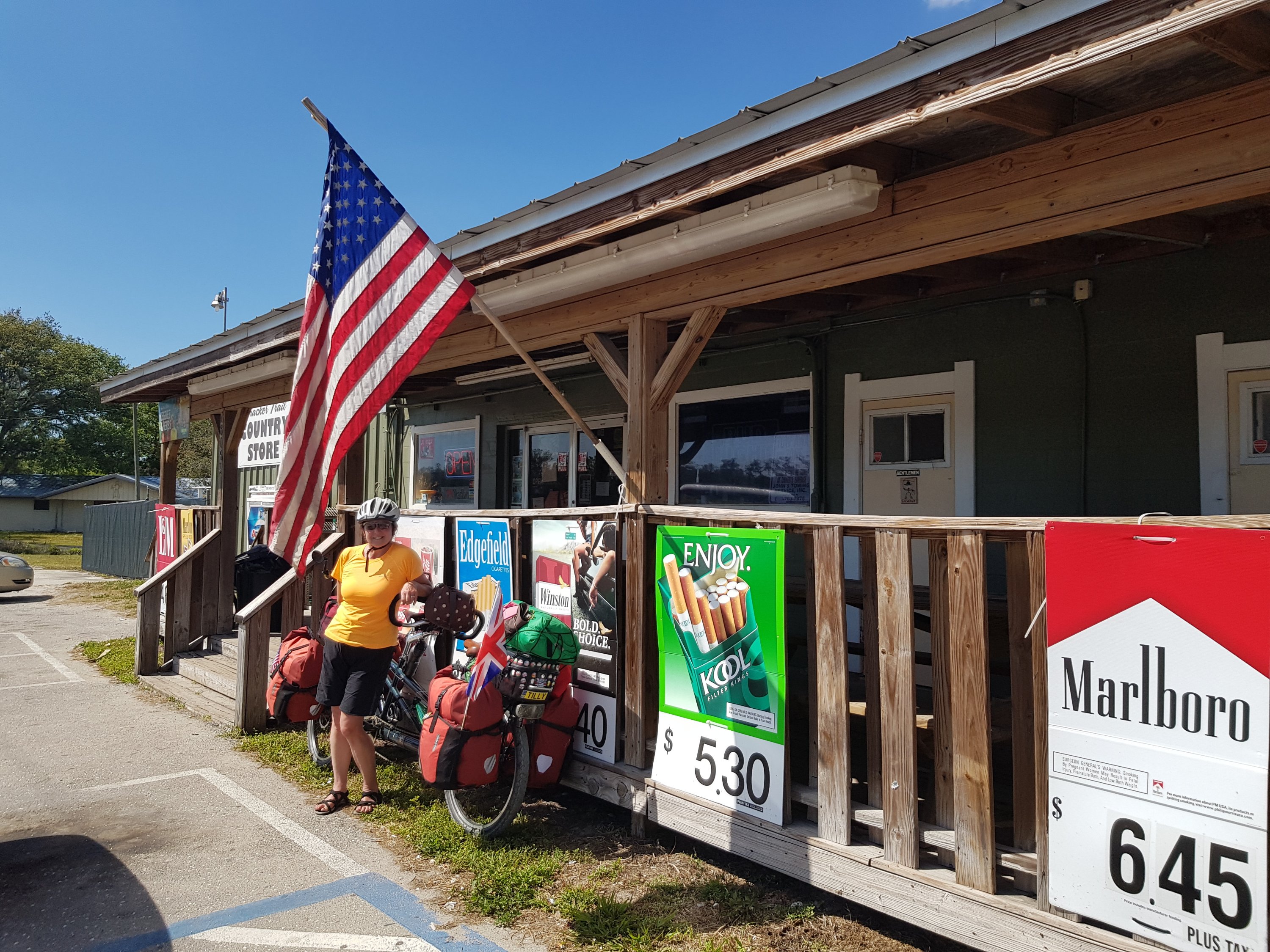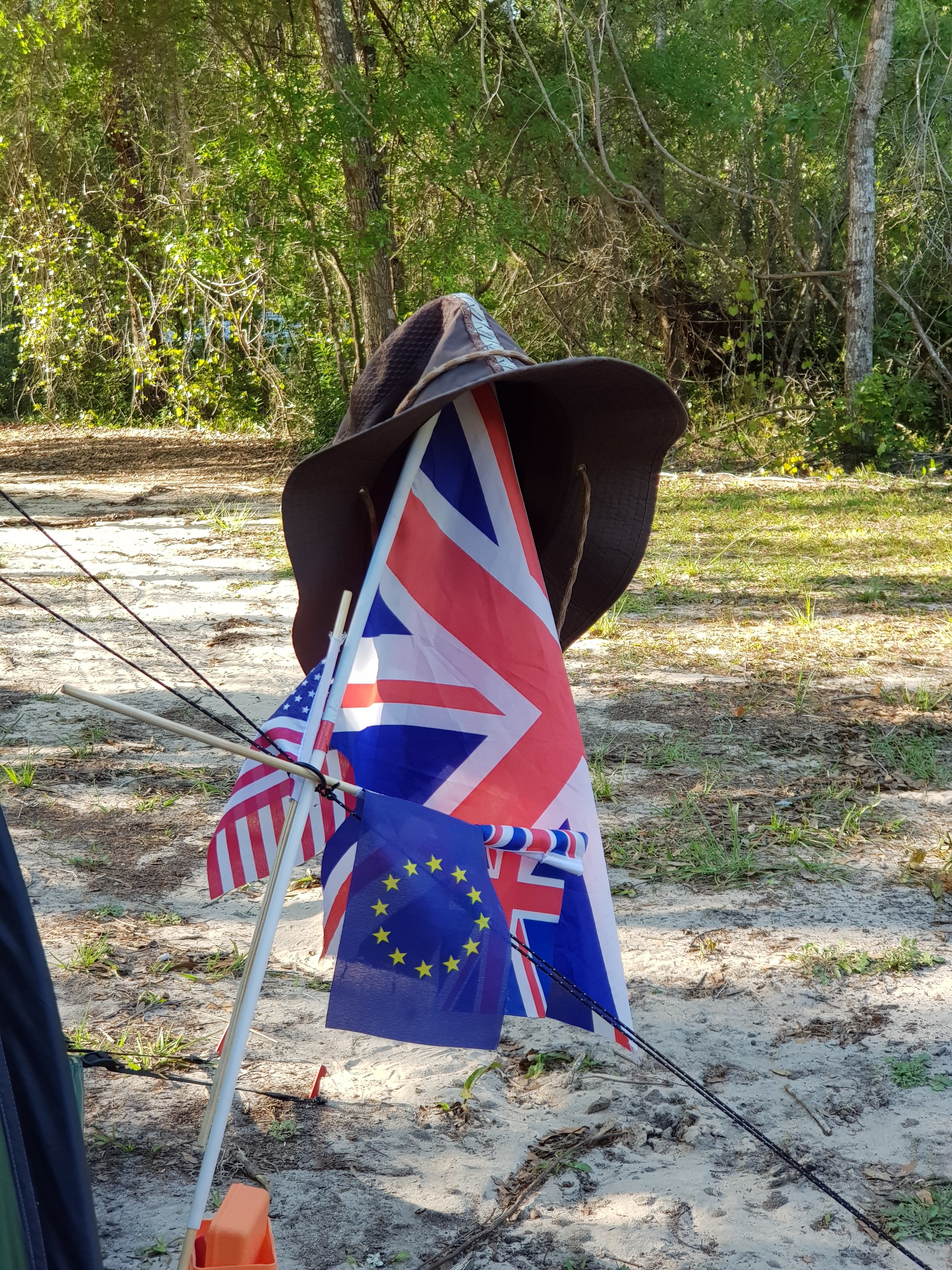 We'd left the tourist trade behind now and were more in Trumpton as evidenced by the gardens that looked like a Junk yard, the shanty town style mobile homes that looked like they had come off badly against multiple hurricanes and of course multiple US flags, Reelect Trump and God Bless America posters, with the occasional Confederate flag thrown in just for good measure. These areas were much much poorer than the south. Despite the poverty the churches were pristine and plentiful – 1 per kilometer at times in a sparsely populated area, but that would prove a Godsend for us later in the week!
We spent our first night in hillbilly central in a Forestry Campsite with a long drop loo and no showers. But being a gadget freak our water bag turns into a solar shower, so we hooked it up to a tree and had a lovely shower! (It also trebles as our ice bag in our fridge which won't surprise anyone who knows Jon!). Glamping by bike!
We have various maps with all sorts of campsites marked on them, from State parks to what the Americans call primitive camps, which are fields with often no facilities at all but being more remote, any campsite at all became harder to find along our route so we've had to resort to AirBnB more. They've all been first class, with lovely hosts, Kind way beyond the call of duty, clean, quiet and very well maintained. The most unusual one to date was in an RV, complete with slideouts in someone's garden. Great fun! And the owner took us down to the Creek in his 4*4 beach buggy thingy too.
Moving further into the remoteness we entered a 1950's time warp with no hotels, AirBnB or campsites at all en route so we phoned the local Baptist Church and asked if we could camp in the church grounds! The vicar was extremely helpful and of course allowed us to stay and left the facilities in the church hall unlocked for us too! Very kind indeed and a very nice bloke too.
As the accommodation options diminished the towns shrank in size. Apparently the Americans drink more coffee per head than anyone and we had expected there to be dozens of coffee shops selling all sorts of coffee but we seldom seem to find anywhere for a coffee stop other than a garage and when we do the coffee comes in a huge polystyrene cup and is percolated and costs 90 cents. Sadly McDonald's have better coffee than most places we've tried so far. Maybe it's the area we are in? They don't always do decaf, but the full strength is so weak that Linda is getting withdrawl symptoms but on the brightside it's not making me go hyper as it's virtually caffeine free!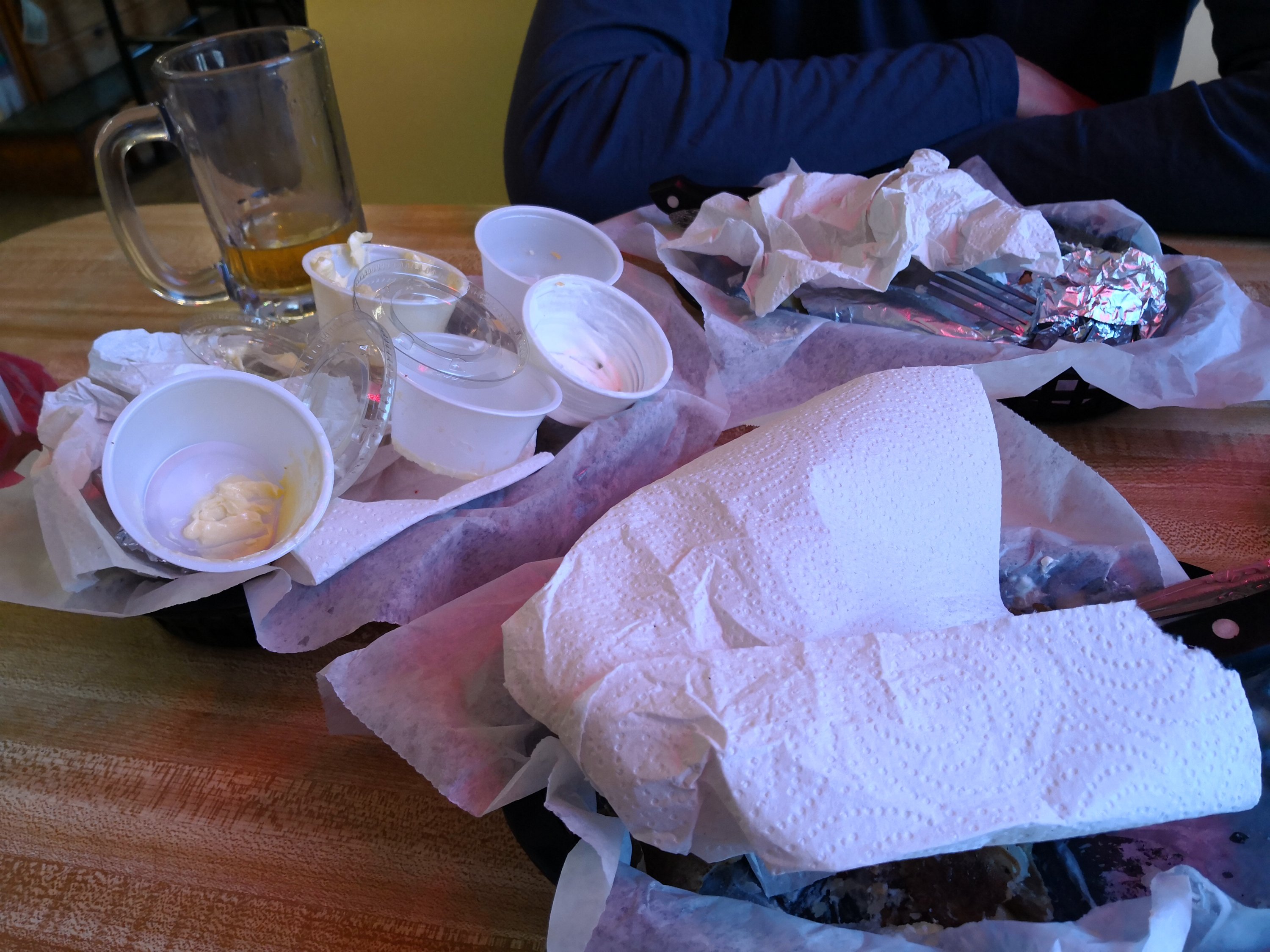 Organic food appears to be the in thing here, whilst recycling isn't. Polystyrene is the default packaging for any drink and takeaway food and we've even seen people standing outside their own homes drinking out of these cups. We're yet to eat off an actual plate in a restaurant and not a disposable paper one, or plastic basket. A baked potato we ordered came with individual plastic disposable pots of cheese, butter and sour cream, in a disposable plastic tray, with plastic cutlery – It's an environmentalists nightmare and that's without even thinking about all the engines left running whilst someone goes into a shop. On some days it's been very hard to resist popping Tilly in the truck and driving off with one of them! Going green here is clearly something you only do if you're The Incredible Hulk…