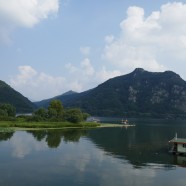 Seoul to Chuncheon 2 days 142km 476m climb
​South Korea's police seem to have got a bulk deal on sawn off light sabers. There are loads of police at junctions and they all have a sawn off light saber which they wave whilst blowing whistles. Given that often there's only the occasional car we're not quite sure why they do this, but at we said before the drivers here are by and large very good, so maybe it's a good way of getting high standards of driving.
The Star Wars theme is continued by the cyclists. They all wear full length leggings, sleeved tops, dark black scarves around their heads, gloves, goggles or full face visors and helmets. There's not an inch of exposed skin and it's often well above 30 and humid as hell and they look like storm troopers or swat teams on bikes. But they almost invariably stick up a thumb to us as they pass and shout "Very good" , "Super power", "Welcome" or some other encouraging comment. If we are stopped the de-robed storm troopers come up and check our tyre pressures – this must be a national past time as they just walk up, have a quick look at the panniers then feel the tyres, give us the obligatory thumbs up and get on their bikes and go. The ones who have more English ask where we are off to and sound ominously surprised when we tell them. We're not quite sure whether they are impressed, surprised or just thinking "They'll never make it". We'll find out soon I fear.
The cycle routes have been superb. Smooth, safe and busy. There are a lot of cyclists here, probably more than we've seen any were outside the Netherlands and Germany. We rarely go on a road and often have our own boardwalk built over the river. It is quite honestly incredible and wonderful. There are though, way too many hills. The tracks often follow ex-railway lines and you get a gradual 2% climb for a few kilometers which doesn't sound too bad, but do it in 30C+ with 35kilos of luggage after a 60km day and it can be quite hard work. The other day our cycle route was closed and we got diverted on the normal roads. You do get a hard shoulder but you get no sympathetic gradual incline but a sweat inducing slog at 6-8% for way too long. We then ended up on a busy motorway for a few kilometers for the scariest ride of our lives. We even had a tunnel to go through which we managed to find a pavement to get on for safety. Even so we stopped everytime a car passed as it was so noisy and frightening. We survived though! But, that has been the exception to some of the best cycle routes we've ever found.
We had intended to camp during the week and hotel at weekends. The Koreans like a good party so we'd been advised that campsites can be very noisey at weekends but many campsites have been closed and free camping has been in many places banned. Anyway, there's no way we can face sweating like pigs all day and then not having a shower so we've been hotelling it. We've got a modest budget for that at £45 a night, which here can get you a balcony room overlooking a river with an American breakfast thrown in Some of the rooms outside Seoul are tired and give you the impression that they've not been looked after properly since they were built, but they're clean and quiet and good value by our standards. And the biggest surprise is the 'Love Hotels'. We've managed to stay in two so far and they're more for the illicit lovers than the hippie cyclists but are clean and fine. You always get a welcome pack in hotels here, toothbrush, razor, toothpastes various hand creams and lotions and potions and in the love hotel you get a couple of condoms as well, which after a long days cycle we're more up for a hot chocolate and early to bed than utilising the ceiling mirrors!
We're hoping to camp as the temperature drops, 23 at night in a tent sounds horrible to us, and as we get further from Seoul, we'll see.
Food wise we've been rather timid. We've both suffered a bit with tempestuous tummys (another reason not to camp, fancy a 100m dash through the mozzies to the toilet blocks at 2am? No thanks!) So we've been sticking to evening western meals, which has proved very easy and also very high standards too.
We've had a few Korean dishes and enjoyed them and hope to get more into them as our tummies get back to normal. Deserts and drinks are good, they make a lovely Milkshake that even Linda (who hates milk) likes. It seems to be ice cubes, milk and fruit in a blender and it's delicious and very refreshing at our cycle cafes.