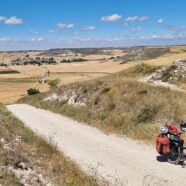 When Linda's cross with me she has a way of saying Jonny that conveys her displeasure most succinctly. That's of course the warning shot across the bow, if she pulls out the JONATHAN! Then I'm in really big trouble.
Anyway, Linda used the Jonny whilst we were cycling on the main A road toward Burgos. To be fair I was zig zagging between the centre white lines just to liven things up a bit as the road was straight long and boring and there wasn't a car in sight – bikes outnumbered any kind of vehicle 10 to 1.
We think that's because the government decided that toll roads cause congestion, pollution and generally make life worse for the small villages and towns the old free road goes through with all the traffic that doesn't want to shell out for the fast toll road.  They therefore are phasing them out, so our A road ran adjacent to a busy, now free, motorway and was in effect the widest bike lane we've ever seen… Heaven. Even so, I decided I didn't want the heavy artillery brought out and wisely stuck to our side of the road!
We're still on the plains at around 900m above sea level or maybe we're on top of a mountain, but we aren't going to have to do anymore taxi skips or push and drags up the side of any larger mountians this trip. Correction: Linda informs me that should read 'EVER AGAIN'.
We are in rolling countryside that's sparsely populated and covered in sunflower fields, wheat, rape and poppies.. In the distance to the north you can see some huge peaks, but our route through those mountains is actually going to be a sneaky route that avoids going up much. But for now we are still following the pilgrim route on a mixture of the main A road and gravel paths.
The paths run adjacent to the road usually but as you could stop for a picnic without trouble on the road, we use that as it's far easier to cycle on.  But sometimes the pilgrims route cut across fields and then we deviate from the road. These bits are gorgeous, there's no sound of cars, just the bike wheels, birds, the wind and the occasional "Buen Camino" from a passing Pilgrim.
The open countryside here stretches almost as far as you can see and in the north there's always the ominous mountains reminding you that you're not getting out of here without some more ups! But it is fabulous to cycle through. It's not busy and on some of the back roads we didn't pass a car or person for miles at a time.
As Linda's birthday, which we are no longer allowed to mention, was on one of our days in this countryside we decided to splash out on a monastery hotel. There are so many monasteries and churches along the Camino route, many of which are now abandoned but some have been converted into posh hotels (and others are still genuine monasteries with dormitories for pilgrims). Most posh hotels we stay at frown upon bikes and are usually the places we have the most trouble finding a place to store Tilly securely overnight. This one had signposts for bike parking and a huges bike shed for probably 50 bikes. Tilly was however all on her own.
It was a fab hotel, though didn't cater for veggies at all so we walked into town for a meal at a restaurant that opened before 8pm and was of course heaving with walkers. Our Vege salad, marked with the vegetarian symbol, came with Tuna. 🙈 And the waitress said she'd take it off….. Errr, no thanks,. So she very reluctantly did it again.
We had planned to camp on the next day (Linda's Birthday) but the weather took a turn for the worse and we wimped out (as usual) and rolled up in a tiny village with a couple of hotels. We stopped at the first one, which showed it had rooms on Booking.com and asked if they had a room. No! They said. But you are advertising them on booking.com we said. Wait for 5 minutes they said. They weren't very customer friendly staff, so when nothing happened we left and went up the road to the other hotel which we quickly booked on the web to avoid a repeat performance. This was a great little place with a communal dinner for all the guests – we got our own veggie paella dish and carafe of wine and sat on a table with an Australian lady who was walking the Camino. We had a great evening with her – she had quit her job to do this as her employer wouldn't give her time off!.. a great way to round off Linda's birthday.
Our last day with the Pilgrims took us into Burgos, where we had a day off. Weve been getting a lot of noise from the front bottom bracket (where the pedals go through the frame) and no amount of adjustment has helped stop it. So we popped in to the same bike shop we did 5 years ago when we cycled through here. Unfortunately they were too busy to help, but sold me a new bottom bracket and tool which I then fitted and found it made no difference either! It seems that the likely cause is the eccentric bottom bracket -I know, it's very confusing having all these bottom brackets, but one of the BB goes inside the other like a sausage roll and it's this part that we now think needs replacing. Unfortunately they are specialist parts and that will have to wait for our return to the UK.
We had a very lazy day in Burgos, even found a veggie burger and stayed in yet another Spanish hotel where the air con is switched off by the hotel for some unknown reason… it comes on in the evening then goes off about 3am,  so you wake up sweating buckets at 4am as your room just gets hot and stuffy. Oh well,… forecast is for much cooler temperatures again soon and we won't be needing it anyway for our next leg through the mountains…