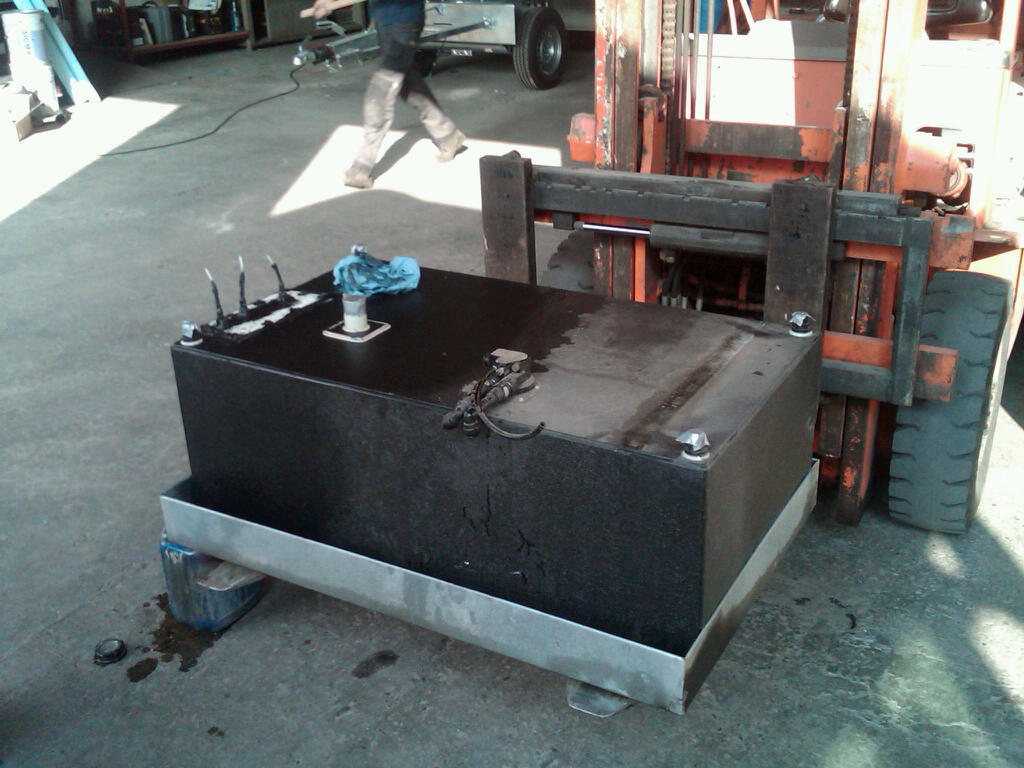 After resolving the electrical issue in England we spent a lovely day in Calais and headed to Belgium to fill up with diesel. No sooner had we filled up as it began to pour out or the underside of the van! We examined the tank to find that fuel was leaking out of a 10 x 15cm plate on the rear top of the tank. This plate houses the 3 fuel pickups for our cooker and two heaters. These pickups go through the plate and In to the tank through 3 holes under the plate.
The plate had been siliconed and screwed to the tank and the silicone had reacted with the diesel effectively melting. This meant the plate was simply being held on to the tank just by screws, so once we had filled with fuel it just poured out between the gap. It also would do that every time we accelerated forcing the fuel to the rear of the tank. So, time to find another garage!
We were very fortunate to find DG Motorhomes who specialise in monster Sporthomes making Taffy look tiny! They spent a long while examining the tanks and then locating a plastic welding company for us. We visited Akaterm, the plastic welding company and they had a look – getting the MD to come down and give his opinion before agreeing they could help us. They arranged for DG to remove our tank on Tuesday and send an engineer to the garage to do the welding. That was Friday and so over the weekend we had to drive 800kms to lower the fuel ready for the work. The work was carried out Today. Just to add a bit of fun we found that the fixing nuts originally used were loose and couldn't make a fuel tight seal so an engineer was sent out to the nearest town to track down suitable replacements.
The tank seems to be fixed though we cannot fill it completely till Friday. To give you an idea of how much fuel we lost on each fill up our MPG suggests we lost around 30 – 40 litres for every 200 we put in.
Anyway in between driving from Belgium to Germany to Holland to Belgium to use our fuel up we had a lovely day in Geldern cycling and are now heading to make an Ebay delivery tomorrow night in Düsseldorf….