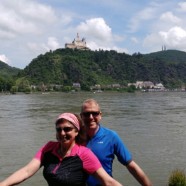 Our ten days with the Du Randts was eventful and great fun, Jacques and Mandy are early birds and we're more likely to be thinking about a cup of tea from the comfort of our sleeping bags by the time they're stopping for their first cuppa of the day whilst cycling. So we had to make an effort and get up, get packed and ready to go by 9am daily, which after some negotiation (us whinging) was relaxed to 9:15. He's a hard task master that Jacques!
Anyway, we set off in the direction of Strasbourg stopping at a lovely fortified walled French town for lunch. He was breaking us in slowly with a gentle 83km before we arrived at Europa Park Camping – the Disneyland of Germany and a great theme park. The campsite was heaving – holidays – and the whole place was cowboy themed, right down to saloon doors on the toilet blocks.
We longed for the well behaved Liverpool fans that night as one German kept us all awake half the night with his shouting. I now remember why we got a motorhome!
Jacques lulled us into a fall sense of security the next day with a 67 to Strasbourg and a day off to boot in this gorgeous city. It has to be one of our favourite cities and the Petit France area is so quaint that even Disney would have been hard pressed to design it that way.
Of course after a lovely day off we had the pay back from Sgt Mjr Du Randt with a long cycle up the river ending the day on 102km – our longest ever cycle with 45 kilos of luggage – not bad for us old foegies!
The Rhine by now was a huge river, with freight boats going back and forth and the milemarkers counting out the distance from Konstanz, the cycle paths were good but mainly gravel on the German side and surprisingly tarmac and excellent on the French side.
Heading to Speyer our trials with Tilly continued with our back pannier rack snapping under the enormous strain of us lugging so many shoes and gadgets in our luggage! The rack is rated to 50kgs and our panniers and tent weigh less than 25kg so it actually wasn't our shoes and gadgets but was probably due to a loose screw allowing the rack to wobble more than it should. A trip to a bike shop had us temporarily repaired (free of charge) and in Speyer a bike shop directed us to a welder who then put Tilly on the operating table (literally) and welded her back together and strengthened the rack to boot. All done for the princely sum of nothing. People are so very kind to us when things go wrong.
With Tilly all fixed (for now!). We headed on toward the Romantic Rhine. Jacques, the youngest of us 4 just couldn't keep up with his elders and in the end came out with a lame excuse that his achilles was playing up and hopped on a train from Worms to Bingen leaving Linda and I to cycle to catch up with him and Mandy, who had kindly gone with Jacques.
We left them at lunchtime and set off to try to meet them the next day 100km away. We'd already covered 30km before lunch with them to Worms and after lunch covered a further 70 to chalk up our second ton of the trip. We had hoped to actually surprise them by arriving at Bingen that night, but fell 14km short as we were too tired to peddle anymore and were about to fall off through exhaustion.
Our site on the edge of the Rhine was beautiful and we enjoyed a great pizza and apfelwein on the banks of the Rhine. The night however suffered the usual German campsite problems with music blaring away at 1:30 at levels you had to shout to be heard over.
We caught up with the invalid and Mandy in Bingen and had two days gentle cycling up the romantic Rhine either side of the lorelei. It's a gorgeous stretch of the river with it winding it's way through a valley full of castles and vineyards and in the sunshine looked fabulous.
Our campsite at the Lorelei again resulted in not much sleep for us due to 'The German Syndrome' and by the time we all reached Koblenz we decided we would hotel for the night, as Jon was about to 'Go off on one' as we were so tired whilst J&M camped. Koblenz is where the Mosel meets the Rhine and the end of the trip for J&M who were taking the train back up to the Netherlands.
We checked into our hotel, we had a suite despite booking the budget basic room. It was very clean and spacious but looked like it had been designed for a Starsky and Hutch episode and had a sofa that was so old you didn't want to sit on it for fear of it collapsing.
After a quick shower (we had two in the bathroom and a boiler) we returned to the Koblenz campsite for a farewell meal with the Du Randts and sadly said our goodbyes but secretly looked forward to a long lie in the next day!