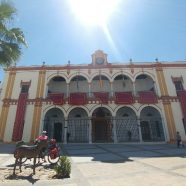 Villemanrique to Portugal – 4 days 170km 742m climb
Most of the cycle from Villamanrique was spent going in and out of Donana National Park which is huge and stretches along the Spanish coast near Seville. It's a mixture of forest and wild sandy land dotted with trees and the cycle route varied from pristine tarmac to sand – something we've come to expect in Spain. It is beautiful, tranquil deserted and thankfully fairly flat and we thoroughly enjoyed our cycling.
Easter is one big festival here with people dressing in their finest and every town and village having a procession following a "Pasos" float with life sized statues of a religious scene. The floats are escorted and carried by purple robed KluKluxKlan like figures doing pennance for their sins which after the procession, judging by the bars, they restock pretty quickly.
We'd passed many towns setting up their streets for this festival and were fortunate enough to arrive in Lepe, the starwberry capital of Spain, in time to actually see one, then have a fab pizza and Sangria after too!
Our route had followed the EuroVelo 1 cycle route to the Portugese border often along disused railways, ending at the town of Ayamonte, which was like little England with plenty of Brit holidaymakers, but very quaint and we boarded the ferry across the river to Portugal. The EV1 is marked in Spain as 'Planned ' whereas in Portugal it's marked as finished, so we're looking forward to pristine cycle paths, boardwalks and some fine Rosé for the next stage of the trip.