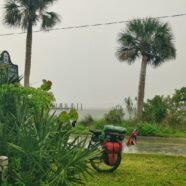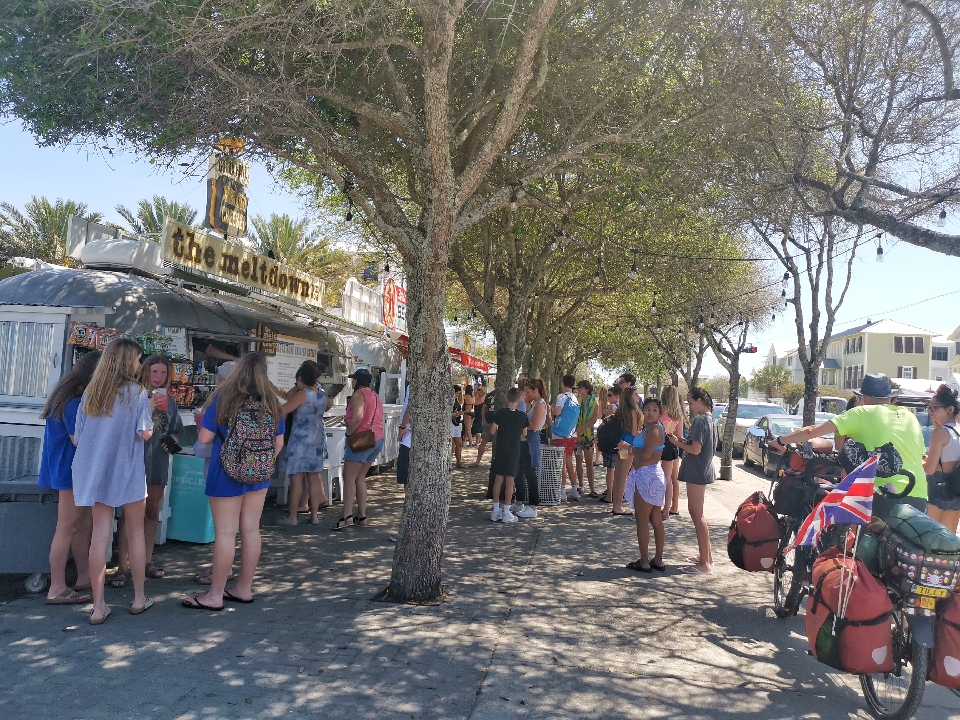 We left our secret cousins and headed off on one of our favourite cycles of all time along the long dedicated cycle path from Destin to just short of Panama City Beach.
The path takes you through some gorgeous Disney like villages themed from Greek to colonial American and golden sandy beaches, the place reeks of money and being Spring break was full of teenagers with us seemingly being the only adult present for 40 km!
Most of the boys ride in golf carts whilst the girls have hired bikes with cow horn handlebars and wobble like crazy, especially when they see us plowing toward them and take on the look of a terrified rabbit in headlights. The path is wide enough for 3 cyclists to comfortably pass each other but people just got out of our way most of the time which showed just how nervous they were.
But hats off to them, there were hundreds of them cycling, far more than people driving and you don't see that often here. Great cycle facilities and loads of juice bars, cycle shops and places to eat. Well done Florida!
Did I mention how wealthy it is here? Well, we didn't see anyone fat or who wasn't white, at least not on holiday. There were plenty of non white people gardening and building though. All of the girls and boys were sticks and looked about 12 which is really off putting when you see them driving a car. It's very noticeable the change in clientele at each area and Seaside and the adjoining villages cater for the filthy rich.
We headed back to the main road on our approach to Panama City Beach with its endless line of skyscraper beach front hotels. No path, no cycle path but still the gorgeous sandy beach.
This area attracts the more rowdy students and at the weekend the police had cordoned it off after looting and had arrested 160 people and confiscated 80 guns, including assault rifles from mainly Alabamams. Ridiculous, who packs an assault rifle with their swimming trunks and beach towel? Someone from Alabama obviously, duh! I may have mentioned this before but, what is wrong with these people? But we arrived and it was very peaceful apart from the numerous stupid pickup trucks without silencers.
The hotels are crazy money, even for the fleapits, so we opted for beachfront view in a decent hotel for £30 more. Tilly even got her own room, albeit a cupboard under the stairs.
Hotels in the US at the cheaper end of the market are generally crap. Really crap. I mean crap on a stick crap. They often get rating of 2.7 on booking.com and are smelly, run down, dirty and you don't want to stay there unless you have to and even then you'd sleep in your clothes.
It's very odd, every town has some like this, it's not the odd one either and you really chose a hotel on rating and cockroaches count rather than price.
From here we hired a car to hightail it to the east coast and skip out the rest of the Gulf Coast which we've cycled twice before.
The car was enormous so we could get Tilly in and had a 12 litre engine that did about 2 miles a litre. We'll, it probably wasn't that bad, but we've seen so many pickups with engines bigger than Taffy. At least it didn't have the 20cm spikes on the wheel nuts we've seen on some of the pickups here. They stick out far wider than the tyres and will rip you to shreds if they hit you. Free country and all that…. What is wrong with these people is fast becoming our 'goto' phrase! Or as Linda calls it, 'The land of the small willy'
We cruised over to Sanford averaging 65mph for a 400 mile hop, can't do that in the UK and checked into one of the nicest cheap hotels we've stayed at. Lino floor, no cups in the room and porridge for breakfast or nothing. I guess that's why it was cheap but it was excellent in our book and allowed us to indulge in 2nd breakfast at an all American mum and pop cafe, run by an Egyptian who promptly wanted to talk Liverpool and Mo Salah.
His wife's pancake was the best Linda has had in the USA – eat your heat our IHOP! And the cheese omelette and hasbrowns was excellent too.
We then headed to another rails to trails toward the coast. This trail stays away from built up areas so we had stocked up on food and drink because it was very hot and humid.
It was so hot in fact you couldn't stop to cool down, it made you hotter and the swamp water was like a bath. Not that we ventured in too far given there may be Gators about!
We didn't really want to stop either as the place was full of midges and despite having enough deet on us to be classified as a chemical weapon kept our stops to a 'guzzle a bottle of drink then get going' length.
Mind you, I don't think we should have worried too much. We were dripping in sweat and so wet that any fly making it past the deet would either have drowned on contact or slipped off on a waterslide.
The day held steady around 35C creeping up in the afternoon to 39.8C, which is stupid hot. Naturally our cycle path was through a wood for 20km and there was absolutely no air conditioned shops to nip into anywhere!
I think once the temperature has crossed body temperature it becomes very hard work indeed. You just feel exhausted, thirsty exhausted and more thirsty. We actually had to force ourselves to eat lunch and drank all our numerous bottles of coke, milk, lemonade and water. It's hard to convey the heat, but as an idea we are dripping from head to foot, all our clothes our soaked through and just stick to us, our Crocs squelch when we peddle, the sunny and fly repellant drips off into your eyes constantly and our saddles look like it's rained when we get off. Can't imagine why people drive in their air conditioned cars here!!
But it was a lovely cycle, the swamps were gorgeous with purple flowers and some lillys out, the turtles munched on grass as we cycled past and we hardly saw a cyclist all day, because they're not stupid like us! The route was one of the best maintained and planned we've ever cycled on anywhere. Top Marks.
We did manage to find a little shade though when we stopped under the I 95 flyover for lunch and forced our Subway 'foot long sub' down before drinking some more.
We had planned to camp again, but chickened out (anyone want to buy a tent?) opting for air conditioned luxury instead and felt bad about it until 2 brothers cycling up the other way arrived.
Florida is a republican state and there are posters saying Trump won! And 'Let's go Brandon' which we are told means fuck Jo Biden. I'm all for people coming out and expressing their feelings for same sex relationships but I'm not sure why so many people want to have sex with Jo Biden. 😉
We headed further down the coast along some very quiet roads adjacent to the water. Nice houses on the landward side and their waterfront beaches on the other with Keep Out signs etc meaning we just couldn't stop for lunch for miles. Eventually we found an old church building with a porch and had our lunch just as the afternoon sotrm arrived and the heavens opened. Great fun to watch the lightening and rain, not so much fun to cycle in.