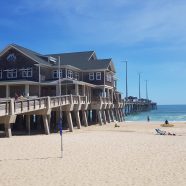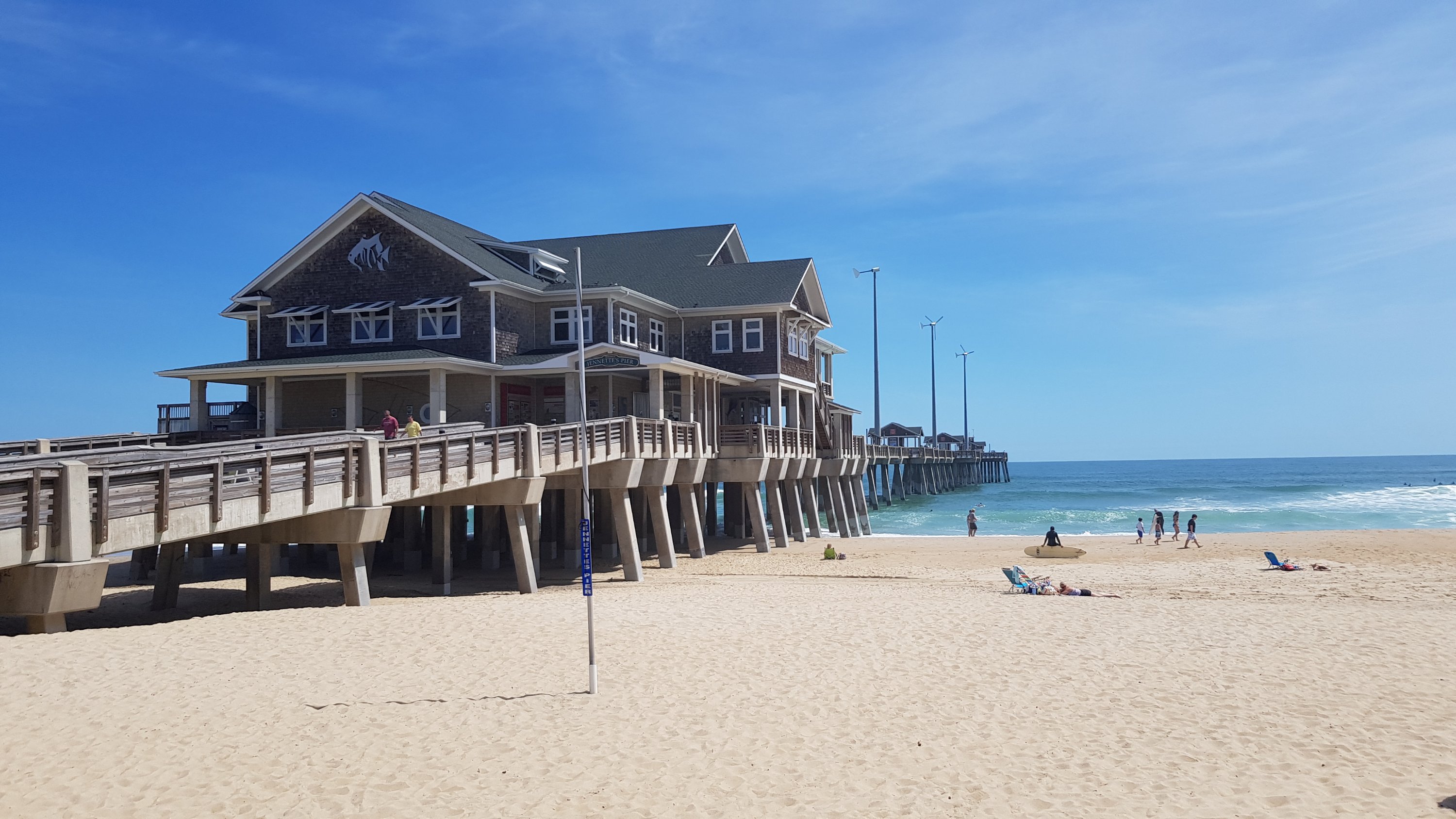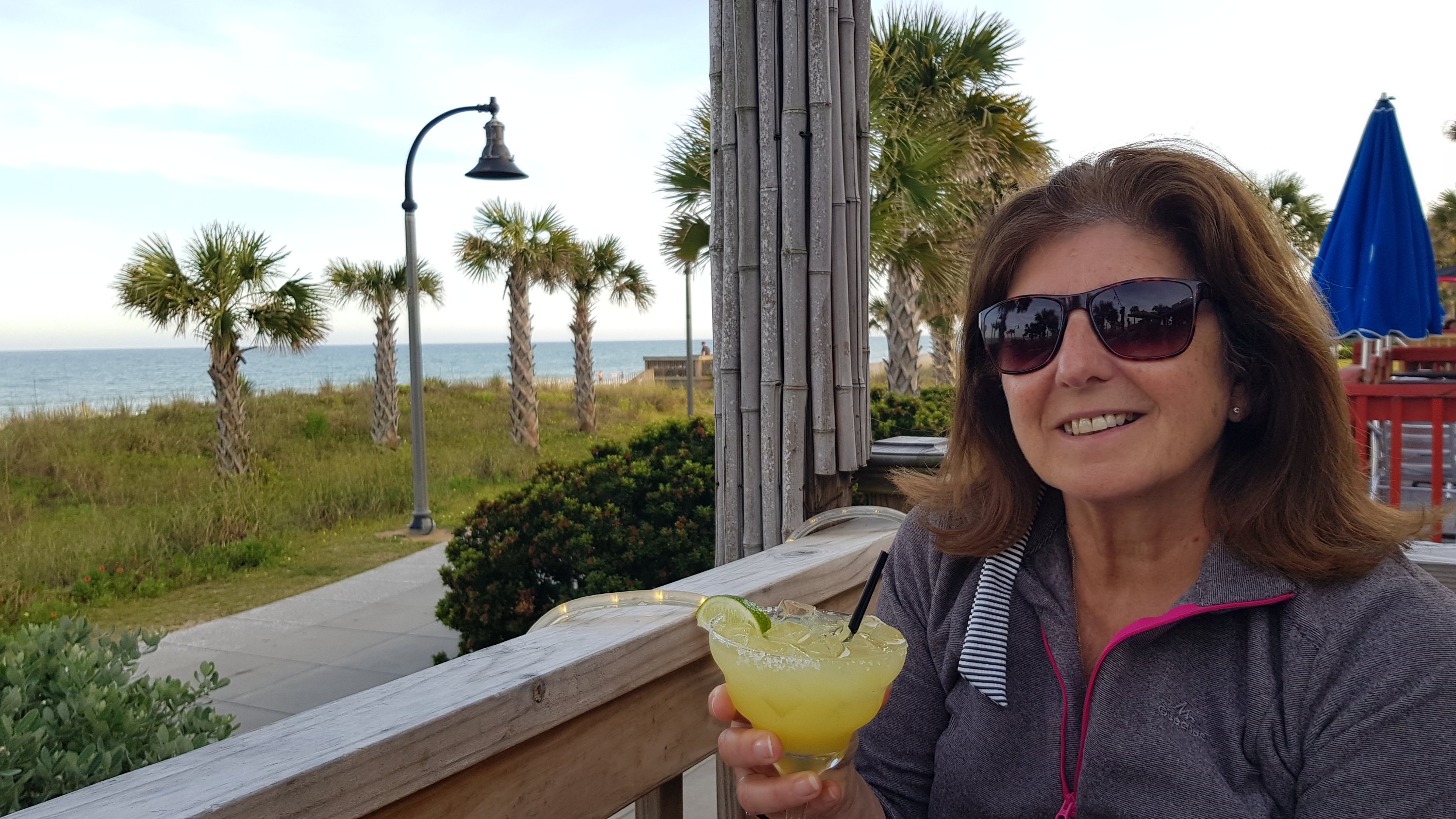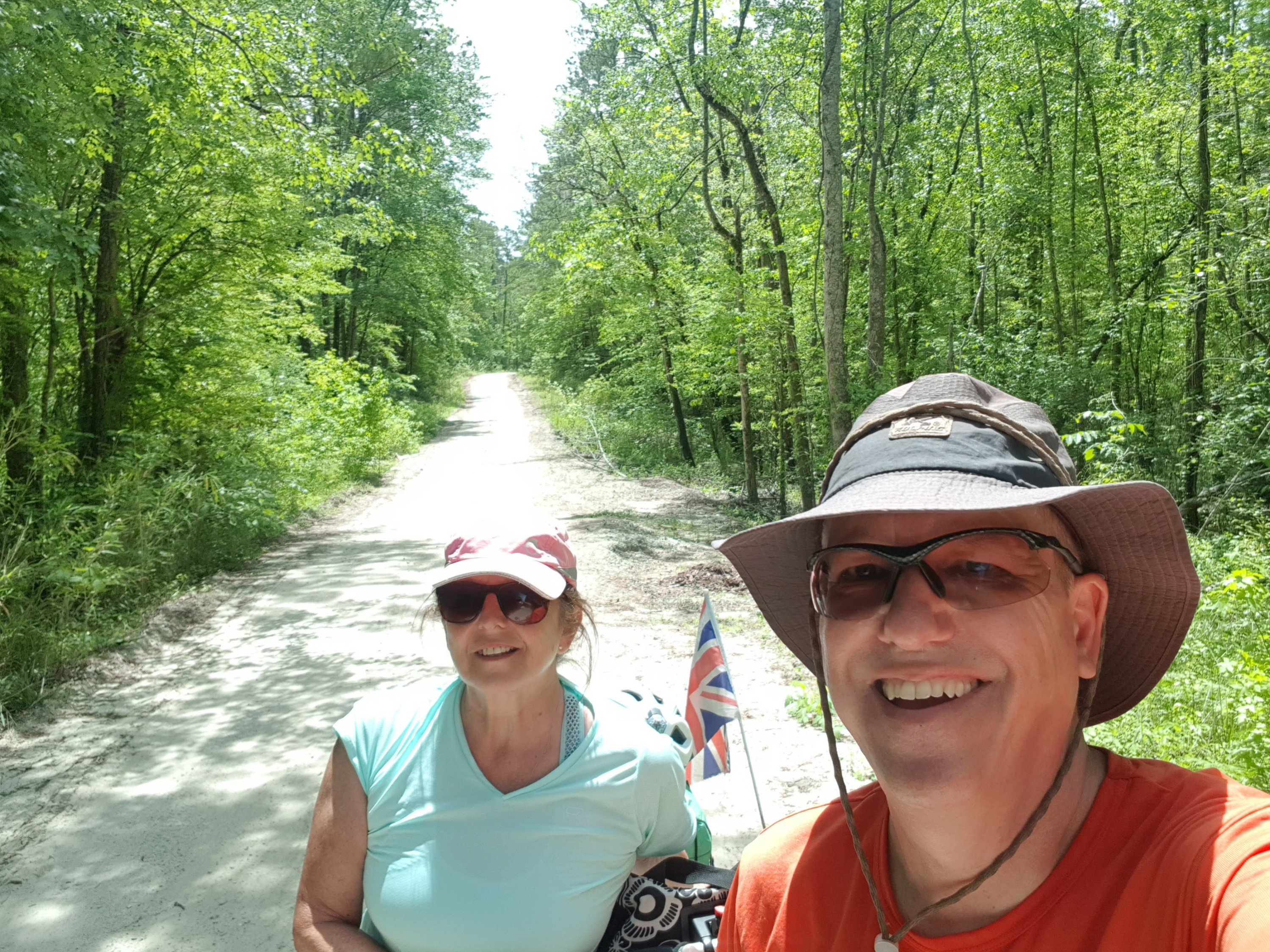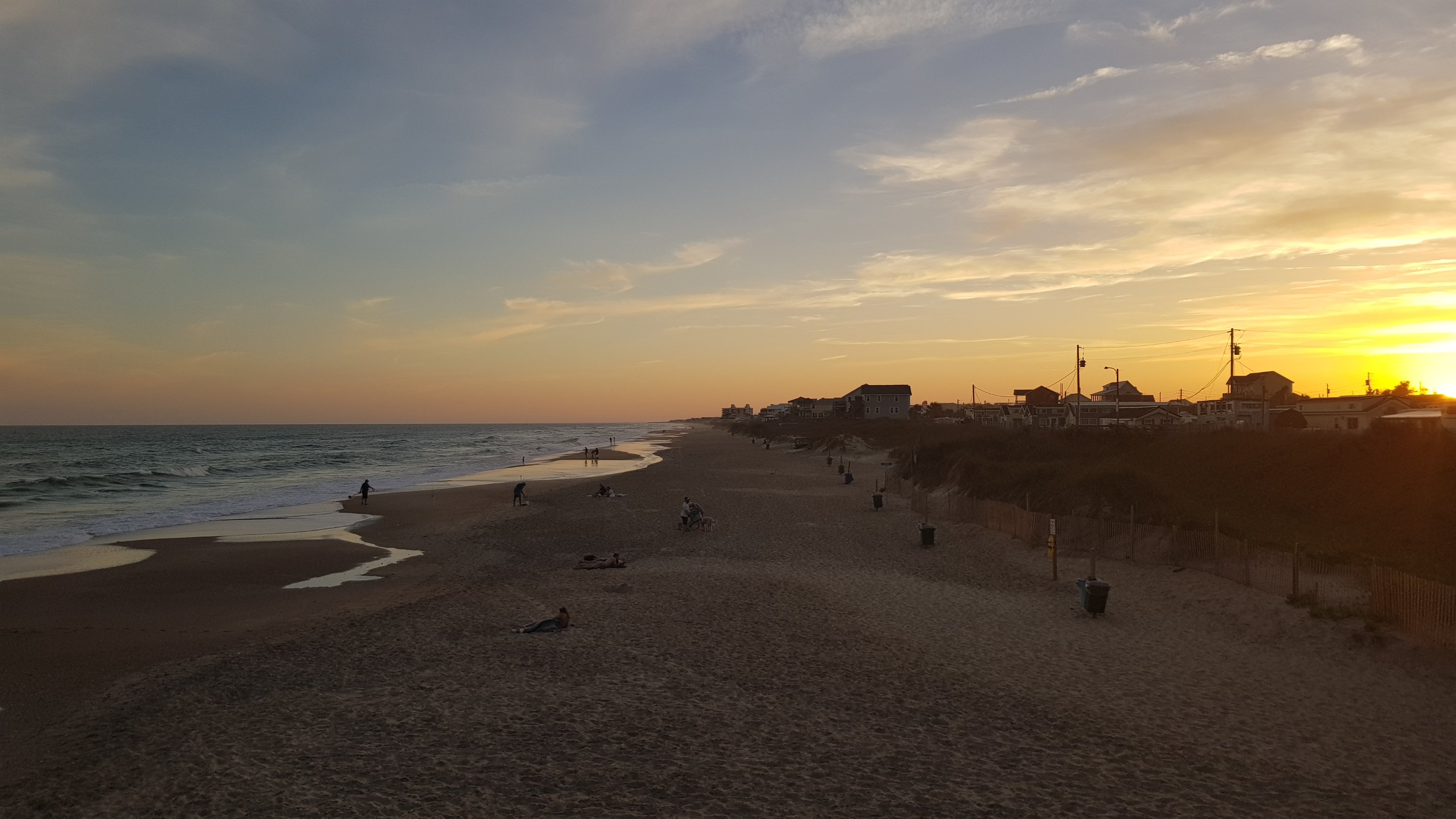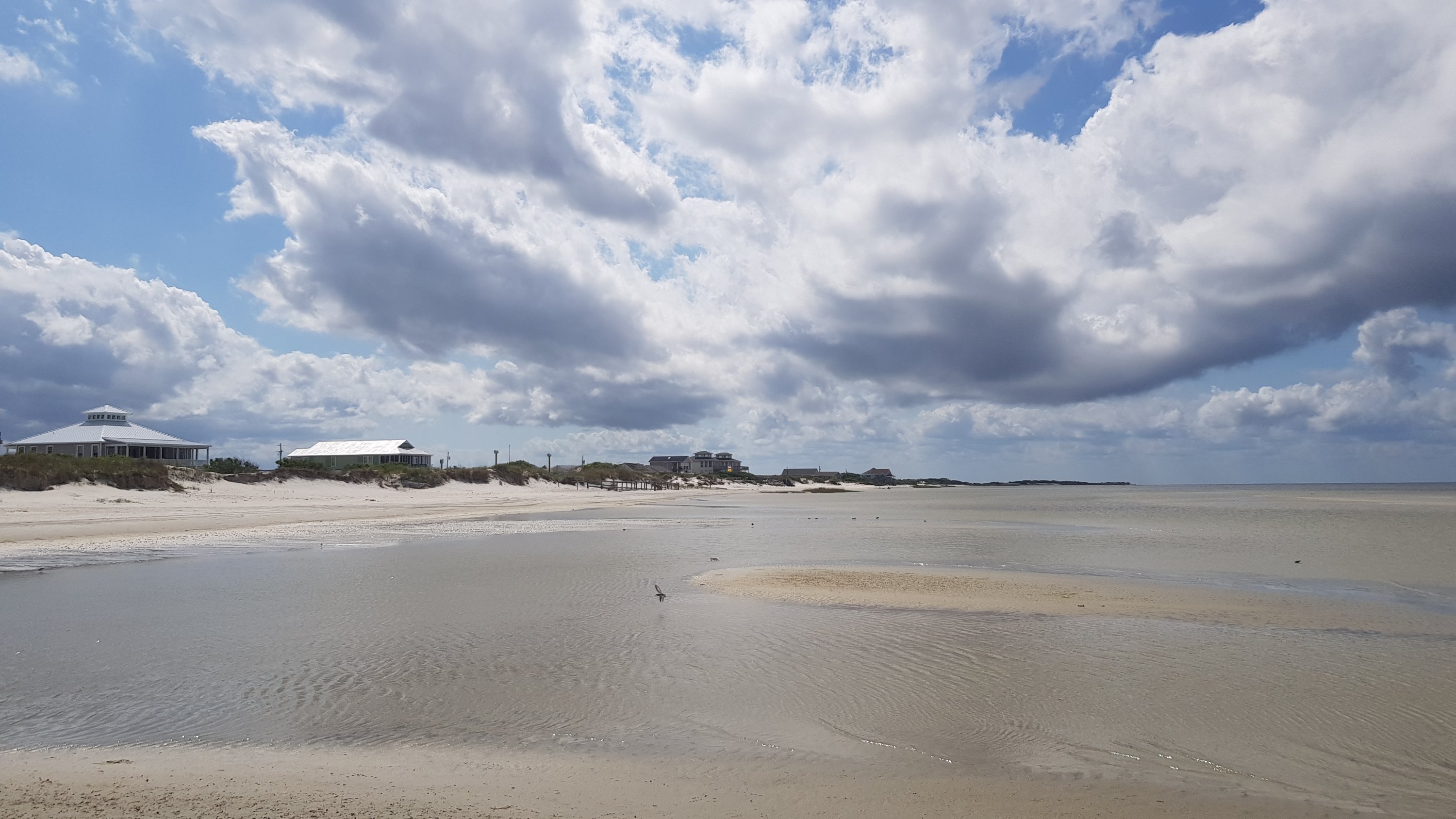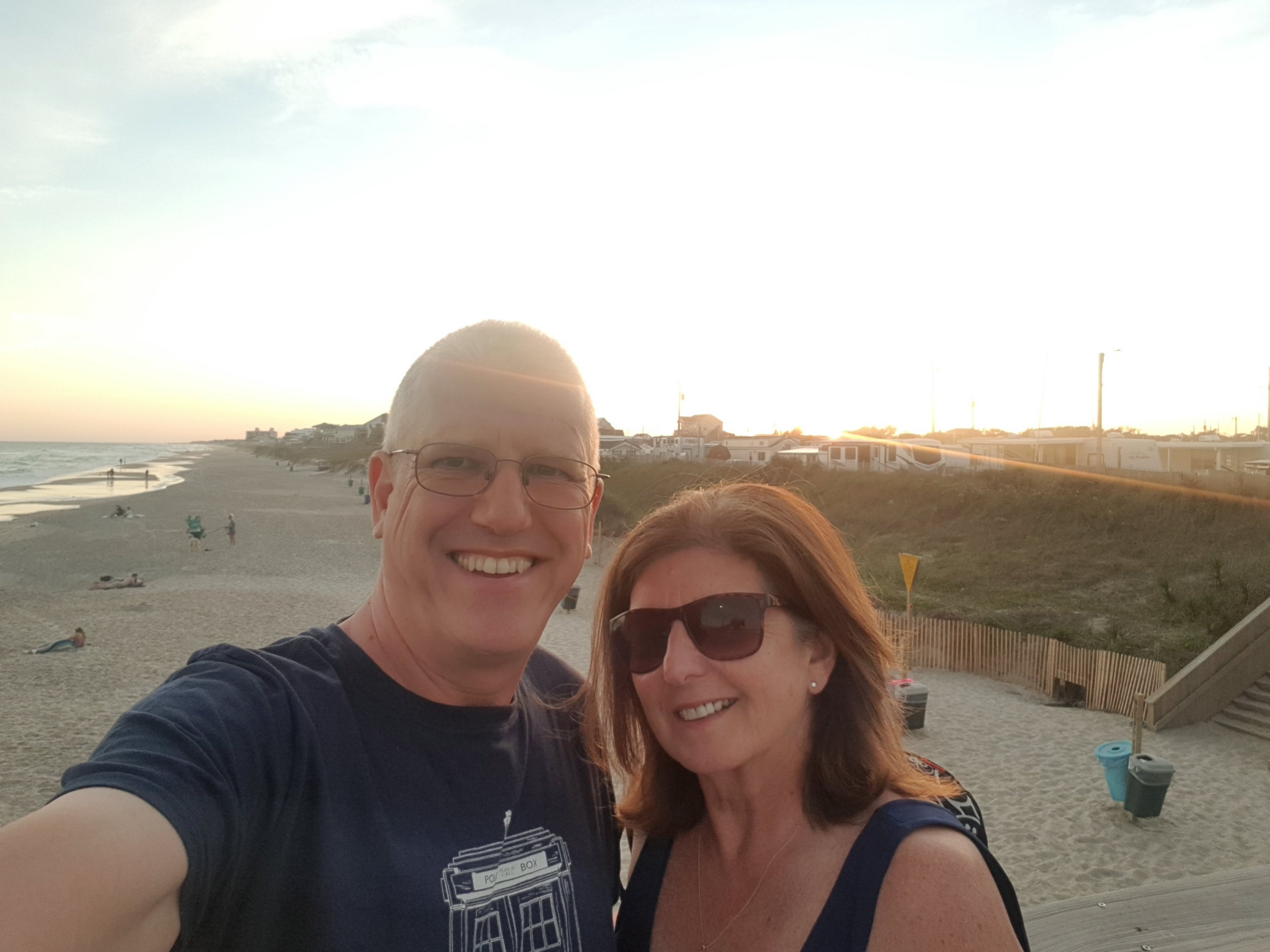 We arrived in our 7 seater luxury at the Jacksonville North Carolina regional airport, loaded up Tilly and set off to find that the North Carolina abbreviation NC, means No Cyclists! The traffic was so different from Florida with cars coming soooo close to us that we used our 1.5m flag pole with the Union Flag on it horizontally attached to the tent to ward off the unwanted attention. This works well, but annoys the crap out of oncoming drivers, who now have to contend with the 12.6 Litre 5000hp pickups that hang a long way behind you politely, wait for a gap then accelerate only to find that the acceleration of an automatic is a akin to a tortoise and they are level with us by the time the oncoming car is upon them. Cue some quick braking from the oncoming car, a honk and a wave of the fists at us (why us??) and it's all over until the next time.
But once you're off the bigger country roads it's back to quiet pleasant cycling where cars can sail past on the other side of the road happily waving to you and giving you an encouraging thumbs up instead of the finger!
Our first stop in NC was a forestry campsite which was half empty, had 7 walk in spots which are saved for people visiting that day and cannot be reserved and had people telling us their friends on the spot next to them had left to head home a day early so we could camp next to them. Unfortunately the site host was less helpful and told us he'd reserved all the walkins, there were no vacancies and no we couldn't stop on a site vacated by someone's friends, nor pitch our tent on the huge expanse of grass near the washrooms either. We were less than impressed but he out did himself when he then said we couldn't sit on the bench in the shade and find some were else and had to get off the site or he'd call the Sheriff!
As Linda always says though, it's fate and we ended up in a beachside motel with a sea view (over a RV park) and a nice veggie burger on the pier. All's well that ends well as the Bard would say.
That positioned us back on the Atlantic coast and on the Emerald isle, which was full of the usual gorgeous wooden seaside houses and a nice cycle path.
Leaving the island you have to corss the intercoastal waterway – a big canal really – and the bridges are always quite tall with an unpleasant gradient but a big shoulder. The Dual carriageway ones are fine (oddly) but the older single carriageway bridges with barely a shoulder are a nightmare. We are big, slow and wobble, so we dismount and push waiting for gaps in the traffic to do so. This is fine with most of the cars as they can squeeze past us quite comfortably if we stand on the raised pavement that's about 12″ wide with Tilly on the edge of the road in the tiny shoulder, more of a finger than a shoulder. But on one bridge the Sheriff arrived and told us we were going to cause a 'wreck' and should cycle. We politely declined his invitation for suicide and he then very kindly said well I'll follow you with my lights flashing then to protect you! Fantastic! Maybe we should have let Mr Grumpy call the Sheriff after all…
Our brushes with the Law continued when we stopped at a convenience store for a drink and the local sheriff was getting a huge sugar fix. Obviously the donut store was closed as it was late in the day. We had a lovely chat with her and she said she'd never seen a cyclist on that road before – we'd seen two that day, so I'm not thinking her powers of observation were that good!
We arrived at our Airbnb host who was a mismatch of mad, filthy and spotless clean! Our room was spotless, with a great selection of nibbles and drinks, whilst downstairs our panniers had to be put on chairs to stop the dogs peeing on them! We spent the evening in the kitchen with our host drinking far too much but about a quarter of what she managed, and had a fab evening moaning about Trump!
From here we headed to the Outer Banks, a string of islands off the east coast accessed from the south by Ferry. At the port we met a group of cyclists on a supported (van carries their luggage) American Adventure cycling Association tour from Key West to Canada. It was deeply reassuring to here the Dutch cyclist on the tour complain about a) the quality of the food – "sweet, deep fried and crap" and b) the obsession the Americans have with protein, electrolytes and minerals.
The tour covered large distances almost daily with little or no time to stop and smell the roses. It was, what we are coming to term lots of American society – functional. It got you form a to b quickly, sticking largely to main roads. Not our cup of tea at all. But each to their own.
The ferry arrived at Ocracoke at 7pm and as the tour went off to put their tents up and cook tea we opted for an old wooden motel and a wander around town. It's a cute, surf dude town with lots of cyclists and golf carts and we throughly enjoyed our evening. We woke the next day to a downpour that flooded the road and sat snuggly drinking our tea from the comfort of our verandah thinking about the poor tourers!
The rain kindly stopped mid morning and we pootled on up the single road that runs down the spine of the islands almost in total isolation. The beach and sea one side, the lagoon the other, a lovely almost deserted island. The next ferry took us to another string of islands joined to the mainland by large bridges, which means more traffic. There were good shoulders but the sea vanished behind large dunes or houses and the lagoon was hidden by marshlands. Much less pleasant but one heck of wind behind us had us hurtling up the road like maniacs. Which is what many here think we are for cycling anyway!
We managed to find a cute campsite and hole up for a couple of nights as the next day the wind turned viciously against us, so much so it bent the tent poles, even with us hanging on to them! 50kph sustained winds is not a day to cycle into it.
Our luck with camping continued the next night after going over yet another brand new really tall bridge. Linda hates these. The traffic is fast, the shoulders are usually ok, but as she gets vertigo it's a real challenge for her to cope and she does it really well. Fortunately on this bridge one lane was closed and there was single file traffic, so we sailed down the closed lane in glorious solitude!
The rest of the outer banks improved as we approached the more populated northern end. The usual array of enormous seaside rental homes lined the sea, some apparently can house 50 so we really do mean enormous, and we managed to fall off Tilly. Entirely my fault as we pulled into sandy car park for lunch and going too slowly the front wheel caught in the Sand and Tilly gently fell sideways. Fortunately neither of us were hurt, or even fell over and far more importantly, no one saw us!