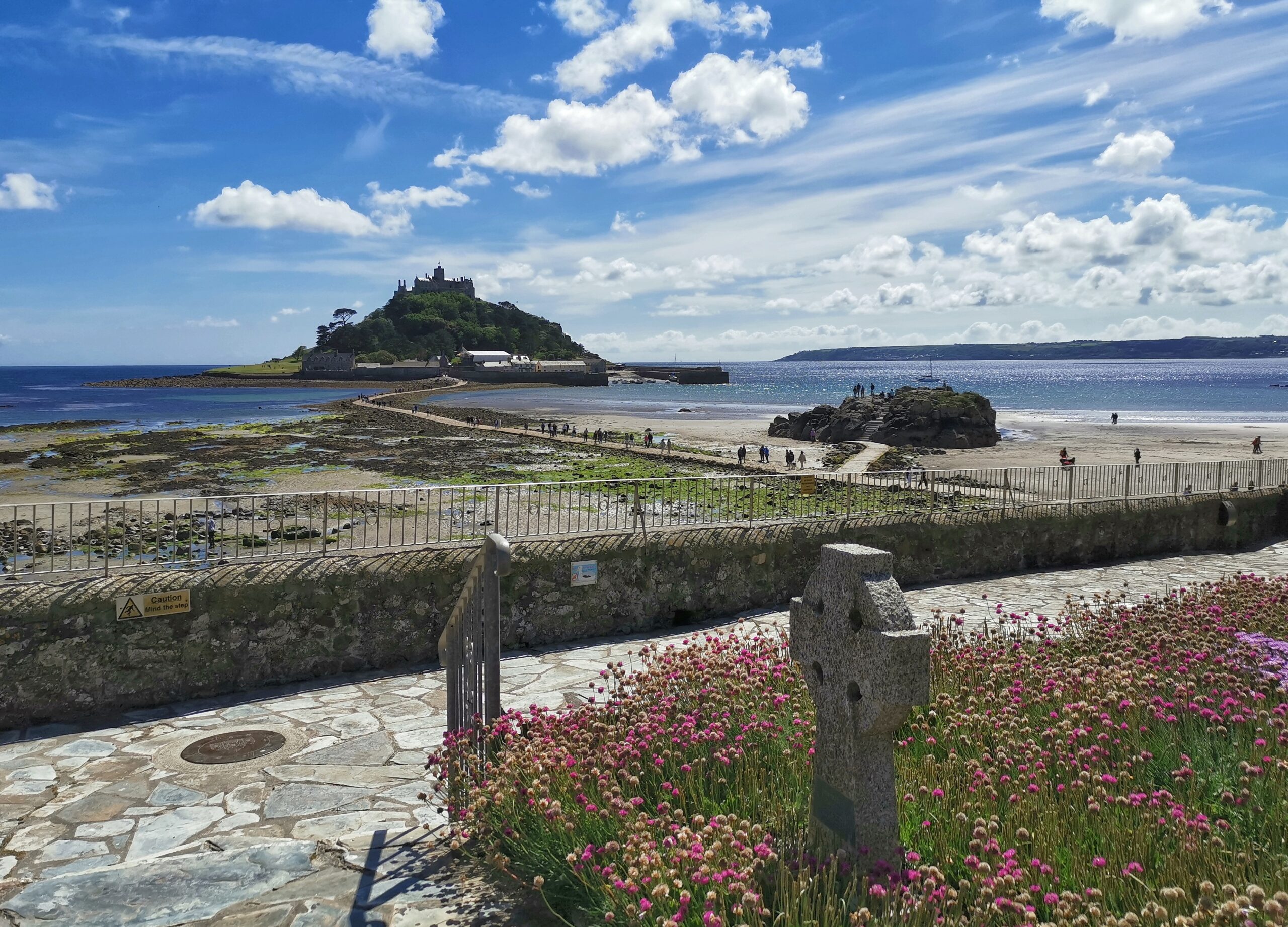 We arrived in Penzance at 8am having both had a poor night's sleep. I have to stress this wasn't due to the cabin, which was really nice. High quality bedlinen, nicely finished and quite well insulated from the train noise. We just had one of those nights when you can't sleep.
Nothing to do with the 3 bottles of Prosecco in the train bar before retiring you understand. (they were the tiny bottles)
After collecting Tilly we had showers in the first class lounge which were like a 5 star hotel, very very nice and then set off for a cycle along the coastal cycle route to St Michaels Mount.
In true British style the cycle route was closed for repairs, which you only found out when you could see the actual work and, this being the UK there were no diversion signs but there was an option of going down some temporary steps to the sand and walking along the beach for a while.
We opted for the U turn and main road instead. We got back to the cycle path and started again and were flagged down by a couple of road workers saying there was another closure further on and best stay on the road.
Anyway, we arrived in Marazion, the village opposite the Mount in glorious sunshine and spent most of the day moving from bench to bench here and back in Penzance waiting for our accommodations check in time to arrive.
Penzance's sea front is lovely. A nice flat cyclable promenade full of benches and gorgeous views and very very flat, but we eventually dragged ourselves away to check in.
As we got changed and ready to go out for veggie sausage and chips at the nearby chippy there was a loud commotion from the back of the B&B as a drunk lady decided to have wee in the next door neighbours back garden.
The neighbour was somewhat taken aback especially when she followed this up by knocking over some plants as she stumbled around and then launching a verbal tirade at the poor neighbour that would have been half as long if she'd cut out all the 'F****in'. She sounded a delightful character!
Show over we headed off for some chips on the seafront and a walk around the town before bed.
The next day brought our first hills. We'd been warned by everyone we'd met in the last day that the hills here were horrendous, often with a big laugh at the same time!
Our first big hill was 19 % and a definite hop off and push job. So was our second and third…. Uh oh… But they were actually fine to push up. They are so steep you get to the top fairly quickly and we didn't mind them too much. They're worse when they are at that 'we' re tempted to try to cycle' gradient and you give it a go then get knackered but someone's watching so you can't stop so carry on before swearing you'll never do that again when you get to the top and obviously repeating the whole thing on the next hill!
The cycle to Lands End was lovely though and very quiet too and we arrived at Theme Park Lands End early afternoon. Its a very odd place to go to, you cycle through nothing for ages then end up at a King Arthurs Quest ride next to the doughnut shop and the Wallace and Grommet experience.
I get the doughnuts and fish and chips but why all the other stuff? Weird. Nice doughnuts though.
The famous signpost here is not actually a signpost but a family business and they add your destination or quote to the sign for the princely sum off £10.95, as we probably won't ever come back on Tilly we forked out the cash (or contactless as everything is now) and had our photo taken with a free lecture from the owner about Brexit when we asked for our mileage to be in KM. I know many Brexiters believe the straight bananas and cucumbers crap pushed by the Daily Moron et Al but I'd never met one who thought that Napoleon was somehow part of the EU conspiracy and introduced KM just to annoy Plucky little England 200 years later. Although they did say he was a master strategist so…
Our fun continued at our hotel – which was excellent apart from the menu. Mushroom linguini was the only veggie option and my dislike of mushrooms ranks higher than my dislike of hills so we asked for an alternative.
Leek and spinach risotto – which would be nice if the starter wasnt Leek and Spinach soup.
The waitress was excellent though and after having a row with the chef ordered me some Arrabiatta Linguini. This turned up with Leek and Spinach Risotto, which in fact was just the Leak and Spinach soup with some risotto thrown into the bowl. Literally. What's worse is Linda hadn't order this but had ordered the Mushroom!
Back it all went…
Puddings continued the fun, the Lemon meringue tart with clotted cream came with spray cream. No clotted cream… In Cornwall? Really? And Linda's mixed Berry cheesecake was a half strawberry and a plain cheesecake.
This isn't a cheap hotel and £300 a night (we didn't pay this!) is what they charge for some nights so to have 1 vege option, to not supply what they advertise and to have zero vegan options is extremely poor. But it certainly made our meal time entertaining and the banter with the poor waitress was quite fun. She was as pissed off with the chef as we were and as this was her last week she was quite enjoying giving the chef a hard time I think.
Heading back to Penzance we chose a slightly different route and got chatting to a lycra clad cyclist on his carbon fibre beast who sometimes did 300km a day. I'm not sure he was impressed with us taking 3 weeks to do a trip he could do in two days! That's very impressive but he'd miss out on an awful lot of cake!
After retracing our steps to St Michaels Mount we climbed into the hills to head north toward Hayle and stayed at lovely pub for a night where they made their own bread. We had a great baked Camembert wrapped around with a huge ring loaf stuffed with caramelised onion. I then had the home made pizza and could hardly walk back to the room I was so stuffed!
I sometimes wonder who designs the cycle routes. We use them as a good guide to where we want to go but often deviate from them to avoid things.
Leaving Hyde we left the '3' and picked up the Mining Trail. This was one of our all time favourite rides, being a gravel track that ran through dozens of abandoned mines. With barely a soul around we took our time stopping off at a few mines to have a nose about (and in my case regress to age 7 and climb up the walls for a better view).
The track took most of the day for us to traverss and we eventually left it vai the Tram track route that hauled the tin and copper down to the port. This section even had the stone blocks in for the haulage animals to grip to when pulling loads. We'll worth a trip.
We spent the evening in Truro which has one of those squares designed by an architect from the 'let's see how awful we can make the place look' school of design. Hideous.
The rest of Truro though was very nice and an almost mini York in places with small cobbled streets, some nice bars and restaurants and not much traffic, which does make a change in Cornwall as the place appears to jam packed with cars. We heard someone say they'd spent a hour trying to find somewhere to Park in Newquay so gave up and went to Penzance. And it's only June! Never have that problem on Tilly.
Our next stop was Newquay following yet another lovely cycle with plenty of hills en route. We rolled up into the town sea front and it was alike a Bank Holiday weekend in August. The high Street was almost stationary and the pavements Chocka block.
We had a day off here for Linda's Birthday, so had booked two nights at an Airbnb on the Nansladen housing development. I'm not a fan of housing estates generally but this was quite extraordinary in design.
It's all on Duchy of Cornwall land and Charlie had made sure that it wasn't designed by the utter twat who designed Truro square but someone who would actually be happy to live there. It had all sorts of house designs and resembled an old Cornish town. The houses had bird boxes and bee bricks inside the walls, the streets were lined with fruit and nut trees and there were small clustering of independent shops. The estate will take 50 years to finish and once competed will provide one job per household to encourage cycling and walking. The house prices were very reasonable and the quality of the build excellent. The slate roof tiles and stone was all sourced locally and hand made. Come the Republic I think Charlie boy needs to get into Town planning…..