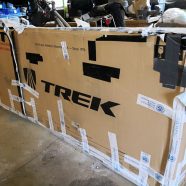 The world cup may not be coming home this year but Tilly finally arrived back home two weeks after we arrived back in the UK having been to Paris then back to New York then back again to Stansted. She managed to get lost in New York and then in Stansted too while no one really knew where she was and when she was likely to be back home.
We had phone calls telling us she would arrive on a date and she didn't and then appeared in a different country and then phone calls telling us she had arrived followed by a text telling us she hadn't as was still in the USA. Then when she finally did arrive in the UK she got sent out by courier and they lost her again, they didn't know where she was and finally she turned up in a box that had been opened by the Americans for a security check, naturally enough not using the folds on top of the box to open it, but by just cutting one side off completely – idiots – and then taped up by a 5 year old with a phobia of sellotape. But, she's back, in one piece and ready to roll again. Shame Linda's knee isn't….yet.
Oddly enough we've really enjoyed being home. We really didn't appreciate just how fabulous Norwich was until we'd experienced the food deserts and wilderness towns of the south of the USA. Pedestrianised streets, more people walking than we'd seen in our entire trip out together, no religious nutter banners and warm beer. What more could you ask for?