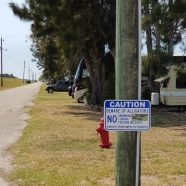 We've been warned about all sorts of dangers by many different people so far, oddly enough none of which have been to do with being shot. Mainly it's to do with road rage, bad driving, locking the bike and neighbourhoods. We had been warned not to stop in Belle Glade by a number of people as it was a dangerous city (here it appears a definition of a city can be anything from a couple of hundred people upwards and villages are posh estates in cities!)
We didn't stop but as it was into the wind when we passed through we could have been overtaken by grannies with zimmers doing a bit of an evening stroll but we survived fine. Our next stop was Pahookee – another dangerous city (village) and this time we visited the town a few times to shop. We found people, as ever, very polite, cheerful and helpful, though the guy collecting the shopping trolleys at a supermarket who had a sidearm was a bit off putting. Maybe it's the shopping trolleys that are dangerous, they do sometimes have those really wonky wheels…
The campsite was along the banks of Lake Okeechobee and our pitch looked out directly onto the water and the Aligators, which you are warned not to feed!
We ended up staying 3 nights as the mother of all winds had children and they were worse than the parents so we hunkered down to sit it out.
Moving on once the winds had gone we cycled on our first proper cycle path along the levy by the lake. The whole Lake was being renovated by the US Army Corp of Engineers and we twice ended up being escorted out of the renovations back to a main road as we stumbled into the construction sites.
All over the US various government agencies have small free campsites for a handful of hikers and cyclers. There's sometimes a loo, but usually no water and we'd aimed to stay at one of these at the north end of the lake. Naturally when we arrived it was inside the construction site and we had to carry on to the KOA site further around the lake, complete with Golf course, two pools hot tubs, bars, shop and 300 golf buggies driving around the site so the campers didn't have to walk to the showers, the bar, the shop etc. It was a different world to what we had aimed for but we enjoyed our stay on this Disneyesque campsite, though the 'green' credentials of the site – using recycled bin liners – were rather let down by the fact that most of the golf carts were petrol engined not electric.