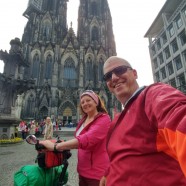 By the time we woke up the Du Randts were already on the train back to Holland, in fact they may have already been in Holland – We were back in our old routine and lying in! We had a short ride up to Cologne when we finally got going and found a lovely campsite by the river a few kms south of the city. We had a great pitch right on the waters edge and met another touring cycle couple over a bottle of wine who were cycling to Vienna for a great evening.
We had planned to go into Cologne the next day but woke to signs on the shower block saying please contact reception because of the high water. They informed us that it was likely that they would be flooded later that day and were busy moving caravans off pitches, contacting owners and cutting the grass. (I'm not sure why they did this but perhaps they thought the river would wash away the cuttings?). But they did give us the option of hanging on till 5pm to find out if we needed to move, but said we'd only get an hours notice. As you may have worked out we're pretty slow getting our stuff together so opted to leave in the morning and head to a hotel, rather than see half of it washed away later in the day.
Cologne isn't our favourite city. Linda once described it as "Like Regent road in Yarmouth" much to her nephews amusement when he visited the city with us. The Cathedral and the riverfront are lovely but like many European cities damaged in the war it now suffers much from the architects hideous rebuilding plans, just like cities in the UK. It is though a shoppers paradise and full of every shop you could dream of. We're not big shoppers but spent the rest of the day wandering around, mainly in Globetrotter (the Selfridges of outdoor clothing and equipment).
The rain returned with avengeance the next day with it pouring virtually all day. We decided to wimp out and stay another day and do some more window shopping and frite munching.
We also managed to visit the same cafe three times. It was opposite the Cathedral and had a great view so we stopped for lunch, then went back to get our shopping that we'd forgotten then went back again for a coffee in the afternoon.
With better weather retuning we then headed north to Dusseldorf to the city camp for another night of 'German Syndrome' which I slept through but Linda didn't. With that we decided to hotel until we left Germany. Maybe we've been unlucky, but German camping by and large seems to be smokey and noisy and not for us.
The weather had done a remarkable U turn and we were now cycling in 28C and brilliant sunshine. The cycle itself from Bonn upwards is by and large uninspiring. This is the industrial heartland of Germany and the Rhine is lined with factories and power stations. On a grey day it's hard to see where the factories end and the sky starts it all blends into one, when it's sunny it's less grim, but still the least pleasant part to cycle, with chimneys belching smoke in every direction. But we're cycling the Rhine so had to get through it.
We'd booked a cheap hotel at Rheinberg and got a very warm welcome and pleasant surprise when we found the restaurant did veggie burgers! By now we were getting to our limit of cycling (perhaps our own version of the runners 'wall'). Cycling on flat ground with no wind was becoming much harder and I in particular was running out of energy quickly each day. We'd done over 1500 km in 30 days with only one day without any cycling and we'd been eating by and large what we normally do. We booked an AirBnB for two nights to have an easy day off in Kleve on the Dutch border.
The Airbnb was very nice and best described as Bohemian. It was an apartment built in an attic and was very hot so we had to leave the doors and windows open all night to keep cool. Linda loved it though I found getting off a futon in the morning much harder than getting off the floor in the tent. We had a short cycle into the town for an ice cream and came across an English phone and letter box from Worcester, their twin city which were attracting great attention from passersby.
We could hardly manage the 3km cycle home we were so tired and went to bed early that night only to be woken by a cat jumping on the bed in the middle of the night which had wandered in through the open door. Linda jumped a mile! It was fast asleep on the bed between us when we awoke.
Crossing back into Holland is like coming home for us. It's such a classy country and its odd how a line in a map changes cafes from very nice but smokey outside to super classy and chic and virtually non smoking. And of course the frites are the best in the world and they seem to do cheese tosti 's as a national dish! Heaven.
This may come as a shock, but just over the border the Rhine finishes. It splits into the Waal and a canal which turns into the Neiderrijn. I don't know why this happens and it wouldn't appear to have always been this way as there is an Oude Rijn (old rhine) that runs to Katwijk on the coast. This however isn't generally regarded as the Rhine cycle route. Weird. Anyway, we've cycled lots of the Old Rhine anyway, so have opted to follow the Canal up to Arnhem and the Neiderrijn.
Again we'd booked ahead, this time a campsite just over the border and on the Waal, which a few meters ago was the Rhine. We'd booked a river side pitch and when we arrived found that most of the river side pitches were actually in the river with half the campsite under water. The site were lovely and offered us a choice of pitches whilst turning away caravans as we wouldn't dig up their grass and so we ended up with a great pitch with a lovely view of the boats sailing by.
Another day off with a 30km cycle in to Nijmegen helped ease the aching joints ready for the final push…