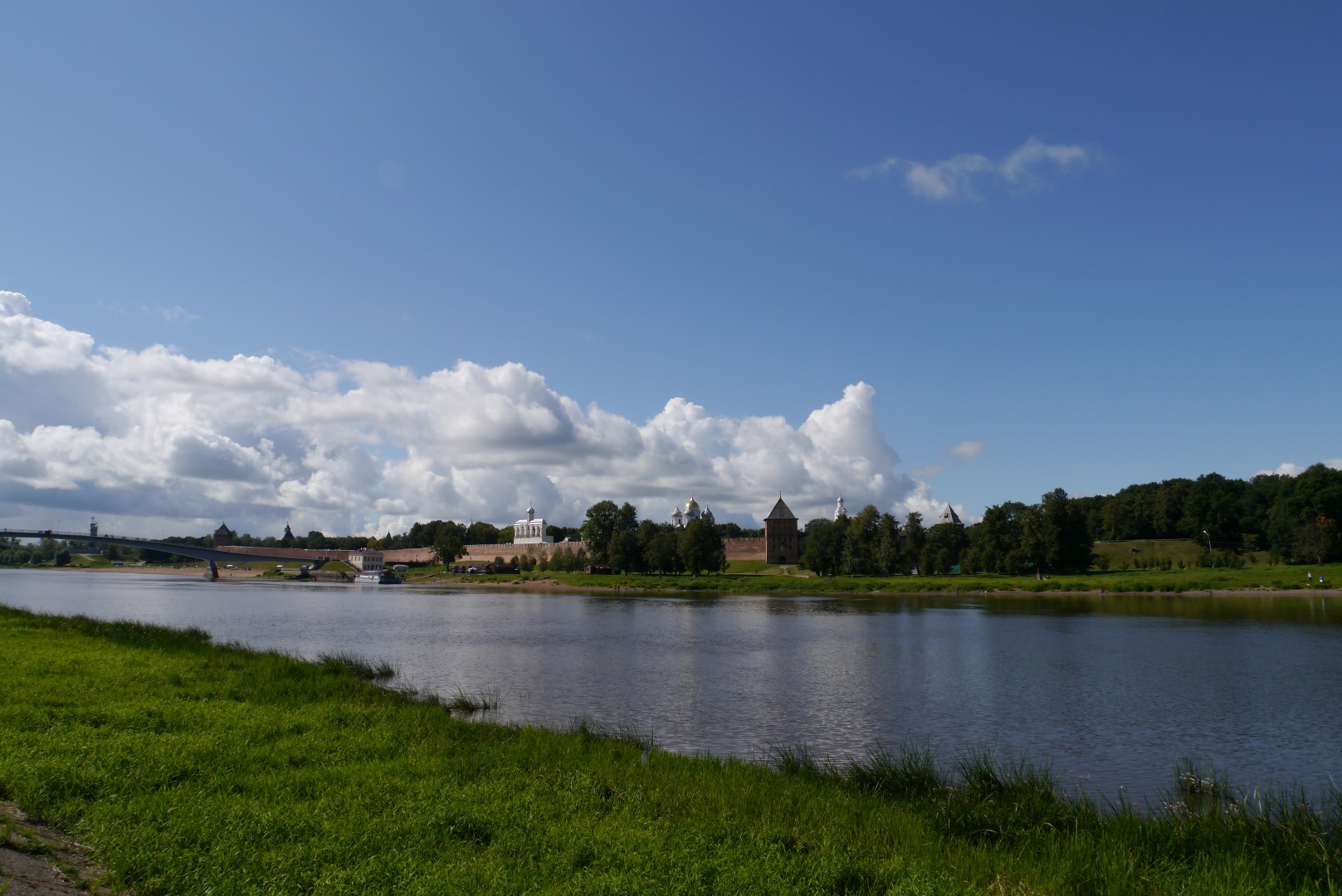 Last time we entered Russia it took us 19 hours to get in, this time it took about 1.9 seconds as the border between Belarus and Russia is now like an EU crossing. I'm afraid though that's where the similarities end.
When we left Russia we passed a town called Ugly, given some of the towns we've driven through we'd hate to visit it because most of the towns and cities here are seriously unattractive. Communism seems to have taken Ugly its sister town of Decrepit and joined them together as the state model for city planning. The one good thing you can always say about the cities is they have lots of green spaces, but many of the innumerable tower blocks are desperately in need of modernisation or preferably demolition. Pavements are designed to challenge the able bodied and it's little surprise we only saw one wheel chair all trip – and that was a tourist in the Hermitage museum.
Our first proper stop in Russia was at Pskov to see its Kremlin (a walled castle) combined with a day off by the beach, ok not the beach as it was way too cold and windy for that, but we did manage an afternoon outside in the sun being entertained by Mike spending hours doing a months worth of washing – you must turn the washing on the line every 10 minutes apparently and when poor Mike finally sat down for a rest he promptly got stung! We were exhausted just watching him and so obviously was Ali who didn't make it out of her Jim jams till tea time!
The Kremlin at Pskov is quite impressive being wholly intact with a cathedral in the centre, it's a bit Disney like really, thatched towers and covered walkways around the walls and a gold topped onion dome cathedral in the middle, you half expected to see Shrek at any moment. Sadly though it's about all there is to see in the city so we headed off to Novgorod via the back roads to try to avoid the suicide driving. In the short time we've been here we have seen four serious accidents – we think head on collisions and judging by the state of the wrecks people didn't walk away from some of them. This does absolutely nothing to sober the drivers up and after they've slowed down for a good rubber necking they're back to playing formula one starting grids in your rear view mirror. Linda has taken to swearing like a trooper here – if we had a swear box we'd be able to go on a cruise for Christmas – but it is understandable. When she looks up from the map her first sight is three cars coming directly at us in a two lane road. We've had to apply the brakes on more than one occasion and actually get off the road completely once as well, Linda has taken to the vodka as an evening wind down as way of compensation!
When I say The back roads we're not talking the road from Onehouse to Stowmarket, more like the A140 to Norwich. It was tarmac, in fact lots of tarmac and lots of potholes all jumbled together to make rather slow and noisey mornings drive. The road was deserted (surprise surprise) and we weaved our way from either side picking our way through the patchwork quilt of holes, newly filled holes and previous years filled holes alternating with driving actually off the road on the sand where possible! The main roads here have been pretty good really but exactly 40 years on from my first motorhome trip to Russia with my mum and dad almost all of the roads off the main road in the countryside are still nothing more than sand tracks.
Novgorod was one of my parents stopping places on our trip back in 1972 and as Russias birthplace it has been restored beautifully since the war. It's Kremlin is more imposing than Pskov's and inside is a jumble of administrative buildings, a cathedral and the old bell tower. It's well worth a wander around but for us the most interesting places were the church museums featuring murals from the 13th and 16th centuries.
We managed a great cycle here too, exploring and finding a lovely cafe for some potatoes soup lunch and a nice Italian for supper. We were even fortunate enough to have a Perestroika tour turn up on our second night who invited us to watch the folk dancing they had arranged in the car park, Lovely.
Next stop St Petersburg, or as I last visited it Leningrad!