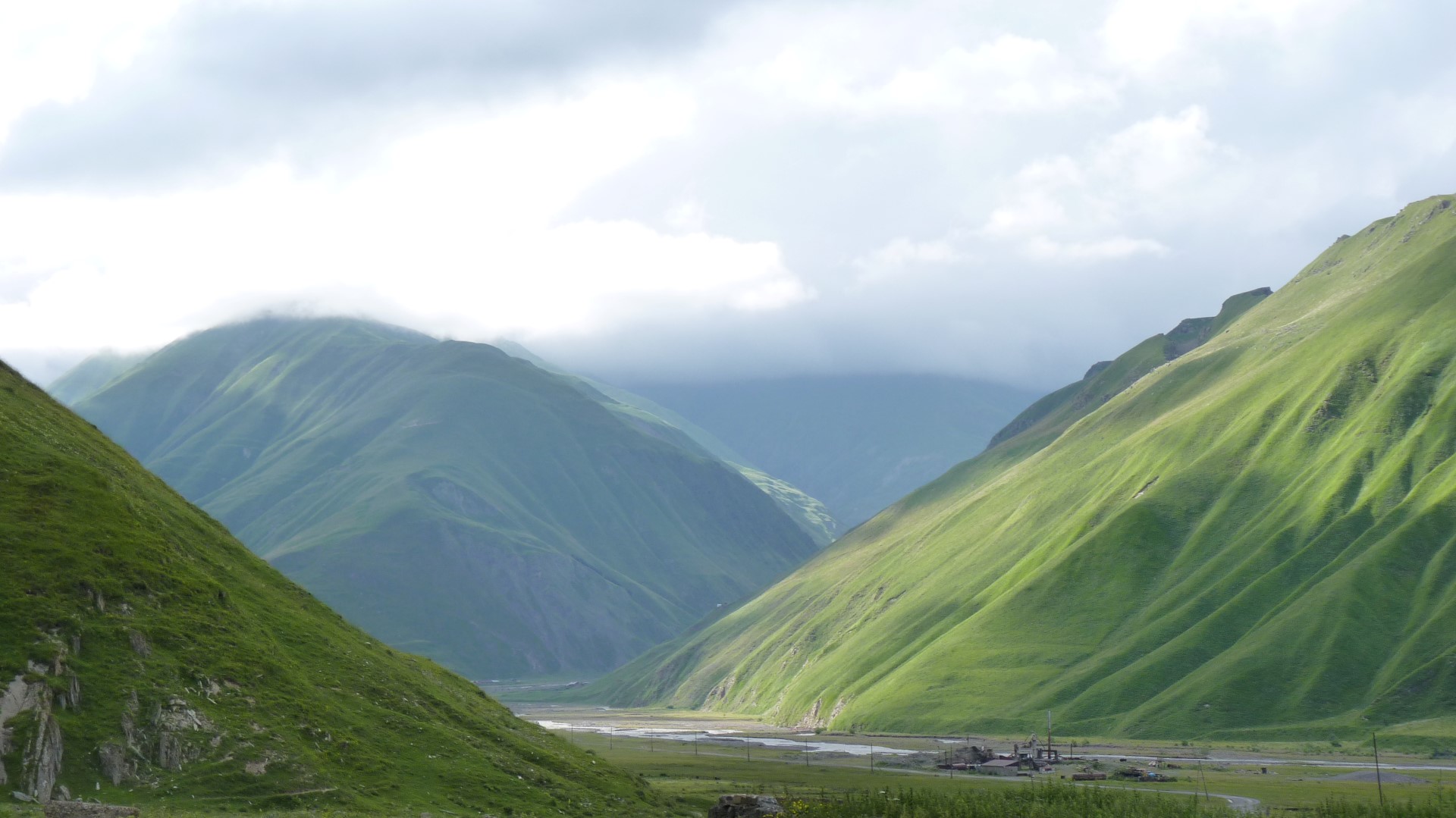 We hopefully said our last farewell to the brothel and began the drive north up the Georgian Military Highway to the Russian Georgian border. We have decided to try to cross the land border right in the centre of the caucuses rather than drive to Poti and get the ferry after numerous lorry drivers told us it was the best way into Russia. They told us that despite it going within inches of Chechnya it was safe and so we approached the embassy in Tblisi to check. They said they had had no reports of problems but would advise against non essential travel to this area, however they would consider our driving to Moscow as essential so that was fine then, if somewhat confusing! We phoned the Russian embassy who said the border was open and the road safe for us to travel. We also spoke to Russian lorry drivers who said we would have no problem and this morning picked 2 Russian hitch hikers up who had been through the border and also said it was open, safe and our onward route to Moscow would also be safe. You can't do much more than this so we're off to Chechnya! (well not really but pretty close). Naturally enough when we arrived we were told that the border was closed to Brits! So its back to Poti for the ferry at the weekend or early next week. Whilst this is a bit disappointing – we will only get 3 weeks in Russia now on our visa- it was our original plan and we had left some sites to visit on the way back such as Stalins home town which we will now get to see.
The drive up the military highway was stunning. It was Austria in 3D supermarionation! The road wound its way through valleys with the small hills giving way to large ones, then these being replaced by mountains and in the distance the 5km high Kazbeck mountain getting nearer and nearer. We past a wonderful church sat right on the edge of a picturesque lake (man made) that could grace the cover of any travel magazine and eventually the road began to climb in a series of hairpins into skiing country with very pleasant, if slightly chilly temperatures of 27C.
The biggest surprise of the day however was passing an Italian Motorhome convoy heading south. They looked even more shocked at the sight of us than we did of them!
It has been so hot here, we've been having 3 showers a day at times and Taffy gets up to 40 inside on some days after a long drive with the engine acting as enormous heater. So the cool air in the mountains is very welcome indeed! We are fortunate that our bedroom is air conditioned and we've been able to have the air con on every night to cool us down nicely (around 20C) but it is usually in the 30's by the time we get up outside. It's odd, but in some ways we are finding it harder to cope with than Egypt!
As the road gets more into the mountains it goes over the pass at 2700m and the road is very poor and runs above the lingering snow hiding in shady areas! The road has avalanche galleries but these are only used in the winter as they are in such poor condition so you drive beside them. The mountains all around you are a mixture of colours with grass and snow being complimented with red washed out by the iron rich mineral water and a large area of cream coloured calcium deposits where a broad stream is slowly depositing its calcium forming a meringue like hard wall behind the stream.
The last town on the road north was Kazbecki which is overlooked by the beautiful Tsmini Church high up on the hills above. The town is more of a village and is the first place we've seen evidence of numerous tourists with backpackers using the town as a base for walks up into the surrounding mountains.
A little further north after 11km of dreadful road the border post is contrastingly brand spanking new! We asked if we were allowed to cross here and were told "No English Passports" – just goes to show how reliable advice from embassies is! So we made our way half way back to Kazbecki and found a lovely bit of old road overlooking the thundering river below and pitched up for the night.
Tsminda Church is a two hour walk from Kazbecki and naturally enough we set off and it rained for most of the climb up. Its a really steep walk and quite strenuous but the view from the top is amazing. We had brought a picnic and as we reached the top it stopped raining and we were able to sit and enjoy our picnic huddled together to keep the wind off just like we were in England!
The priests in all the churches and monasteries we've visited always appear sullen and grumpy. they have long unruly beards and their black cassocks are often grubby. They remind you more of teachers about to tell you off for walking on the grass than representatives of God!
The church was a typical church for this region, a separate bell tower and a small stubby square cross shaped chapel. Outside they are beautiful often with ornate carvings and writing on them, but inside they are generally dark and depressing with numerous dark icons on the walls and a solitary throne in the middle for we presume the priest.
We walked down the hill in some sunshine and no rain and were dry by the time we reached Taffy. Parked in front of us was a German Motorhome which we had passed in Armenia! We had a chat to the owners and then set off to spend the night in the pass surrounded by mountains.
We opted for a day off in the morning and caught up on cleaning and repair jobs and defrosted the fridge whilst Linda played on the computer all day! And as the weather closed in we had a roast dinner with stuffed onions, yum! Our lunch had been brought by a couple who stopped to say hello and then returned later with two trays of food! We also had the Germans stop in to say hello and some Dutch tourists as well as dozens of other people stop to take pictures and peer through the windows and door. Just a normal day then!