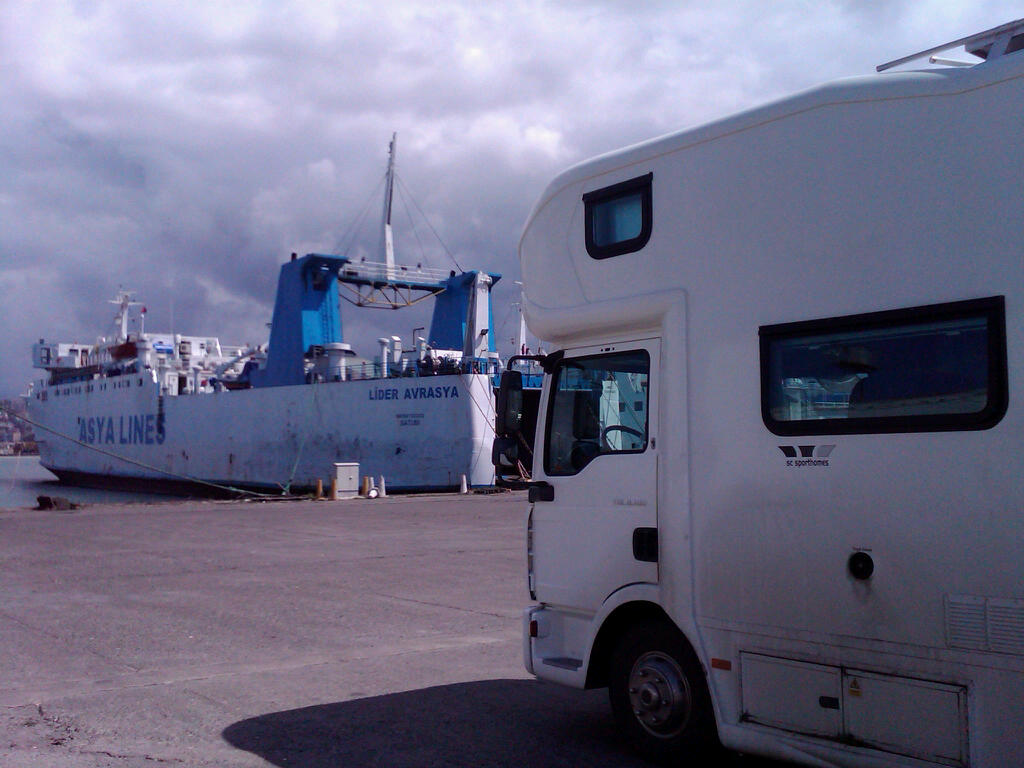 Its certainly made for an interesting 24 hours trying to sort our passage to Russia out. It all really went wrong with the Poti to Novo ferry. We had enquired about that as soon as we arrived in Georgia and got the provisional sailing date of 15th July. We had applied for our visas based on this but the shipping company decided to cancel this sailing and the next one won't sail until the 25th (if it actually sails at all) so we were left with two choices, sail to Ukraine or go on the rust bucket from Trabzon. Oh, and inbetween this we tried the land border! The problem with Ukraine is that last time we went we had problems getting in due to our weight (Taffys that is not Lindas!) and it was only after a phone call to Kiev that we were allowed through the controls. We don't mind this at a land boundary but it would be awful and expensive if we had this problem in a port and got refused entry as we would be made to ship out again. So, Trabzon it is!
We drove down from our overnight pitch high in the Caucus mountains where the overnight temperature was 8C back to Batumi where its a very muggy 30C. In the morning we had the heating on, in the evening the air con! And to make things more fun we parked up again at another TIR brothel and actually had drinks with the pimps and girls who helped us fill up with water and then had the tour of Taffy. We are beginning to think that all TIR truck stops are brothels.
This morning we crossed back into Turkey after visiting Gonio a complete Roman wall around a field that once was a town similar in nature to Caister outside Norwich, but probably the most enjoyable museum was yesterday in Gori – Stalins birth place who have a museum built specially to commerate the better aspects of Stalins life. It is full of pictures and gifts from other countries and we were told by the guide, in terms that reminded me of intourist Tours in 1972 that the Chinese still adore him. The museum is built around his house he grew up in – literally, and has his 88 tonne armoured train in the courtyard and in true Reed fashion I sat in his chair and started giving my orders, which Linda dutifully ignored as usual!
We got to Trabzon, found our ticket office and had it all booked in around 5 minutes. The next day, after one final night in turkey we arrived at the port and loaded on to the weather deck. We had millimetres to spare all around as we parked up towering over the pasenger deck and will have a fantastic view of the rough seas as we cross.
So farewell from Asia!