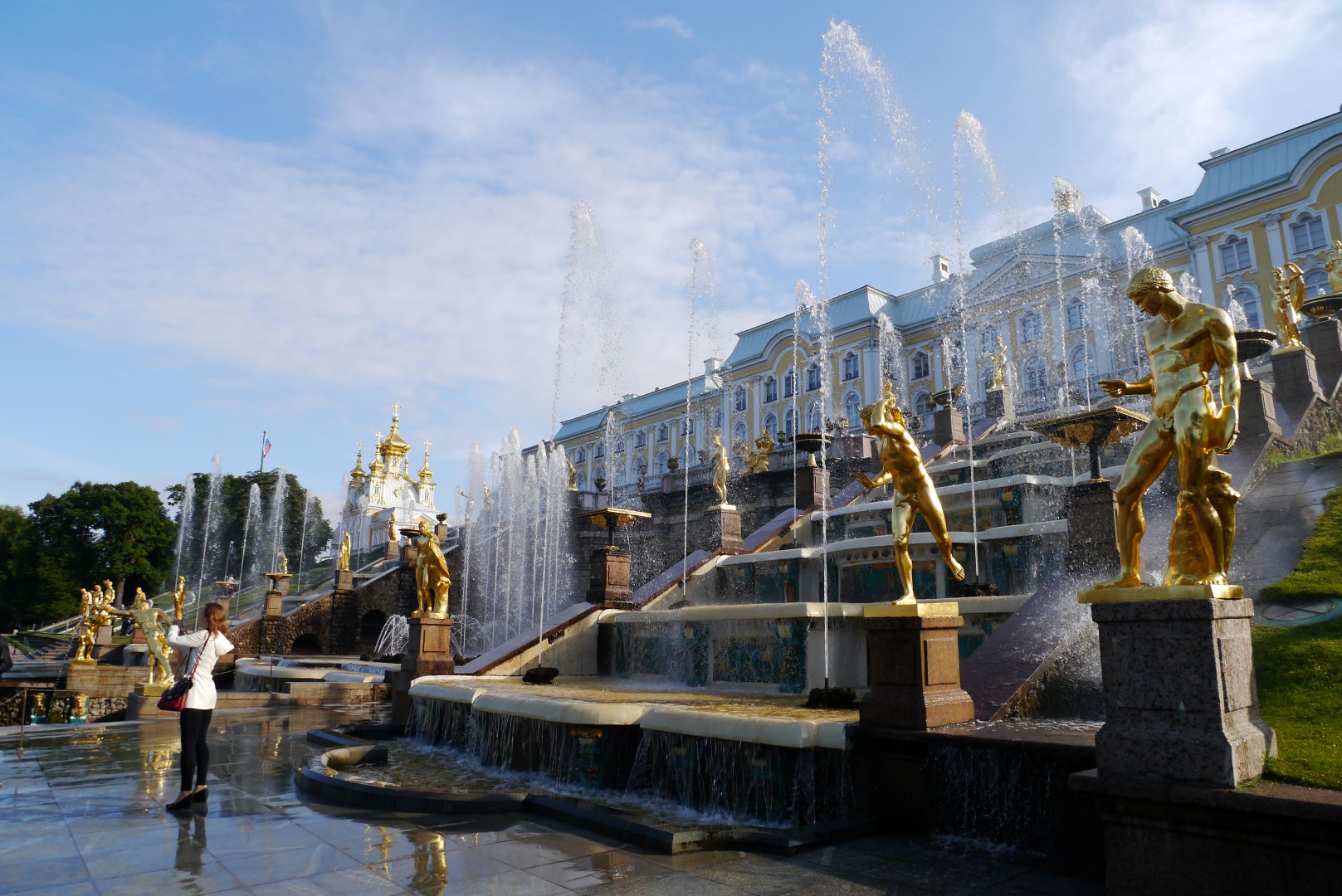 There is a saying here that in communist times a man was asked where he was born, St Petersburg he replied, where did you go to school? Petrograd he answers. Where do you live now? Leningrad he continues and where would you like to live? St Petersburg. Of course they are all the same place but this city in its short 300 year history has seen enormous changes from Majesterial Capital of Russia, the birth of the revolution, the near 3 year Nazi siege, communism and then a restoration of its former glory with its very own Putin as president.
Its certainly one of, If not the most grandiose city we've been to. There are Palaces palaces and palaces and museums to last a life time. The buildings all seem to have been built in the same style and exude an imperial grandeur that must have gauled Stalin. The fact that in Communist times some of the most magnificent churches were used as warehouses or factories is mind boggling, but now they stand back to their imperial glory days full of tourists not theatre props and sewing machines.
There are two places to camp in St Petersburg and we decided the one with the view of the Baltic was going to be our choice. We'd been warned that it was in a run down dangerous area of the city – we'd thought Toxteth in the 80′s only with blacked out Mercedes and Uzi's – but found it to be in the grounds of the National Congress Hall with its own security and police station. The area was more like Henley than Liverpool with numerous Palaces and Monasteries either being or fully renovated dotted around. The local houses were grand and newly built and the only dangerous thing we saw in the area was naturally enough the driving.
Our bus in was often crowded, the driver seemed to think the189 Stencilled above his cab was a challenge, not a maximum passenger figure and the baboushka ticket collector was his accomplice in packing us in. "Move down" she would shout as the bus filled up and heaven help any bloke sitting if a woman got on the bus and there were no seats, "You, up!" would be her command. But to be fair most men immediately offered their seats up, presumably choosing this as a better option than ritual humiliation by the conductor.
Whilst not as grand as Moscow the metro here is magnificent, though the trains are getting on a bit. Stations bare the grand brass painted carvings of the communist star, Lenin and hammer and sickle everywhere in cathedral like stations that even feature stained glass windows, though as they also doubled as fall out shelters we are a good 2 minute escalator ride below ground.
The Hermitage is a vast museum in a The British Museum style – a little bit of everything from everywhere but we came to see the building itself, not the contents. We've been told that finding your way around is a nightmare by various guides and people so we came prepared with a pen to draw our route on the free map as we progressed. We got some funny looks (probably from people who were lost) but it is an excellent way of ensuring you see everything without finding yourself going around in circles!
Stopping for a toilet break we met an American who complained about the crowds – most rooms if you wated about 60 seconds for the tour group to leave it were either empty or had just a couple of people in – he was suggesting that they should tripple the price to "keep the natives out". Putting aside the fact that most people were off the cruise ships or on tours and if he thought it was busy he should try it in July, I suppose it's an improvement on how the Americans dealt with their own "natives". "It's not as good as the Smithsonian in Washington DC, that is housed in 25 buildings all over the city" he said. I'm sure it is, but as far as I recall its not housed in a 300 year old ex Tsar Palace richly decorated with gold leaf and boasting a history of Royalty and revolution, but perhaps he missed all that because of the crowds.
Some of the rooms are simply breathtaking and heathens that we are, we often felt the art spoiled it! But in our opinion the Hermitage comes second to the Yusopov Palace. This quite unassuming building on the outside could not be more richly decorated on the in. It's almost as if they bought a lorry load of gold leaf and then just had to use it all up. The Rooms have themes – Moorish, tudor etc but the jewel in the Crown is the theatre. Still in use today it's 200 seats are in two levels with royal booths and there is even a sunken orchestral pit. It's covered in gold leaf and decorated in rich burgundy with plenty of carvings and frescoes. We had the theatre to ourselves, not least because people seem to all go to the Hermitage as their Palace of choice, and we were quite dumbstruck – which for Jon takes some doing! We both would recommend it far more than the Hermitage.
Of course you can't spend all day walking Around without stopping for the odd refuel and we were very pleasantly surprised to find numerous gorgeous coffee shops and bakeries, one of which became a bit of a regular haunt, though when we asked them to make a pot of tea with our decaf teabags and charge us for a normal pot of tea they replied they couldn't do it as there were cameras everywhere!
You can spend weeks here and still not see it all so our 11 days only covered the main sites and some long meandering walks along the canals and through the numerous manicured parks. We even stopped to watch a concert in one and of course the dozens of wedding photo groups who appear at all the most picturesque places throughout the city. They're not like our photo shots for weddings, more wedding photos done by Playboy with the bride pouting, tottering and 'making love to the camera darling' they usually end with smashed vodka glasses, along snog and lots of chanting from the wedding followers but the photo shoots seem to take hours and cover most of the main sites for each wedding.
We did venture out on the tandem one day to Peterhof – famous for its incredible fountains and being bombed by Stalin to stop Hitler having a party there. Again its gold leaf central with anything that doesn't move for more than a few minutes being covered in the stuff.
The gardens are enormous and full of yet more fountains, cascades and water features all fronting on to the Baltic with the Palace of Peter on the hill dominating the whole caboodle. It was truly magnificent and it's all powered by natural water pressure. There's even a table where Peter would invite his guest to eat behind the fountains themselves that, when they reached for their food, it erupted in water making them run out of the room only to be drenched as cascades of water suddenly fell from from the doors.
Sadly, As the weather was beginning to turn colder we decided that we had to move on and so we said farewell to a wonderful city and turned for home.