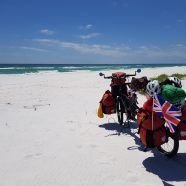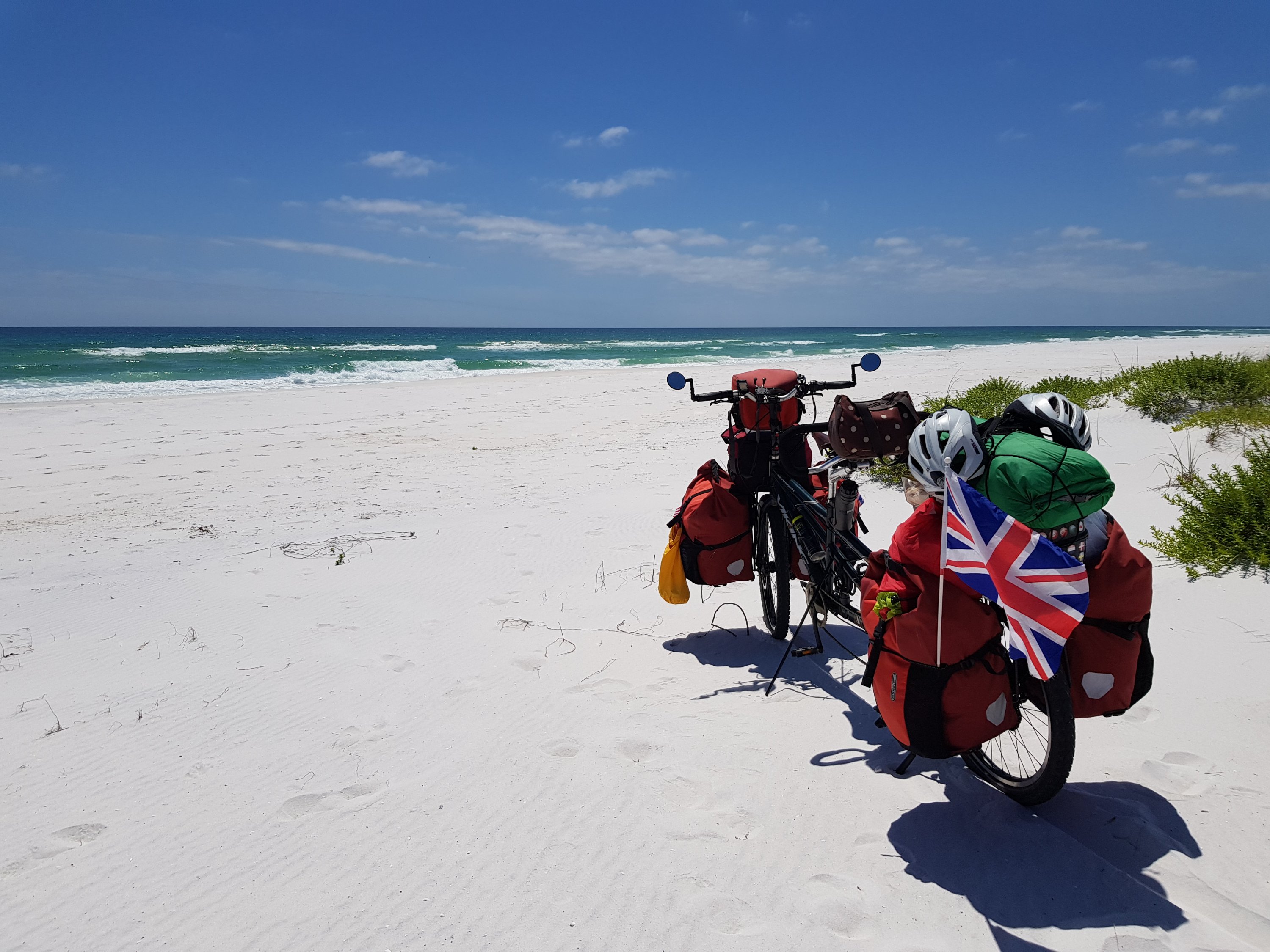 This part of the coast is called the Forgotten Coast and is mainly gorgeous houses on stilts right on the beach. It's quieter and much more to our liking than the commercialised areas we were going to be cycling into later.
Mexico Beach was the last forgotten stop before we hit the US high rise equivalent of Blackpool, well, with without all the miserable weather obviously.
Our camp site was set on the other side of the road from the sea right next to the main road…. Or there was a tempting hotel right on the beach opposite. We did one of those look left, look right, look left again and headed to the hotel with the balcony overlooking the sea. Simply gorgeous!
A walk along the beach in the sunshine, find a pizza place and a beer ( now don't you all go off on one because I had a Bud Light! I like the lemonade like quality of it!) and a walk back – heaven! on sand that is so, so white – and a bit scorchy on the toes too! We're told it's the whitest beaches in the world, which may not be the best slogan for beaches in the former Confederate States…
As we moved out of the Forgotten Coast it became lined with hotels and towns which at Spring break are chock-a-block but as that's finished now there's lots of good offers here, unlike last month where they were full (apparently) of drunk students partying all hours of the night. Glad we missed that!
Apparently there's a big sign on the road here telling you you've moved from Eastern Time to Central time – can't miss it we've been told, so when we turned up a cafe for lunch and it was closing we found out we had missed it, despite us going at 15kph! Maybe we spent too much time looking at the beach as we cycled!
The disadvantage of being by the beach is the wind – our pet hate on this trip – and the road. It's much busier than back roads and a main transit route, the equivalent of an English 'A' road, but thankfully normally with wide shoulders we can tuck ourselves away in. We rate roads in terms of safety as No helmet or lights; just lights; helmets and lights and helmets, lights and hazard warning indicators. This coastal road was generally the helmet and lights category but it crosses many estuaries and these sometimes had no shoulder at all, which created the new category of helmets, lights hazards, clenched buttocks and get off and push.