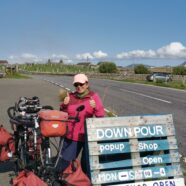 We set out on our first proper ride in the Hebrides on a brighter morning and began our island hopping trip along the Hebridean Way.
Barra, our first island is quite tiny and we went clockwise around it in virtually no time to get the ferry on to Eriskay. We arrived at the port which was tiny slipway in time for a cream scone with cream from Devon, a pleasant reminder of the start of the journey a few months ago.
We'd been chatting to a couple of cyclists on the ferry from the mainland who were on racing cycles and as the ferry left port we saw them approaching. The captain obviously saw them too as he turned around and went back for them – can't see the Harwich Hook doing that!
The guys were late as one of their chains had broken and ripped his derailleur off the bike. They'd had to change the gearing to a single speed to get them going and were heading to the only bike shop at this end of the islands – which we later discovered was closed. Hope they managed OK.
You generally do keep seeing the same people as we all follow much the same route and go at a similar speed – unless you're the super lycra clad racers who probably reached Stornoway by the time we'd managed to cycle to our first coffee stop!
This trip we are following many A roads – we usually wiggle our way around places using tiny lanes, but the Hebrides and much of the Highlands you have only one road and its often a main A road.
Before you start worrying about the A1 the A road here is mainly single carriageway and generally the drivers are excellent and patient so it's fine, but just to be safe I tend to take the whole lane up as there are frequent passing places for them to nip past and taking the lane tends to discourage the Audi (Another Useless Driver Inside (sometimes rephrased to Utter Dickhead! ) brigade from trying to squeeze past.
The coast is gorgeous, rugged and a bit bleak with the numerous derelict houses and an absence of trees, but we loved it all the same.
We knew we would struggle to find coffee shops so had planned ahead and brought a lightweight flask – Linda without coffee in the morning is more scary than a hungry Veloceraptor – so we occasionally stopped and sat on the beach or a bench by the beach to admire the wonderful scenery. It really is a fabulous cycle, as long as the wind isn't against you!
Some of the locals who came to chat to us during our stops told us they get 120mph winds in the winter so we were extremely grateful we got a calm week for our trip.
We had expected it to be far busier with staycations but it didn't feel busy at all. The beaches were deserted, the water clear blue and the sun warm but we only saw one hotel or BnB that had vacancies in all our trip, so it must be quite busy and this lack of vacancies really dictated our route with us heading in all directions to get to our booked bed.
We'd squeezed in a couple of camping pods on Grimsay and North Uist – arched wooden hits with a double bed in – and tried our hand at a fire with peat at the first. We didn't do well but could successfully hidden a pocket battleship in the smoke we generated so didn't bother the second night.
Peat is the main fuel here for fires as there are few trees and the peat in places goes down as deep as a double decker bus. But Linda has been running on alternative energy and has been fuelled by locally handcrafted gin! She's tried all the local ones and we visited the Downpour distillery where they told us they could ship a bottle home postage free so we didn't need to carry it on the bike! Sold! It's much her favourite so far and almost as good as Fischers of Aldeburgh.
One of the reasons to light a fire is to keep 'the wee beasties' away. The midges here are renowned and even have their own weather forecast. They are tiny and if you stand still for more then a few seconds you get covered in them. The females bite and we've seen people covered from head to toe in bites but we brought head nets and after our smoke escapade just wore these and covered up in the evening outside our pod.
We got another ferry to Harris and cycled past some of the most spectacular beaches you could ever see. Miles and Miles of whitish sand with a handful of people on them and crystal clear blue water. People say they are Caribbean like and that's a good description, apart from the cool air of course.
Harris is much hillier than the southern islands and we really struggled up some of them, so much so we got off and pushed on one and we're over taken by some other lightly loaded tourers who hardly moved away from us as we walked behind them as they were cycling so slowly up the hill.
Most of the tourers peel off at Tarbert and take the ferry to Skye and on leaving Tarbert and climbing again on a long hill into the wind we think that's the best plan here.
We struggled to get to Stornoway but eventually did arrive a bit puffed and found it to be an oasis of a normal town in a bleak and barren landscape. There were plenty of trees, parks a castle, a nice harbour, shops – it could have been in Sussex, but a couple of miles up the road you'd be on top of a windswept hill with no trees, but Heather, hills and wind farms as far as you could see.
Our ferry back to the mainland was booked for 21:00 the next day. A really crappy time to ship out for a cyclist and even worse to arrive in Ullapool at midnight.
We'd booked this sailing as it was the only one available that day when we booked. So after having taken a morning taxi out to Callinish stones and stood wondering what the people who erected them would make of the gift shop at the bottom of the hill, we rolled up at the ferry for the 14:00 and asked if we could go on that. No probs they said and away we went.
Whilst waiting for the ferry we bumped into Pete again, a cyclist we'd met in Northumberland earlier on our trip and then again near Kilmartin a couple if weeks ago. Its a small world the long distance cycle tourers inhabit and you do seem to keep bumping into each other.
So, arriving at Ullapool with the sun still up we had vege burger and chips from the vege friendly chippy and adjourned to our motel for the night and a rest day before we plod onward to JOG.