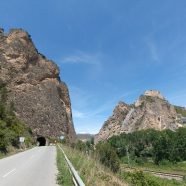 The Camino De Santiago de Compostela is one of the most popular pilgrim routes in the Christian world. It starts all over Europe in various places and is marked by a yellow sea shell symbol. We'd cycled some of the southern Spain route northward toward Santiago de Compostela earlier in the trip, but at Burgos we joined the main route that starts near the French border and heads West. Naturally this puts the price of everything up and makes accommodation harder to find and makes everywhere much much busier. We were heading the wrong way along the route as we began our climb into the Pyrenees so, in addition to the usual 'she's not pedalling on the back' comments we got copious amounts of 'wrong way ' comments too with some locals stopping us to try to turn us around. In the end it's easier to shout 'Paris' and carry on than keep stopping to explain!
Burgos itself was a service point for Tilly, new front chain, new rear tyre which was by now showing the low tread blue warning patterns, new mirror after breaking our old one and have the bottom brackets checked. We picked the best rated bike shop on Burgos but they were pretty hopeless. The chain they put on was so industrial it looked like it was from a moped and they didn't bother to check the bottom brackets, which had it not been raining we might have noticed as the dust around them was undisturbed, and there's a lot of dust on Tilly!
Anyway, we had a very nice hotel and thoroughly enjoyed the city and after a couple of days off we set off toward the mountains.
The rules for cyclists here are fab, but also just a touch confusing and as we sat puzzled on a motorway flyover trying to figure out where our route went when a passing cyclist stopped to help. "Vittoria"we said, "Follow me" he replied and promptly slipped onto the 3 Lane motorway. There weren't any no cycling signs so we tucked in behind him on the hard shoulder and peddled like crazy to keep up with Lycra man. I think he was impressed! He indicated for us to take the next exit and then waved goodbye and sped off, far too fast for us to keep up. Fortunately this was a quiet motorway and all the cars pulled out into the middle Lane when passing us giving us a whole Lane of protection. These Spanish drivers are simply the best!
We've been extremely lucky so far with our long climbs, they've almost all been pretty gentle and steady and with a couple of mind numbingly stupid hills that we wouldn't even have cycled down our luck continued and we headed onward to Vittoria- Gasteiz a beautiful old town with some fabulous buildings, the usual city square with a war memorial in it to the defeat of Napoleon naturally enough by Wellington leading an Anglo Spanish Portugese army. He really gets everywhere that man.
Following another old railway we climbed again out of Vittoria on a gentle incline as the valley sides grew taller and the valley itself narrower until we were firmly squeezed into a small area with river, motorway, road and rail and us! Our route has generally avoided the big roads but we were suddenly presented with a closed road and a diversion on to another motorway, only this time it was a ridiculously busy one which we did not fancy at all. Generally with closed roads we tend to ignore the signs and plough on. You can usually get a bike around and after a couple of kilometers we encountered the reason for the closure – resurfacing, but not with tarmac but cement. First they lay 10cm of cement, then they spray it with water and roll it. The road workers stopped to watch and all the equipment stopped and waited for us to wade through the cement dust. We were covered in grey dust by the time we reached the workers and they stopped us and made us wash down in the bowser as we weren't allowed to proceed covered in dust. Very nice and very helpful guys!
After stopping for another wash at a horse tough and cleaning Tilly up we we reached our last stop before our last climb in the Pyrenees – a beautiful little Campsite which we immediately checked in for two days too get ourselves and Tilly sparkly clean again. Our pitch looked up at the mountains around us and our little road winding it's way up on the road to San Sebastian and the Bay of Biscay, and with the bonus of a 800m descent to look forward to! (Well I was at least…)