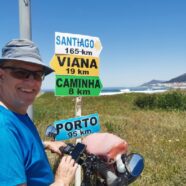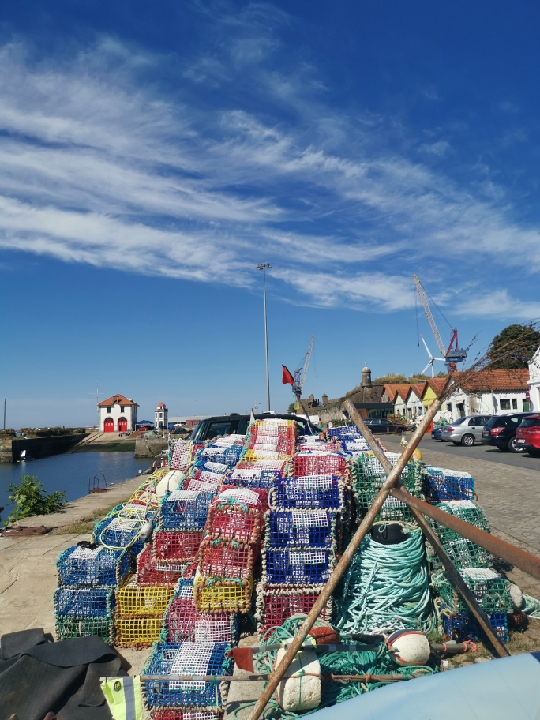 Leaving Porto, our first 1km of cycling was virtually all down hill and a very steep hill at that, both brakes on full, until we joined the steady trail of Pilgrims en route to Santiago de Compostela along the river Douro. Many, if not most, doing the Camino Portugese, start from Porto and do this shorter scenic and less ardous walk rather than the one starting in France and going over the Pyrenees. Don't blame them!
It's a very flat start and right by the river and coast and we'd pass the same people time and time again as we got waylayed by coffees, benches and photo ops whilst they all walked on by.
It's an amazing route and is both the Pilgrim trail and the Ecovia Literol Norte – a cycle route running all along the coast and certianly one of the most beautiful we've ever done. It's not finished yet and we ended up in numerous fields and dead ends as we tried to avoid going on the Route National but by and large managed to hug the coast all the way up.
The pilgrims stick religiously (!) to the coast but much of the route near Porto is sensibly pedestrian only as they all set off in a bunch and space out over the course of the day. Once away from Porto the route is often for cyclists and pilgrims alike and I'll say it again, it's simply breathtakingly beautiful.
There are many nationalities on the Camino, besides the locals there seems to be a lot of Irish and Americans and quite a few Brits and everyone wishes everyone "Bon Camino" as you pass by. As we approach all of the walkers from behind we are pinging Tilly's bell all the time as it's the most effective way to clear a path – unless they're American that is. All the cyclists ping their bells to let the Pilgrims know they're coming – apart from a few Americans who shout "on your left" which nobody understands and quite honestly deserves Manuel from Fawlty Towers to turn around into the middle of the path and say "Que?".
The coast is a mix of ragged rocky shores and golden sands, it's easy to find a beach to yourself and the town's are peaceful and relaxing – a far cry from the developed US coast we cycled earlier this year.
We stopped at almost every town for either drinks, lunch, an overnight or just a quick look round the square. The town's are walled and ancient with hardly a car or McDonald's in sight – looking at you again US…
In fact whilst we are on the US subject, and as someone who's spent a lot of time cycle touring there, I sometimes wonder why we do it. (Linda always wonders this, often aloud and vociferously too). The roads and towns in Portugal are quiet, we've sat by them where a moped is the loudest thing you hear, whereas in the US you often can't actually hear as your ears are hurting from the Pickup truck that just went past with twin tail pipes belching fumes at 200db a peice.
As for the towns, well,… 500 year old squares full of cafes with 4 seats inside and 100 outside, a fountain in the middle, no music blaring anywhere, kids running around playing, families laughing, eating and drinking together, what's wrong with you Portugal? Why aren't you in an air conditioned car at a Starbucks drive through getting ripped off for a luke warm mediocre coffee in a paper cup that you can drink "on the go"!
Anyway, apart from the noise and awful food we have actually enjoyed most of our US cycles Rant over! And, back to the calm and beauty of Portugal…
As we approached the border we stopped on a river between Spain and Portugal at Carminha. Another amazingly beautiful walled town with gorgeous square full of bars. We ate out at what we consider a sensible time around 6pm for the last time for a while as from here, a couple of hundred meters north in Spain restaurants don't open until at least 8pm, a time we're normally thinking about getting ready for bed after a hard day cycling!
The ferry between the two countries broke down months ago and the two governments can't agree about repairing it, so the river is full of speedboats offering smuggling services to Pilgrims. We rolled up at the pier the next morning and a boatman appeared out of nowhere and helped load us on to his speedboat, zipped across the river and then dumped us on the beach in Spain. We felt as close to illegal immigrants as we are hopefully likely to come standing there on a deserted beach on a cold dreary morning.
And off we went, after a bit of a slog over the wet soft sand.
The weather this side of the river was very English, dreary with occasional showers… Naturally the Spanish were wrapped up like Nanook of the North and we were in shorts still as despite it being cooler it was still not cold. But by the look of the locals, you'd think it was about to snow.
The cycle northwards immediately became more difficult as we entered the foothills and footholes of the Galicia Massif and the numerous Pilgrims.
The trail no longer went on new board walks but meandered on back roads and paths. The tarmac was fine for us, but everything else seemed to pose problems. The rain and constant stomping of the Pilgrims had left a couple of inches of liquid sand on the surface of many of the sandy paths and Tilly just dug in. It was difficult to stay upright and too much effort to senisbly cycle so we became foot soldiers too, following the long non stop trail of Pilgrims ahead of us like ants.
At times the path would then become cobbles and rocks and again we'd walk and by the end of a couple of days we'd only managed to cover 25km in 6 hours, including plenty of stops.
It was however, a lovely route and despite our slow progress we by and large enjoyed it. But the advantage of slow progress was meeting the same people again and again. The Camino spirit is very evident along the way in most people – some are a bit grumpy to put it mildly, but if you stick a 15kg rucksack on my back and told me to walk 200km and spend nights in mixed dorms in bunk beds full of very smelly people and not be able to eat until 8pm I'd not be overly happy either !