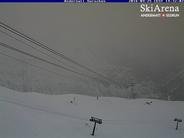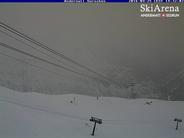 So, what is it? Well, we've decided to head to the land of cuckoo clocks,Toblerone and mountains – Switzerland and with the snow falling heavily and our destination, Andermatt perched at the top of the Gotthard pass at 2000m currently basking at a balmy -14C what else is there to do but… get our brand new tent out and camp. I know, crazy! When we planned this trip the weather at Andermatt was a cool but comfortable 12C and we thought hey ho, an extra blanket and we'll be fine. But with the weather changing we've booked hotels instead.
So, are we finally set to go skiing? Well, quite probably yes, but not in the conventional sense of the word. We're actually cycling the Rhine from its source high up in the Swiss Alps to its mouth in Holland, all 1200km of it, and at -14C we'll likely be skidding our way down the road and over the edge into oblivion. Best we pack some parachutes too.
To be fair we've got 9 days before we arrive at Base Camp and have to don the snow shoes and polar gear so it may well warm up.  We hope so as I'm going in my sandals and shorts and as Linda says, once they're on they don't come off till November!
We set off on Tuesday 3rd May cycling to Harwich for the overnight ferry to Holland and then onto Amsterdam where we get the night train to Zurich. Once there we ship Tilly the Tandem to Andermatt as she's not allowed on the Swiss trains and meet her at the top for one hell of a roll back down the pass! Naturally Linda can't wait for the scream inducing breakneck speeds we'll reach on the way down the pass. She loves all that stuff, bless her. I'd imagine I won't hear the screams anyway as we're likely to be breaking the sound barrier so I'm good!
But at the end of the day after a couple of nights in hotels to avoid the frost bite, we'll be putting up the tent each night and going back 20 years to our last camping days.   Most of you are probably rolling on the floor with laughter now at the thought of us in a tent after the 5 star luxury of Taffy!  A few of you will already have decided we'll only make a couple of nights before returning to civilisation and hotels.   You may well be right, and it'd be great fun if you all had a guess at how many nights we'll make before giving up tenting.  Answers below in the comments please.
Anyway,  Tilly is serviced, the tyres pumped, the panniers packed and the ferry and trains booked so no going back now!