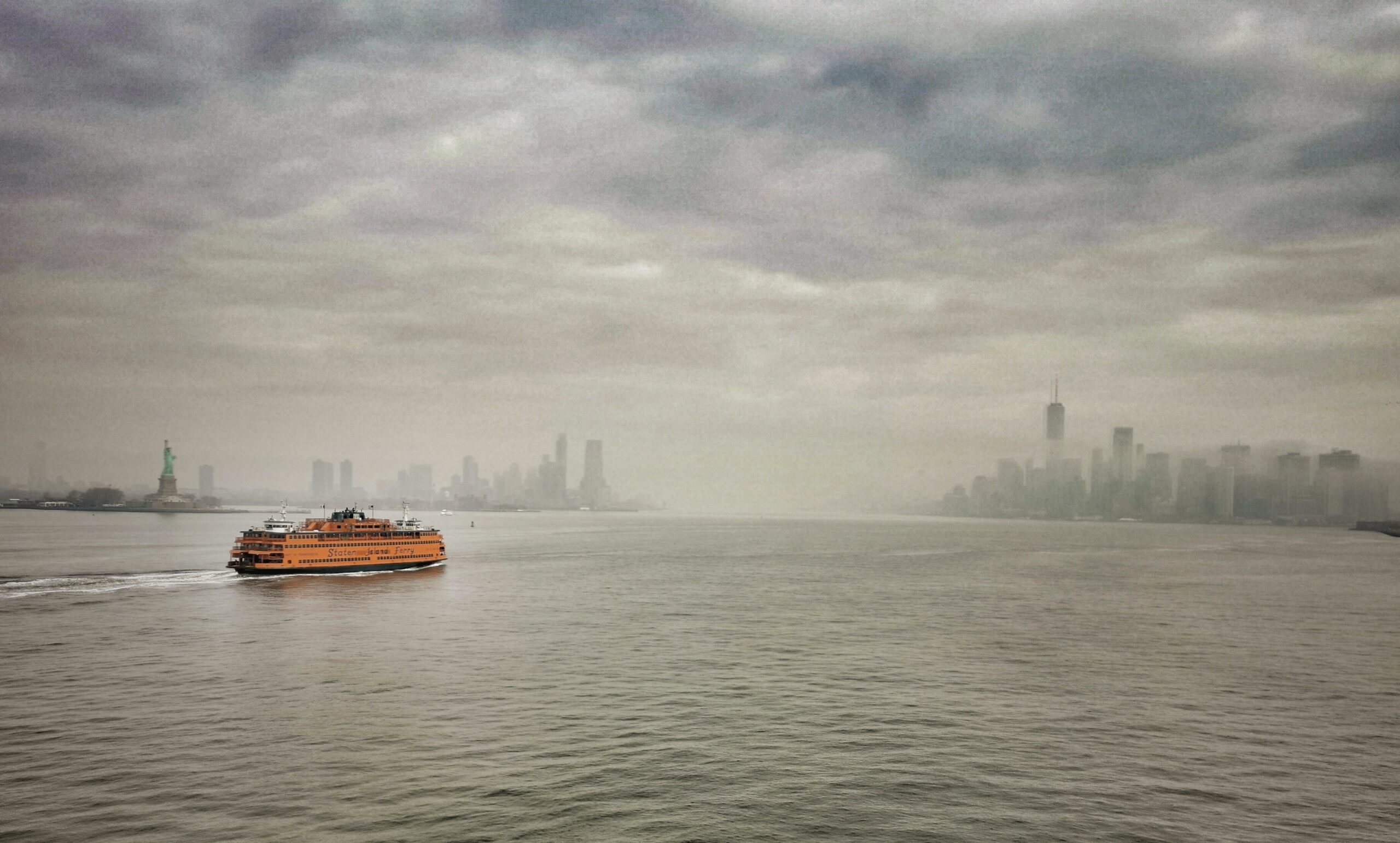 Apologies for the late posting of this blog….the publisher messed up!
The storms had delayed QM2 by 3 hours – result! We had been given an 08:00 disembarkation time so this got put back to 10:30 allowing us to have a civilised brekky and lie in before the mayhem of NYC began.
Our experience with US border controls is that they are the worst in the world. Officious, lacking a sense of humour and just plain rude. So we waited for our scheduled departure time and then ran into numerous queues around the QM2 lobby with virtually all 1500 pax in one queue or another, all going nowhere.
An announcement had told us that US immigration hadn't yet agreed the procedure for disembarkation so we would all have to wait for them to finish their donuts and coffee before we could get off.
We'd seen the unloading of luggage at the Quay side from our balcony and seen Tilly get carried – OK dragged by two guys into the warehouse. The complete disorganisation of the baggage handlers was flaberghatsing.
Eventually one queue started to move and we edged forward to find that we were in the fast track queue for those with all their luggage. The queues weren't labelled and you had to just ask other passengers what each one was. Compete chaos. We decided to wing it in the moving queue rather than change queues and head to the bow of the ship to join its end.
Just as we reached the front and could see the gangway one of the other queses took up arms, cried Vive LA Revolution and charged for the gangplank. We gave the front runners a sideswipe with Tillys back box and fought our way through the checks and were off as the mayhem continued behind us.
The walk to the baggage hall was a pleasure. Loads of staff all saying something under their masks that was completely unintelligible but at least was said cheerfully and we arrived in the baggage hall to see rows of Immigration check in desks at one end, all our bags in the middle and us all held behind a rope.
The rope was removed and the chaos from the ship moved up a gear as everyone tried to grab their bags and run to the immigration before the inevitable 'line' formed. We were at a disadvantage here as we have 3 large holdalls, 1 pannier a bike box containing Tilly and our bloodied back box. We resigned ourselves to a long wait and sought out a trolley.
Naturally these aren't readily available in the states. You have to have a porter but we had no choice so a porter took one look at Tilly and decided he wasn't trying to navigate through the Disney like queueing system and went around the outside and left us to join the end of the now extensive queue.
We'd only been in the queue for few seconds before we were hauled out of it as we hadn't got any luggage and you had to have all your luggage to clear Immigration. To reunite us with our luggage, the gestapo officer goose stepped us to the front of the queue and we immediately zipped through immigration bypassing more irate passengers!!
Our porter then left us adjacent to a taxi that happened to be able to accommodate Tilly which then deposited us at our hotel at around 11 and the check in staff had 1 room available by then, which they kindly said we could have early, a lovely corner river view – extra large. That all went remarkably well!
We'd picked the AC Marriott Hotel as we stayed there before when we cycled up the East Coast and they were very helpful with Tilly. Again, they were fab, letting us repack Tilly for collection by UPS for onward shipment to New Orleans whilst we head up to Boston for a few days with my cousin Annie and probably an entire off licence full of booze.
We had allocated a day in New York waiting for Tilly to be collected but the hotel staff said they would take care of making sure Tilly got picked up OK and so we went off into the city for a walk…18kms. My feet were sore at the end of the day, but it was such a lovely day with blue sky and 18C we couldn't sit around doing nothing.
After some New York Pizza, which is certainly some of the best pizza in the world, we retired to bed at 7.30pm with Shiplag!!
The next day we woke to a storm warning – I'm hoping that we aren't storm magnets but they do seem to be following us around at the moment. It was also – 1C with snow coming. Our minds can't handle that. Shorts and t shirt yesterday, parka today…
We got a taxi to Penn Station and then found that sitting down was now classed as a premium activity and the only place you could sit down was in the Red Cap lounge, which was fortunate for us as we had to get a Red Cap to transport all our bags. So we sat on a comfy chair having a croissant the size of a small horse looking smugly at all the economy class plebs sitting on the floor in the Station.
Our red cap then got us to our train before anyone else boarded and put all our bags in racks and found us a choice seat. Well worth the tip.
New York is a fab city and we love coming here but it's really spoiled by the traffic. Both our taxis were butt clenching experiences and the place is just filled with traffic. It's a long way from European cities that seem to be pushing traffic out and pedestrianising places and really would benefit from a congestion charge, but the US is the land of the car so I can't see that happening anytime soon.
Having said that the population all wore masks on the subway, you saw no exemptions and almost no people so intellectually challenged that putting a mask over both mouth and nose was simply beyond their intellectual ability. It was quite refreshing. We also repeatedly got our covid passes checked and everyone was happy to accept the NHS one with no qualms. No pass or mask, no entry though. Hats off to the Yanks.