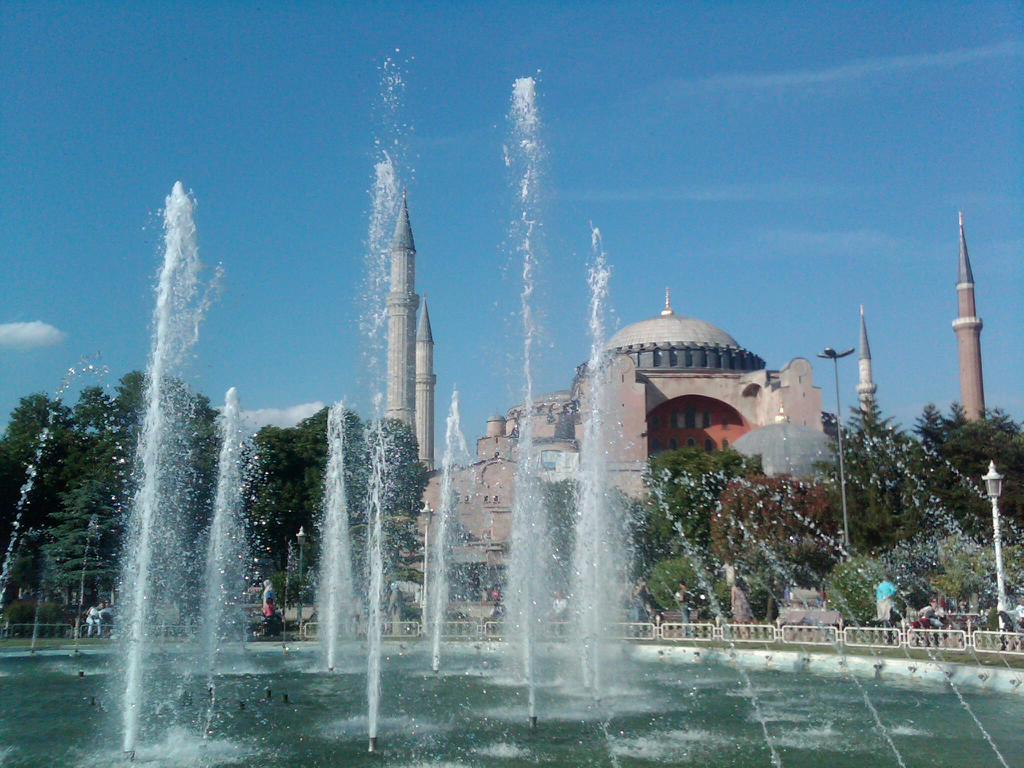 We loved Istanbul. It is everything the guide books tell you and more. Being able to walk into the city in 5 minutes was excellent, though our plot up beside the sea sounded a lot more idyllic than it was. The car park was where the local lads brought their dates each evening until about 2am. They seemed to think the best way to impress them was to deafen them and the van would vibrate every time one of the more amorous lads drove past. When they had finished for the night the resident pack of dogs would hold extensive barking sessions. Fortunately sleeping pills, air con and walking for miles and miles each day make you tired enough to sleep through most of this so despite the distractions we didn't fare too badly.
Istanbul is unlike any other part of Turkey we've visited, denslet populated, hectic, dotted with large western style shopping malls and it is huge. You drive for hours just to get from one side to the other, most of the time on motorway and most of the time at speed. It wouldn't surprise me if it was 40km wide as we spent all morning driving in (before getting lost) and another morning driving out(after getting lost again). Apart from the city centre itself it appears to be mainly apartment blocks, some high-rise, some 5 or 6 storeys crammed together for mile upon mile.
The old town and the main attractions are mostly within easy walking distance of each other and despite its vastness and the terrible traffic, the centre is calm and mainly car free.
The Blue Mosque and the Hagia Sophia dominate the skyline and sit opposite each other separated by a small park and some lovely fountains like a pair of fighters sizing each other up. A constant stream of coaches drops tourists between them from dawn to dusk and the numerous street vendors try to sell them everything from wooden recorders to something sticky that you are supposed to eat! Unlike Egypt the sellers don't stick to you like glue and seem content to accept a no thanks and move on.
The Hareem that Linda had promised to take me to when we got to Istanbul turned out to be in the Topaki Palace complex and sadly also no longer in use! We found the palace a little disappointing after the previous days visit to the Blue Mosque, though the Hareem was well worth the additional entrance fee to see. It didn't help that it was raining and we had no coats but it was almost unbearably crammed with tour parties and it was hard to get to see many of the items on display without a lengthy wait. By the time we left in the afternoon the crowds were thinning rapidly so we probably timed our visit wrong.
Our visit to 'the New Mosque' which is a few hundred years old, coincided with the Friday lunch time prayer which we were allowed to watch. It was fascinating with people coming and going during the service almost constantly. The only bits we understood in the sermon was the word "Jihad"!
One thing that everyone does when they go to Istanbul is go to the Grand Bazaar. We had been told by someone that the sellers were a lot of hassle and we were expecting Egyptian 'limpet' traders but they were nothing like that. They were funny, good natured, helpful and most spoke good English especially to Linda as she kept buying things.
Apart from the Indian we also feasted on a very good Mexican and visited numerous lovely cafés – "Home Made" being Linda's favourite.
Our route home each night would take us through the old ottoman district. The houses here are a brick or stone ground floor with wooden floors above, often brightly painted. the narrow streets slope down to the city wall which runs next to the sea. The area today is full of restaurants and small boutique hotels and even the odd hostel. Almost all of which sever breakfast on the roof terrace! They looked lovely and we were tempted to have a mini break from Taffy but Linda had already spent us dry in the bazaars.
One of our most memorable moments of Istanbul was nothing to do with its tourist attractions, bazaars or restaurants. We were walking through the site of the old Hippodrome and we're accosted by a young man from Turkcells -O2 for Turkey. He wanted to show us how to manually tune our phone to Turkcell which we weren't interested in. But we got chatting, went over and sat on a bench, bought some drinks and eventually about an hour and a quarter later had all 3 sales reps chatting to us about everything from cream teas to religion when their parents turned up to meet them. We were introduced to them all and had a wonderful afternoon chatting to them. Apparently Spain will won the world cup and England will come third!
Leaving Istanbul after only 4 nights was hard. There's plenty more to see but the torrential rain and end of the world thunderstorms convinced us that we should see the rest outside the monsoon season! So we meticulously planned our exit route, drove 2 miles and reached a bridge we couldn't get under! Fortunately we picked up a motorway sign Quickly and found ourselves at a toll point that only accepted smart cards and tags. There did not appear to be any place to pay with cash or card and we got stuck at a barrier unable to reverse due to the queue behind us and unable to get through. The help button at the barrier connected me with the cousin of the shouting policeman we first encountered at the border and we were looking suitably confused enough for a fellow driver to run over swipe his card and then drive off having paid our toll! The Turkish people (with the exception of the shouting policeman and his family) are undoubtedly some of the kindest most generous people we have had the privilege of meeting.