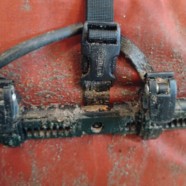 The camping had gone quite well and we set off in bright sunshine toward Lake Constance. The wind was behind us and we made good time, which was just as well as behind us clouds started to grow and soon we had our jackets on to keep us warm as the sun was overtaken by them.
We crossed into Litchenstein, then into Austria – stopping off a cup of coffee and a cake that didn't require a down payment and 5 monthly installments to follow, and then back into Switzerland, probably the most expensive country in the world. We saw a car get a parking ticket £360. Two coffees £10 and a camp site £35 for a small tent.
The weather was looking decidedly grim and the weather forecast was lousey to say the least so we checked in to a hotel (in Austria as it's sooooo much cheaper than Switzerland). Naturally as soon as we did that the sun came out and a lovely evening followed. We'd covered 79km at a record speed for us of 18.8 kph so we nipped abroad (back to Switzerland) for a celebratory supper.
Switzerland is not in the EU, so any Brexit fans reading this will be delighted to read that there are no border controls anywhere between it and it's neighbours. We didn't get checked getting on or off the train from Holland and we cycled through completely unmanned border controls time and time again so we happily cycled back to Austria that night slightly tipsy.
The next morning we woke to pouring rain, which at least made us think we'd made the right decision not to camp.
The forecast told us that we'd have a few hours of dry weather before heavy rain set in later in the day and our hotel staff enlightened us as to why… apparently it's to do with the Ice Saints, though we may have not heard them properly due to the sudden crash of rain on the roof.
Every year Switzerland gets three days in May which are very cold and wet. These next three days were it. We didn't know this when we decided to do this trip but we've ended up finding out what they mean by very wet and also just how waterproof our gear is. We set off for Konstanz and by now the forecasted dry spell had vanished and the rain didn't let up for the whole trip, during the day we had over an inch of rain.
We stopped twice for coffees to warm up and the second time the waitress felt so sorry for us she opened a couple of bottles of cider for us to try after we remarked we liked cider! We did have to buy one to take along with us in the end as they were so nice.
Our Ortlieb panniers held up perfectly to the weather test and kept all our stuff bone dry but our waterproof jackets and leggings got soaked through. I'd worn my sandals as for some unknown reason I never get cold feet. Linda however put on her water proof shoe covers which she thought worked well but when we arrived in Konstanz (in Germany) and took them off her feet were soaked through. We'd checked in to an apartment hotel for 3 nights to escape the rain and for two days it didn't stop pouring. Not raining or drizzling or smirring but absolutely bucketing down.
Not ones to be put off by the rain we adjourned to the Spa on the shore of Lake Constance and watched the rain from the comfort of a 34C pool and various Saunas and Spas.
Maybe we'll get to camp again, who knows. .