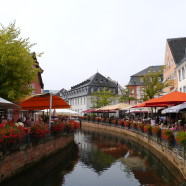 Taffy has turned somewhat into a mobile hotel and restaurant over the last few weeks as first we had Lewis come to stay, then met up with Mike and Ali and finally Jacques and Mandy. It's been fantastic seeing them all and the highlight surely had to be Lewis flying over the handle bars of his bike into a bush as he either lost control of his bike or nobly jumped off the bike to avoid crashing into Linda depending on who tells the story!
He was great fun to be with and we all sampled various beers – even Jon who hates them – and Lewis worked his way through a few of the local dishes too.
After his visit we headed over to meet Mike and Ali and had as usual a great time with them, pootling around on the bikes and on one rainy day having a double feature movie day, complete with popcorn and chocolate – which we've since been trying to cycle off!
We've not seen Jacques and Mandy since they left for their motorbike tour of the balkans and Greece and had a wonderful overnight stop with them to catch up and hear all about their travels which somehow turned into 5 nights. I hate to think how much wine we got through!
Anyway we're back on our own now and have turned tea total again and got back on the Tandem to cycle off the hangovers…
We've now cycled close to1300kms and today managed 65km. We're really enjoying being out on the bike and Germany and Holland are so well set up for them. This is the second time we've done over 60km and the first we managed to get a puncture at the 30km mark. Naturally no pump and a £2 QD repair kit didn't quite cut the mustard, and so some passing Germans offered help and proceeded to produce three spare tubes and a toolkit you could service Taffy with! They very kindly gave us a tube and we set off again only to find we had another puncture a few kms further on about 15kms from a repair shop and about 45 minutes before closing time (not the pub type of closing time but shops). We do have an aerosol repair spray that is supposed to inflate your tyre and seal the leak, so it then became a race for us to inflate the tyre and then cycle like mad until the tyre was flat and we had to repeat the process. The aerosol had 3 charges in it and we arrived at the shop with an almost flat tyre, a few minutes before closing and with our aerosol empty. We were seriously puffed out having averaged about 26kph so after we'd had a new tyre and tube ( the tyre was cracked on the inside and was pinching the tube causing to to burst) we headed straight to the Eis cafe for a refreshing ice cream – well deserved we thought.
As I write this we're surrounded by a wagon train of caravans at the campsite here in Saarburg and needless to say Linda is wingeing like mad about them. To say she doesn't like caravans is a bit like saying Jon's a tiny bit fussy with food. I don't know why she's got this thing about them but on this occasion I have to say they are a bit odd. They've got flags and banners out, are polishing up the vans and are apparently waiting for a TV crew to turn up to film them because they travel around Europe with their caravans. I'm not sure why this is TV material but if the crew hand turned up when J&M were with us they'd have been able to make a whole series about where we'd all travelled too!! We're making a sharp exit in the morning and heading further down the Saar before Linda loses it and I have to bail her out of the police station. I'm not going through that again 😉