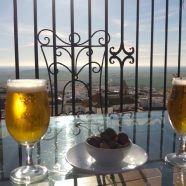 ---
Gibraltar to Villamanrique (322km, 7 nights, 1844m climb)
Our reputation for bringing mayhem to countries after we visit continued with the Gibraltar row kicking off the day after we left. I don't know what it is about us but soon countries will be paying us not to visit!
Having landed in Gibraltar we then had to cycle over the runway and on the bike, surely a first and only time we get to cycle on a runway between plane landings.
We managed a full restock at Morrisons in Gib and had a lazy evening at a Harbour bar seeing how many margaritas we could down in happy hour before cycling back to Spain to our hotel just over the border. Perhaps a bit of Dutch courage before setting off on our trip?
The cycle up the coast was a bit of a wake up call. We're used to flat easy cycling and the second day out of Gib we followed our route into what we are calling mountains but they're probably just big bills and found our route barred by a barbed wire fence, a gate and a man with a dog who wouldn't let us through. "Private" the signs said – they're all over the place here, you can't move 100m without seeing them and if there's none visible then you must be in Portugal. They seem a bit keen on barbed wire fencing and these signs, perhaps they're going to encircle Gibraltar soon.
Anyway, he did point us to a footpath, not on our map, which we followed for 3 km before ending up at a hillside we would need crampons and a sherpa to get Tilly over. So, back the way we came and a long detour. We've never climbed that much before and to have to do it all over again is not fun, even after some Walkers salt and vinegar and a Cheddar cheese sandwich emergency rations! But we managed to get to our hotel a few hours late and exhausted having climbed nearly 900m. Yuk.
That was fortunately our biggest climb for the early part of the tour. It's rolling countryside from here and beautiful too. Lovely little towns and villages and of course plenty of barbed wire.
The roads are generally made up of dirt, mud, gravel, potholes, larger pot holes, small craters, larger craters, poppies, mines and unexploded bombs, well, maybe nor the last two but some of the tracks look like a scene from the Somme. We spend a fair amount of the time sliding around and plowing through sand leaving a permanent wake in the sand and a fair amount of time pushing Tilly through fields to avoid wading through a flooded pot holes that could be anywhere from an inch to feet deep.
Oh, and they put all the towns on top of the hills – that's the last thing you want at the end of the day, so we've been cheating and stay at the bottom of the hill in a hotel and get a taxi up. Some of these towns (called the white towns) are absolutely gorgeous. Medina Sidonia is quite breathtaking, set 300m above the plains and apparently the oldest town in Europe. It's a winding maze of streets and has a beautiful church, a ruined castle and a great square. It was quiet in the day but by late afternoon it came to life with everyone and their dog in the square drinking, playing and chatting. It's lovely to be part of it – especially the drinking, we seem to spend every moment buying a drink to replenish out days efforts. I've even got used to beer!
Our next obstacle on the trip was the river at Sanlucar. It's not very big and the cycle track continues on the beach on the other side, but only at low tide and you have a couple of hours to cover the 30km northward to the cycle track 'proper'. We weigh in at 225kgs and any sand is a problem for us, so the thought of trying to cycle like crazy to beat the tide on wet sand did not appeal, despite the fact that the ferry appears to be a war time landing craft. But the alternative to this 30km stretch is a diversion of 160km in land to Seville and back out of the coast again. It's not the nicest cycle toward Seville, Lincolnshire flat, loads of agriculture, and more of the dusty dirt roads with pot holes that can swallow a small hatchback and naturally a strong headwind, oh, and no cafes, bars or any sign of a shop. We left Sanlucar – a gorgeous town and probably our most favourite in Spain so far – early (for us anyway) and cycled 83km in 6 and a half hours ending up at the ferry that crossed the river around 6pm. We looked like Montgomery's Desert Rats by the time we arrived with everything covered in a thick layer of dust – even our faces were caked in it and the shower tray at the hotel just looked like you'd washed a pair of wellies after we'd showered. Linda banged her shoes to get the dust off and nearly set the smoke alarm off!
We're having a few days off at a campsite now to give our legs a rest before heading back toward the coast and onward to Portugal on the Transandulus cycle route. The campsite is deserted and it's too cold for Pool to open at 27C, or maybe they just thought if we got in it they'd spend hours having to clean it after!