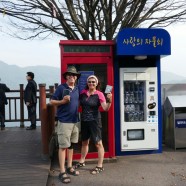 Mokpo to Dejou
3 days 219km climb 797m (1985km total)
​We got the bus from Mokpo to the start of our final river The Geumgang arriving in Gunsan just after lunch. A short cycle later and we were sitting in the tent enjoying the fabulous late afternoon sunshine which, by morning had turned into a thick wet mist. Not the best thing to find when you wake up in a tent.
By the time we'd got packed up the mist was thinning, we'd set off almost needing our fog lights but minutes later the sunshine burst through for another lovely day. We've been extraordinarily lucky with the weather, it's mostly been dry, not too hot and not too humid. We'd expected by now to be cycling in our trousers and fleeces but were still in shorts and t shirts.
The Geumgang starts off as another huge river and is the last of the four major rivers in South Korea. The track is being upgraded and improved along it and it's great to see so much thought going into making the route safer and easier. We love it when you get to a big Hill and the path simply goes out into the river on a boardwalk to bypass it whilst the road goes over it. It feels magical cycling on the boardwalk to the sound of the wheels hitting each plank like a train with a hill towering above you to one side and the water to the other.
We'd had no problems getting accomodation all the trip and our extra night in Jeju had put our timetable back a day so we tried to make up some distance arriving at our target town, a little later than normal – about 5pm. Along the way we'd met a Korean English teacher and her hubby on their bikes (1100km in 11 days wow!) and they told us the next town on – Sejong, about 15km on, had plenty of hotels so we pressed on arriving with them at about 7pm. They went off for food and we went to the centre of the city only to find in a city of 250k people there were only 2 motels. Both of which were full. We asked people where else we could stay and were repeatedly told that these 2 motels were all the motels in the city. It was dark and we'd just clocked our first ton of the tour and didn't want to cycle on so thought about camping on the river front. They always have parks all through the cities on the rivers and it wouldn't be a problem but fortunately found another motel about 500m from the other two that apparently no one else in the city except us knew about, with a room. Yippee!
Sejong is a city up there with Pripyat in Ukraine, the abandoned ghost town city right next to Chernobyl that we visited years ago. There's a a small developed area with a large number of syscraper blocks of flats and then there is an area of new build that goes on for at least 3km of construction. All of it enormous skyscrapers. The traffic is entirely cement mixers thousands and thousands of them bumper to bumper delivering concrete to this city that when complete must be able to house millions. But, for the moment these Tower blocks stand half completed in rows and rows of an entirely new city. It is an extremely impressive construction project and we look forward to returnjng one day and seeing if there are any more motels!
We were quite sad the next day finishing our final river, we'd come to cycle the South Korean Four Rivers and this was the end of our route. Appropriately the final telephone booth check box was at the top of a hill overlooking a huge lake held back by the first dam on the Geumgang. It was a lovely spot to collect our last stamp of the tour and to sit and celebrate with a Extra strong Cheddar cheese sandwich! Sadly no salt and vinegar crisps!
Job done we headed for the nearby city of Dejong and the dozens of love motels sparkling like Vegas for the night before catching the bus back to Seoul the next day.
The bus ride was like your very own personal roller coaster at a fair, except you genuinely had a chance of dieing in it. The driver drove so close to the bus in front you could have simply walked from one to the other, went about 120kph and watched the baseball on the bus TV during the trip. But we arrived safely and in very quick time too, though we did nearly miss the bus in the first place. The trouble wasn't so much our lack of Korean, but more that so many people want to help you that you spend so much time explaining you're OK and thanking them that the tickets you've bought for the bus are in danger of expiring by the time you actually get away from the ticket desk. In the end we only caught the bus because another two ladies who wanted to help us loaded our panniers for us, then gave us loads of food on the bus for a light snack. I'm beginning to think you don't need to bring money to Korea – just smile, look lost and everyone will help you and feed you and generally look after you. The Koreans are wonderful people and we've been extraordinarily lucky to meet so many kind and generous people.
Back in Seoul we found we'd got seriously spoilt by the price of hotels elsewhere and were unable to find anything nice when we left the bus station at a reasonable price for an overnight so cycled on to a nearby town in the general direction of our next destination – North Korea – for the night.