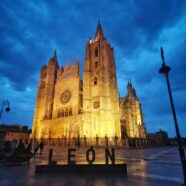 27 years of wedded bliss and the day after we're cheating! So what is cheating? Some pilgrim walkers (though that may be a typo) think that having your backpack sherpa'd is cheating, some think cycling is, others that e-bikes are, or staying in anything other than a monastery is not in the right spirit and I'm sure most think getting a taxi to the top of the mountian definitely is not on the approved list… We can't see how any of these methods are cheating, as everyone has their own comfortable way of covering the huge distance and effort needed to reach their destination and many people taxi at the end of the day if they're too far away from their booked accommodation, but we have seen grafitti saying that any way other than on foot and unaided is not a true Camino.. We'll, as we just happen to be on the route because it goes the way we want to ride, we figure that doesn't apply to us!
Anyway, to up the chances we'd make it to our next anniversary and with our legs still complaining after our last ascent, we hopped into a taxi from Ponferrada with Tilly squeezed in, and cheated by taking it to the 1500m summit of our next mountain pass, and thought this a very wise decision considering the steep edges and windy road up. Linda's vertigo wouldn't have enjoyed that much and fortuntaely our taxi driver was a lady who drove very carefully indeed, which, judging by the numerous missing crash barriers along the route some had not.
We reached the top and reassembled Tilly and after the obligatory 'made it to the top' pic, (which we did feel guilty about), set off on the down hill roll to Astorga thoroughly impressing everyone coming the other way on another blistering hot day, This mini heatwave came hot (!) on the heals of a cooler spell and I always take time to adjust. Heat seems to just drain me of any energy until I've had time to acclimatise, and as luck would have it, the heat wave is being followed by a cold snap. So, 36C this week at 17:00 and 14C next week with no time to adjust. Hey ho…
Our apartment in Astorga was fab, an attic room with air con where we (and obviously I mean Linda) could cook each night after going out for evening drinks in the square… We're still finding it a bit difficult to find veggie food, even the veggie sandwiches or salads on offer turn up with ham or tuna in.. so getting an apartment for our days off means we can cook for ourselves and eat something other than tortilla, olives and nuts.
It was boiling there… everything shuts down around 2pm and the place is deserted apart from the odd Camino pilgrim wandering into town. Luckily, we found a lovely park on the top of the old Roman Walls to sit in the shade with a nice breeze and spent a lazy afternoon listening to England beating NZ in the 2nd test. Result..
We also visited the Gaudi Palace which was beautiful and the cathedral which we didn't like so much. But we loved the town and tried every cafe / bar in the main square over the three nights in a mini pub crawl. The square was lively at night with a dancing show by school children one night and then a protest by women against male abuse the next. We were really impressed that people stopped to listen to the speakers and supported them too.
Squares are the heart of Spanish towns. Everything happens here and people dress up to visit it. It's a playground with kids kicking balls about and hitting shop windows and no one batting an eyelid. Parents bring toddlers to play on community toys that appear from nowhere and the kids zoom round the square whilst the mums sit and natter on benches and all the while the cafes and bars are full of people sitting outside wathcing everything that's going on.
They certainly have a great way of life and our decision to have a couple of rest days was certainly not influenced by Astorga being the origin of European chocolate….
With the heatwave continuing we adapted our cycle times to be on the road by 08:00. Theoretically that would give us a good 3 to 4 hours before it gets really hot and at least mean we get a fair amount of each days cycle done before we begin to melt.
What actually happened was that by 10am it was already 29C and 40C by 2pm. Ridiculous, but we had fortunately made it to Leon for another couple of days hiding from the heat in an air conditioned (at least by Spanish standards) hotel.
The short cycle (55km) was one of the flatest we've done since arriving in Porto and was lovely. It followed farm tracks miles from roads at one stage we really felt sorry for the walkers in the heat who were leaving Leon at around noon. We actually had to stop on a bench in the shade when we got to the outskirts of Leon as the heat was making us feel a bit faint. Plenty of drink and a long rest and we were fine, but it was scorching hot and walkers were still passing us for their long walk through the countryside with little to no shade to the next accomodation 20km away. Some of these were on their first walk of the Camino as Leon is a favourite starting point. We did wonder how many would make even their first night's stop… Mad dogs and Englishman.
Leon is a a bit of a shock after the peaceful countryside with all the lovely bars, cafes and shops. We thoroughly enjoyed our two nights there and made the obligatory visit to the Cathedral, the Gaudi house and the San Isidoro Monastery all of which were excellent . The Cathedral was breathtaking with the best medieval glass in Europe and we thoroughly enjoyed just sitting and staring at it and trying to think what the original artists would think of people visiting it today and taking pictures on their phones. And to consider this was all built and paid for by a town of 5000 people.
Leon is also famous for Tapas. Not the tapas you get elsewhere, but a free nibble with every drink. You really don't have to eat out, just drink alot and gorge on the freebies. Obviously for us it's a lot more tortilla (Spicy!), Olives and nuts but we thoroughly enjoyed it all anyway…