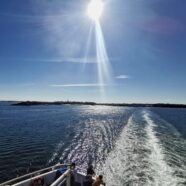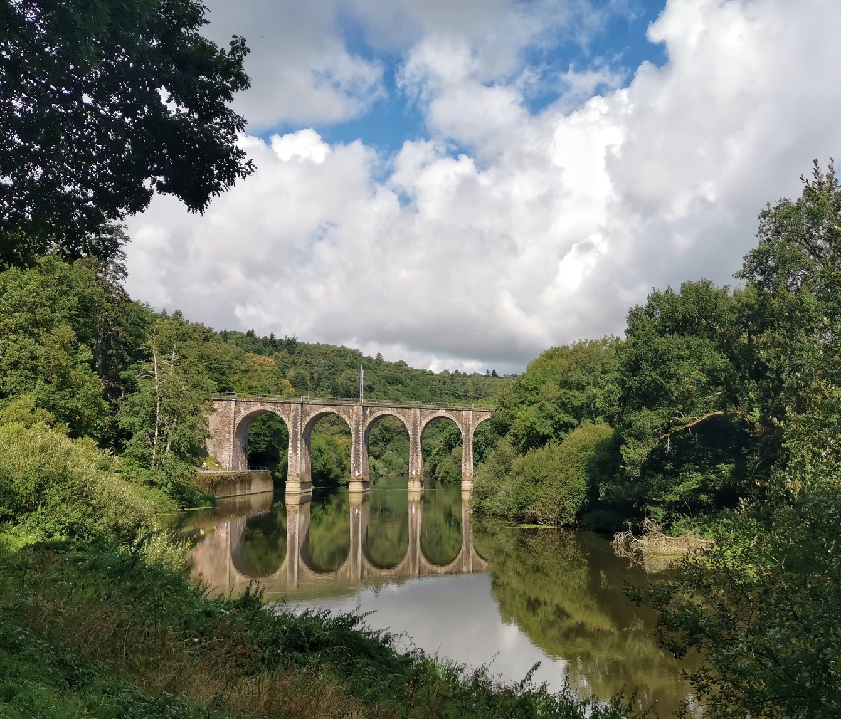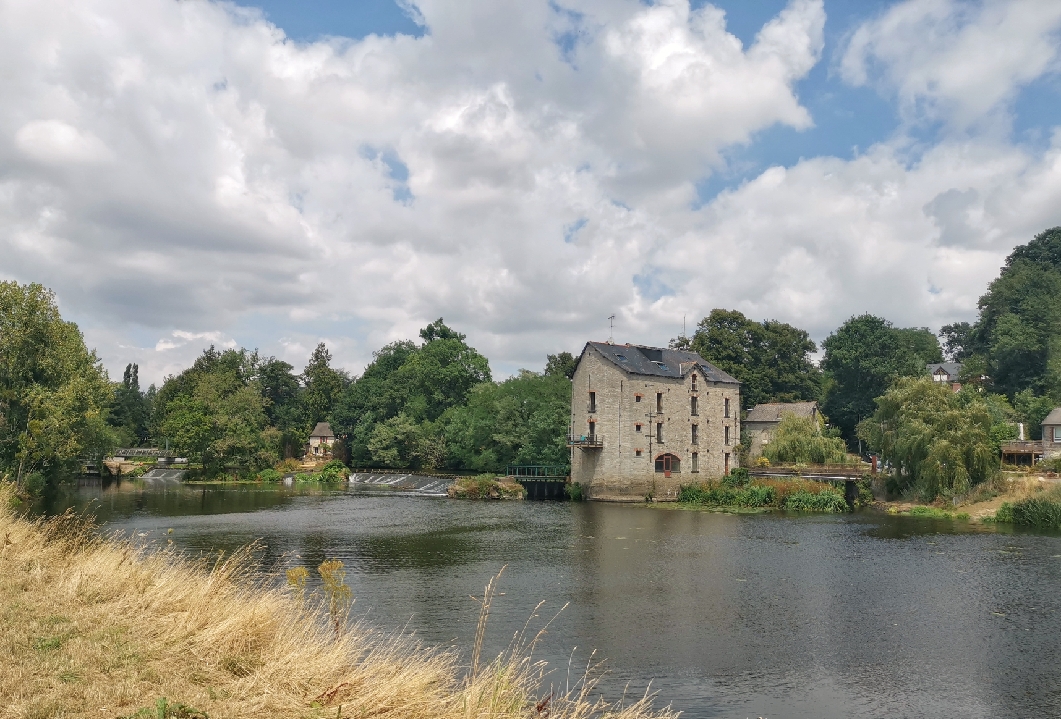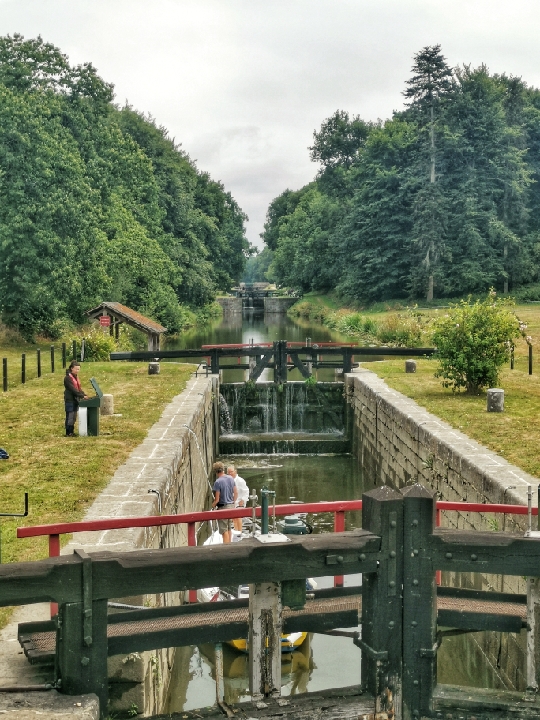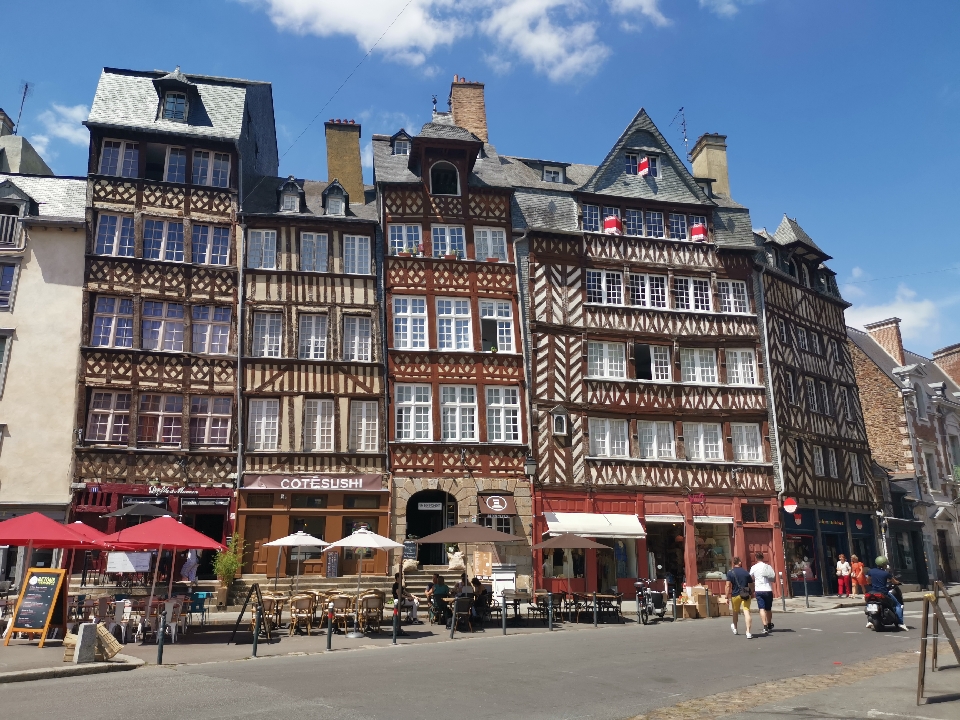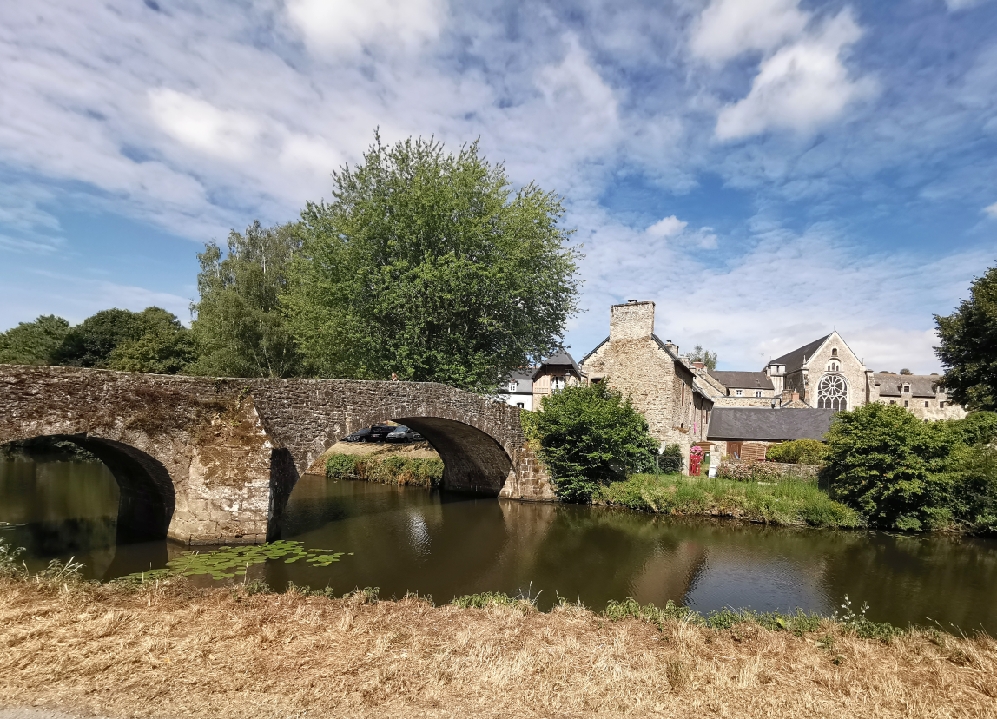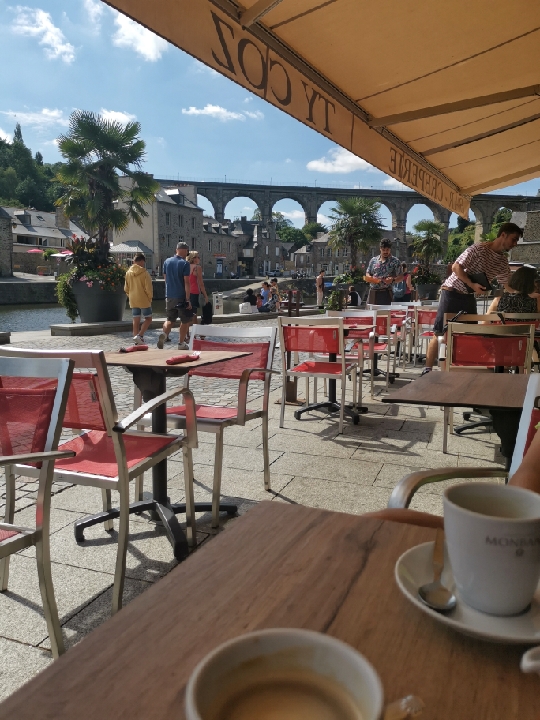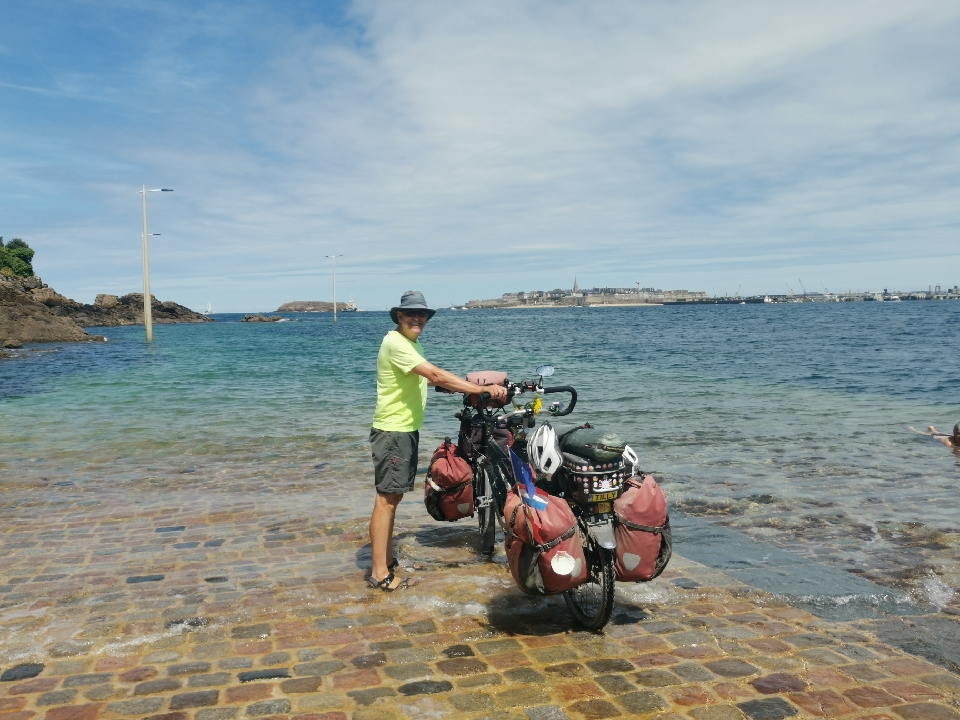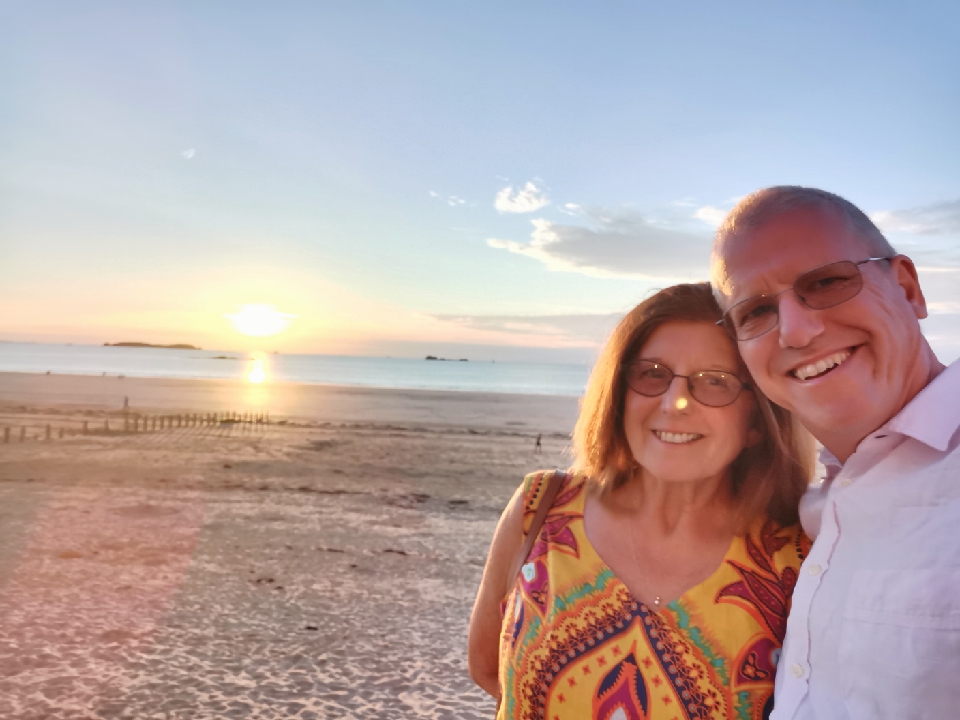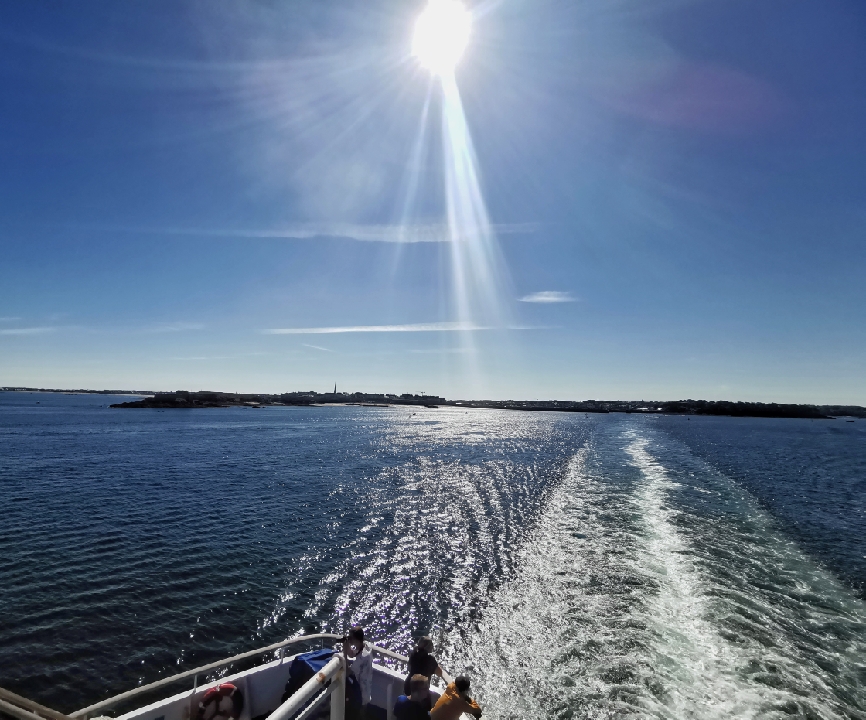 We've enjoyed our cycle up through France, there's been some fabulous cities to visit -La Rochelle, Rochefort, Nantes and in particular Rennes which we would definitely like to come back to. We've love the cycle infrastructure once you're away from the Spanish border. One way streets seem to always be two way for cyclists, even if they're narrow! Cycle lanes are usually two way segregated not just a white line at the side of the road and cities are being redesigned around cyclists, pedestrians and public transport with cars being squeezed out. It makes for peaceful calm and tranquil city centres which you enjoy being in. Well done France!
We even found the level of service at cafes etc to be much better than the stereotypes you probably all know. We don't speak Spanish or Portugese but learnt a few words and tried our best to order drinks in the local language. We hardly had any problems doing this, if the waiter couldn't understand they were patient and helpful and we got there in the end with us all laughing or smiling. We also never went to a cafe or bar that didn't have decaf coffee or Alcohol free beer – usually a choice of types too and often the beer was on draft.
France on the other hand has expensive coffee, that's nowhere near as good as the Spanish and Portuguese coffee, rarely has decaf and almost never had zero beer either. We speak French and can converse with most people, but trying to order anything at a bar often had the barman not understanding a word, then after a Eureka moment saying the word we had just said… exactly the same way as us!! It was almost as if you had to say it 100% perfectly or they wouldn't bother understanding it. And when you'd ask for decaf or zero beer the answer was often just a brusque NON! Grumpy and unwelcoming was our lasting impression of French hospitality. Of course this wasn't all of the bars and cafes, but it was a very significant percentage, and far worse than we remember from the last time we were there… so despite the lovely cycling, we wouldn't rush back to France….Iberia on the other hand is definitely on our go to anytime list, but France .. NON!
The cycle from Nantes to St Malo was virtually all along canals, simply gorgeous, flat and peaceful, we loved it and even managed to squeeze another camp in at a free Bivouac site by the canal. The path was so smooth but covered in a white sand so Tilly got covered and the chain looked like it had snow on it.
The canal ends at Dinan and the port area was full of cafes and people enjoying the sunshine. Very lovely port, followed by a steep hill, which did come as a bit of a shock after days of canal, but we did manage it with no problems.
St Malo was our last wonderful French city and we decided to book a nice sea front hotel and as everything was so expensive and it was our last night we thought we may as well spend €20 more and be on the seafront. We turned up early to take advantage of the location and found they were full. We'd booked on Expedia and somehow Expedia had booked it when there weren't actually any vacancies. The manager came in from home and tried to find us a room somewhere else in the town with little luck. Virtually everything had sold out and the only rooms available were incredibly expensive.
We were getting a bit worried ,despite the free drinks at the bar the manager gave us, when Expedia phoned to say that they had overbooked us. They then said we will book you in at the St Malo Grand Spa, a 5* seafront hotel that was well out of our budget at €375 a night. I told them we couldn't pay that for a room and they said, don't worry, we are picking up the price difference so we nipped down to the hotel arriving on a very sandy and grubby looking Tilly to be greeted by the conceirge who escorted Tilly to the bike garage and then showed us our very nice room!
We did feel a bit out of place in our very dusty cycle clothes, but the dog owner who let his dog pee on one of the potted plants in the reception area took the attention away from us. Dog owners!!!
As we set sail. The next day we'd decided to book a cabin on the day Brittany ferries crossing back to Portsmouth to avoid the summer holiday masses, but found the ship to be probably 1/4 full… you could have had a football tournament on the car decks. All the bikes go into a paint locker, but of course Tilly got a special place out as she was too big for the store room. The crossing was smooth and we dismbarked in Portsmouth to face the militaristic looking Border Force queues, which we'd hate to see when a full ship arrives.
After a 20 minutes or so the Border Force opened another lane and we nipped over to it along with all the other cyclists, which rather upset the Port officials who presumably wanted cars in the lane to clear the queue rather than 20 cyclists. Still, too late to move us all..!
We started chatting to a German cyclist who had cycled 170km on the 43C day drinking 50 litres of water and 300 kms the day before to catch the ferry.. Mad! Very nice chap though and after the disorganised queuing and delays the Border Force official asked him why he had come to England and he looked around at the inefficiency, shrugged his shoulders and replied "I really don't know"!! . Priceless…
We then cycled on to our hotel in Fratton Park, in Portsmouth through 5km of the poorest run down areas we have cycled in in 2 months. The cycle infrastructure was pants and we passed our German friend twice trying to find his way out of Portsmouth.
Our hotel didn't disappoint with it being the first hotel on the trip who said they had nowhere to store Tilly. We've had this twice in all our years of cycling, both in the UK.
We weren't going to leave Tilly outside with the other remnants of bikes that were lying about with missing wheels etc. And the receptionist kindly moved our room to the ground floor so we could squeeze her in our room.
Our arrival at the hotel had been entertaining too, being greeted by a rather enormous Scottish lady swearing at someone in the car park before marching in to the hotel to demand to know what room the person was in. She then stood directly in front of the lift about 30cm from it and shouted wheres the lift? To which the receptionist replied 'In front of you!'. We thought the entertainment had ended when she got in the lift but moments later she appeared again asking what floor 213 was on, the poor receptionist sounded a bit disbelieving but replied 'The second floor'.
Fortunately our ride back to London was much more pleasant retracing our route down to Southampton earlier in the year, but Linda's knee was getting worse.
We had planned to return from Portsmouth by train having been told that Tandems were allowed on Southern trials by their staff via twitter only to find when we tried to book tickets that in fact they weren't… Oh well.
So that's us done for another trip and Linda done for a couple of months with Patella injuries in her knee. Ice, ibuprofen and gentle exercise for a couple of weeks, followed by light cycling for 6 weeks if there's no pain. And I've been sternly told, light cycling apparently isn't cycle touring with lighter panniers..!
….