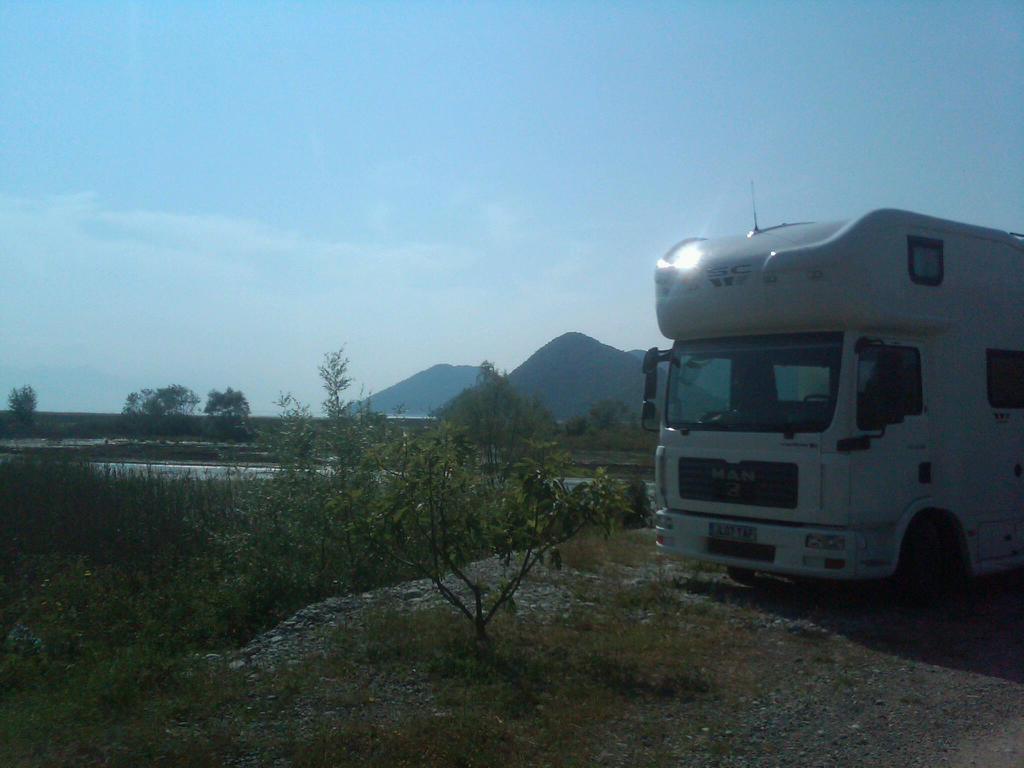 Meet Taffy II. !!
Entering Montenegro you are immediately struck by how crowded it is, how much new development is going on, the many road works and the prosperity of the place. Again, a simple line on the map makes so much difference to a persons life.
Kotor is a UNESCO world heritage walled town perfectly preserved with narrow paved streets, tall houses, churches and naturally an enormous castle sitting above it on the side of the mountain. It is at the end of what Montenegro calls the most southerly fjord in europe, but is in fact a Ria (a steep sided sunken valley flooded by the sea) not a fjord as it as not formed by a glacier. Never thought my Geography A level would come in useful! It is unquestionably a gorgeous town in one of the most picturesque 'fjords' we've ever been to. We spent the afternoon wandering through the squares and in the evening returned to eat out at a little Pizzeria under the towering gaze of the illuminated castle walls. We parked about 150 metres from the town right on the edge of the water and easily had the best bedroom view on offer surpassing that of the enormous cruise ship 'the World' tied up a stones throw away.
Budva is not home to a beer but another picturesque walled town this time nestled on the coast in a small bay. Much more touristy than Kotor – which took some doing – it was surrounded by hotels and nice beaches and apparently in a few weeks will be heaving.
A few kilometres further down the coast is Sweaty Stefan (Sveti Stefan really). This tiny town is a dalmatian Mont St Michel and is nowadays a large hotel. You see pictures of the town on most montenegran tourist literature. All these 3 towns are within 20kms of each other.
Our second night was spent at Lake Skadar. We headed to the visitors centre aiming to overnight in the car park and found it to be a few boards, a couple of stalls selling boat trips and a hotel. Not quite what we expected! Fortunately we were collared by Mark a local hotel owner who said we could stay behind his hotel for nothing, again right on the edge of the lake and with a wonderful view too. We met two germans Anita and Rainer and arranged a morning boat trip to see the local birds on the lake – the biggest bird reserve in Europe. The drawback being it sailed at 7am and the highlight was seeing the Dalmatian Pelicans! After a cooked breakfast we spent the day doing odd jobs and recovering from the early start and the over indulgence of our second breakfast!
Montenegro is another real gem. It looks like Slartibartfast practiced on Norway before doing here. The country is a mixture of mountains, lakes, breathtaking coastline, picturesque towns and stunning coastal road. For those ill educated in the works of Douglas Adams it looks like Disney were asked to design a Mediteranean country.
It also had the most challenging roads we've encountered for Taffy. One campsite we couldn't get to because the road sloped sideways so much we thought we were going to topple over, another had a welcome arch which we eventually almost got stuck under and had to reverse out of and then backwards down a tiny lane! We had to stop to measure a tunnel with a stick and then Linda had to go through it and stop traffic so Taffy could sit in the centre of the road as we went through. And when we stayed at the national park we had navigate a tiny right angle bend with a gaping hole in it that went through to the water with our rear wheels about 1mm from the hole! I was ably assisted by a few locals all shouting their advice but I have learned to ignore everyone except Linda as that means I have someone to blame when it all goes wrong!
Albania next.